Comics
Published December 18, 2019
Meet Amulet, the Newest Super Hero Coming to 'Ms. Marvel' #13 in March 2020
Kamala Khan is about to make a new friend -- one with some big powers!
Kamala Khan is going to get a super-sized assist in 2020! In MAGNIFICENT MS. MARVEL #13, coming to comic shops in March, a brand new character will join the Marvel Universe -- Amulet AKA Fadi Fadlalah is coming to Jersey City from the Midwest, and he's bringing some massive super powers with him! Amulet was co-created by MAGNIFICENT MS. MARVEL writer Saladin Ahmed and popular Jordanian-American illustrator Sara Alfageeh, who worked together to bring a new Marvel Super Hero to life!
Here is Amulet giving Ms. Marvel a boost on the cover of MAGNIFICENT MS. MARVEL #13 by Eduard Petrovich: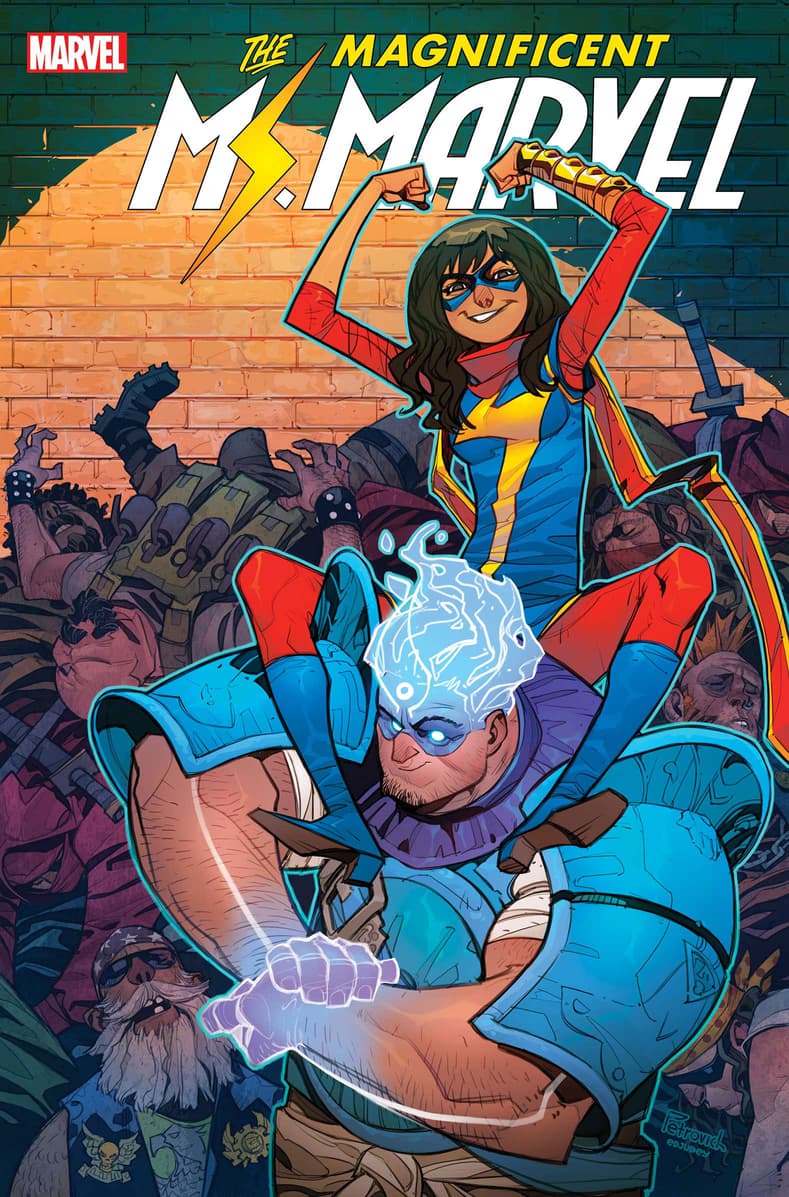 Ahmed shared his excitement over the introduction of Amulet:
"Amulet is a fun, mysterious new character who will be playing a role in MAGNIFICENT MS. MARVEL for months to come. We're keeping most of the details of him close to our chests, but I can tell you that his powers are magical in nature, and that he is an Arab-American Super Hero from Michigan.
"As an Arab-American who basically learned to read from Marvel Comics, being able to team up with the phenomenally talented Sara Alfageeh to bring Amulet into the Marvel Universe is literally a dream come true. We can't wait for fans to meet him!"
You can see Alfageeh's designs for Amulet right here:
Alfageeh has made a name for herself outside of the Marvel Universe as an illustrator and character designer. Here's what she had to say about working on Amulet:
"Saladin let me have a lot of fun with this concept. We talked about his defensive-style powers and how they tied into his background as a Lebanese kid. The blue and white color palette and the circular design were pulled from the Nazar, a symbol that pops up all over the Middle East that protects the wearer from the evil eye -- the harmful intentions of others. A bit of a historical, supernatural touch.
"We tend to associate sharp corners and edges with evil, and rounded designs and circles with good. This character is a gentle giant, so I wanted to make sure that even with his size he was shaped like a friend!"
Keep your eyes peeled for Amulet's debut in MAGNIFICENT MS. MARVEL #13!
MAGNIFICENT MS. MARVEL #13, written by Saladin Ahmed with art by Minkyu Jung, goes on sale in March 2020. Stay tuned to Marvel.com for more news about all upcoming comic releases!