Comics
Published July 11, 2018
10 of the Greatest Steve Ditko Covers Ever
Celebrate the legendary creator with a look at his most dynamic covers!
He was a legend in the world of comic books. 
Steve Ditko not only created some of the most iconic characters of all time, like Spider-Man and Doctor Strange, he served as an architect of the Marvel Universe as a whole. He expanded worlds and crafted new frontiers; the paper manifestations of his immense imagination prove his genius.
To celebrate Ditko's astonishing career, we're taking a look at some of the most interesting, action-packed, and indelible covers of his storied career. And where better to start than...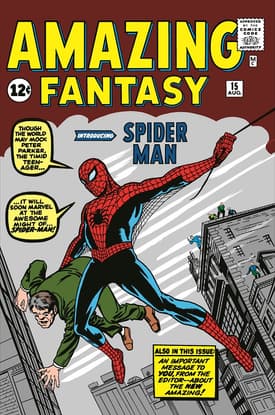 For the most part, this list focuses on Steve Ditko's fully penciled covers—as opposed to the ones he inked—but you can't talk about the man without discussing the cover that introduced the world to Spider-Man!
Jack Kirby drew the published version with Ditko finishing, and an absolute gem came into existence. Still one of the most iconic pieces of comic book art around, you can see it referenced on a regular basis to this day.
MACHINE MAN #12 (1979)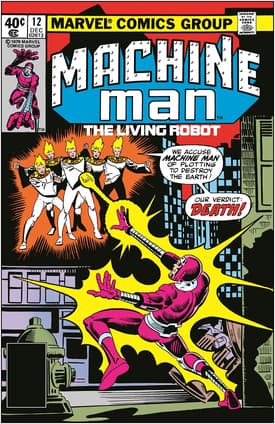 A man of many talents, Ditko put his genius on display with this MACHINE MAN cover. Witness the title character leaping into action to save Human Torch and the Thing from the amorphous scientist-turned-Super Villain Voletta Todd, otherwise known as Ion! Clearly the villain earned the upper hand, but how would our heroes triumph? Questions, excitement, drama—all presented beautifully with this cover.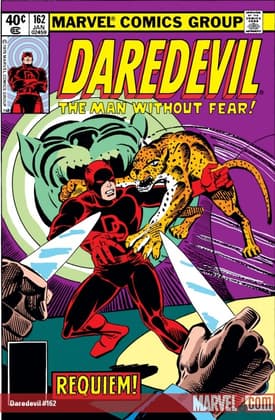 Steve Ditko may have drawn the first issue of the Man Without Fear's ongoing series, but he didn't handle cover responsibilities until 1980 when he rendered this thrilling piece. Between the armed, and unseen, man in the foreground and the leaping jungle cat, you can't help but feel intrigued about what exactly goes on inside this ish!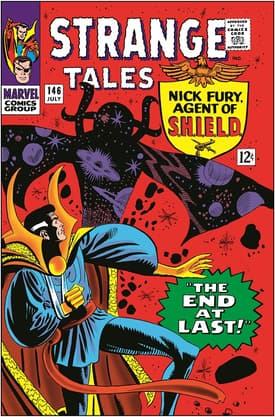 Ditko worked on many a STRANGE TALES covers over the years, usually inking Kirby's work or drawing smaller insets. With the cover of issue #146, he not only managed to present Doctor Strange in all his magical glory, but also encapsulated all of reality in the mysterious form of Eternity.
JOURNEY INTO MYSTERY #58 (1960)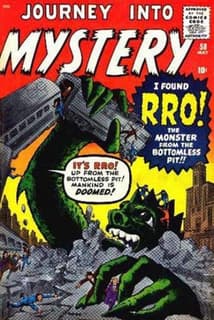 Before Super Heroes swung back into the comic book spotlight with the advent of the Fantastic Four and Spider-Man, monster anthologies were incredible popular reads in the 1950s. With the cover to JOURNEY INTO MYSTERY #58, Ditko put his stamp on the genre with this action-packed image of the kaiju-esque Rro bursting from below the Earth to grab a train!
STRANGE WORLDS #2 (1959)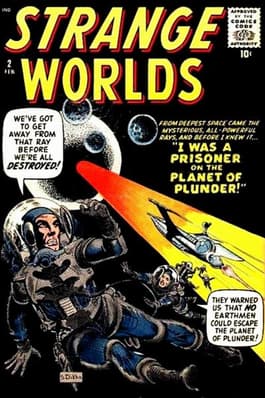 Ditko may have made his reputation at Marvel by drawing monsters, Super Heroes, and sorcerers, but he also proved adept at working within the realm of science fiction. With escaping astronauts, a blasting planet, and a ship caught in its path, you can't help but feel captured by this anthology issue.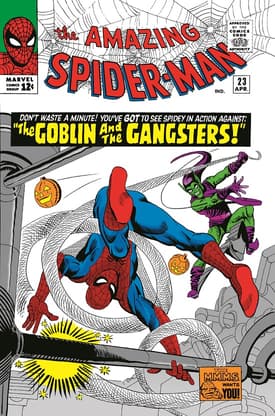 The first appearance of the Green Goblin in AMAZING SPIDER-MAN #14 will always be legendary, but Ditko outdid himself with this cover as the Wallcrawler outmaneuvers his attacker in midair with an acrobatic flip. Simultaneously, the Goblin launches pumpkin bombs at Spidey, trying to ensnare him in his own webbing! Scenes like this have become common, but it's important to look back and give Ditko credit for starting the trend.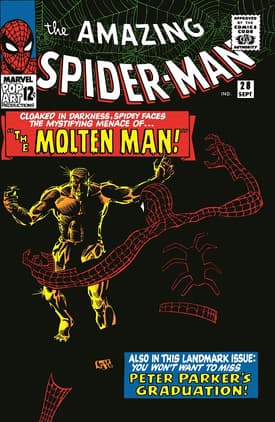 Molten Man might not be one of the most popular Spider-Man villains in the rogues' gallery, but Ditko presented him to the world with this incredible piece of artistry. Not only can you practically feel the heat coming off of Mark Raxton, but all-encompassing shadows nearly swallow the Web-Slinger whole, leaving only the red highlights of his costume to be seen. Another Ditko classic!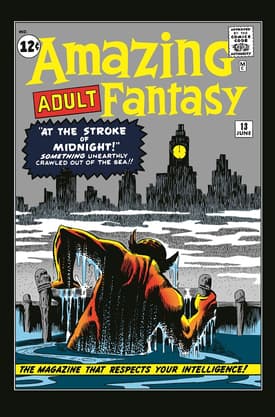 Many comic covers feature heroes and villains in the middle of an epic struggle, but few perfectly capture an oncoming menace like Ditko did with this 1962 offering. The strange creature pulling itself up onto a dock drips with murky water as it plans something sinister for the unsuspecting denizens of this town.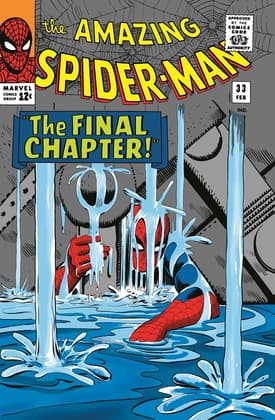 The Final Chapter still stands as one of the greatest stories in Spider-Man's history—and deservedly so. Trapped beneath crumbling debris, Peter Parker must decide if he's going to give himself over to the rising water and the crushing weight, or if he will persevere, dig deep, and prove to himself that he's one of the strongest heroes around. Ditko drew the interiors and co-plotted the issue with Stan Lee, but also gave potential readers one of Marvel's greatest ever covers with this peek at a classic story.
The Hype Box
Can't-miss news and updates from across the Marvel Universe!