Comics
Published August 17, 2017
All-New Guardians of the Galaxy: The Fate of Groot
Speculate on what's been stunting Groot's growth with Gerry Duggan!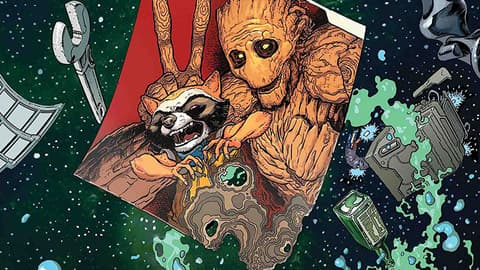 Since the start of ALL-NEW GUARDIANS OF THE GALAXY, Groot's been stuck in a small state and True Believers across the galaxy have been attempting to guess why.
Normally a giant, the talkin' tree has been relegated to sapling status—but on September 6 that all changes with ALL-NEW GUARDIANS OF THE GALAXY #9! Guest artist Mike Hawthorne joins series writer Gerry Duggan to reveal the source of Groot's problem and where the one-line wonder goes from here.
But before issue #9 officially answers the question, we asked Gerry to give us his thoughts on a few of our reasonable (and unreasonable) theories about the cause of Groot's perpetually-slight stature.
Marvel.com: Our first guess: there's a unique frequency in every Electric Light Orchestra song that keeps his species from growing any bigger—and he's just danced to one too many. 
Gerry Duggan: Or fans keep breaking pieces off of him.
Marvel.com: Maybe he got in the way of one of Rocket's mad science experiments and got blasted, poisoned, or shot into permanent-baby form. 
Gerry Duggan: Well, Groot's not exactly a baby in All New—he's just physically diminished. He's banzai Groot.
Marvel.com: What if Rocket made such a snarky quip that it degraded Groot down to his current state?
Gerry Duggan: No comment is too salty for this team.
Marvel.com: Perhaps, before the start of this series, the Guardians fought some powerful cosmic gardener/Edward Scissor Hands-esque entity that wanted to trim Groot into a beautiful and delicate lawn feature. 
Gerry Duggan: That would be quite a gardener/mohel.
Uncover the mystery at last with ALL-NEW GUARDIANS OF THE GALAXY #9, by Gerry Duggan and artist Mike Hawthorne, on September 6!
The Hype Box
Can't-miss news and updates from across the Marvel Universe!