Comics
Published February 16, 2017
Black History Month: Misty Knight
See how this Daughter of the Dragon and Hero for Hire got her start!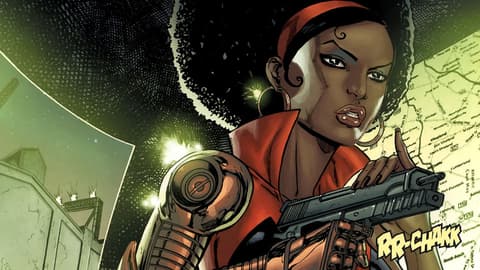 Celebrate Black History Month by delving into the first appearances of Marvel's most prominent African and African-American characters on Marvel Unlimited!
Misty Knight just might be the best mash-up of popular 70's film genres in existence. In addition to being an awesomely strong and confident black woman—not unlike many of the characters seen on the big screen in blaxploitation films—she also works as a detective, possesses a deep knowledge of the martial arts and sports a wall-crushing bionic arm!
Though mentioned by Colleen Wing in the previous issue, Misty Knight appeared for the first time in 1975's MARVEL PREMIERE #21 by Tony Isabella and Arvell Jones. Danny Rand—aka Iron Fist—walked into Dr. Lee Wing's brownstone only to find seven assassins lying dead on the floor and the Wings missing. The next thing he knew, a woman with impressive martial arts skills leaped out of nowhere to attack him. Iron Fist tried explaining himself, but his assailant continued to attack without listening. To get back on the trail of the Wings' kidnappers, Danny gave her a nerve pinch that knocked Misty out.
Misty and Danny didn't cross paths again until IRON FIST #1 by Chris Claremont and John Byrne. Over the book's 15 issue run, the pair crossed paths a number of times. In that time, we learned her back story as a cop who threw a bomb out of the way that blew up her arm. She later had it replaced with a cybernetic version that offers additional strength to her already powerful form.
Misty also explained that she and Colleen Wing formed a private detective company called Nightwing Restorations Ltd. Knight has also been a member of the Heroes for Hire, Daughters of the Dragon, and even the Valkyrior in FEARLESS DEFENDERS.
Though she never joined the Avengers, Misty Knight continues to take part in huge storylines. She and Colleen formed a new Heroes for Hire at the request of Tony Stark during Civil War. Their mission revolved around taking down unregistered super people. She and the same team later tried to protect the planet during World War Hulk, even taking on the Jade Giant's Warbound pals.
These days, Misty and Sam Wilson spend quite a bit of time together in the latter's self-titled Captain America comic. She's helped her fellow hero deal with the backlash against his continued use of the name "Captain America," but also backed him against confrontations with Doctor Malus, the Serpent Squad, and a public that doesn't trust the new Cap.
History Lesson
While MARVEL PREMIERE #21 stands as the official first appearance of Misty Knight, Claremont and Byrne actually retconned an earlier issue to make it the chronological debut of the character. In MARVEL TEAM-UP #64, Spidey and the Daughters of the Dragon take on The Steel Serpent. At the end of the issue, the Wall-Crawler asks Misty if they've met before and she explained that he saved her from some muggers on Christmas eve with "some dude in a flyin' bathtub." That's a nod to MARVEL TEAM-UP #1 when, while chasing Sandman, Spidey and Human Torch stopped to save an unidentified woman from some hoodlums. It's only a three-page sequence, but it sure must have left an impression on Byrne and Claremont!
Tomorrow we close out the week by examining the origins of the newest character showcased so far: Blue Marvel!
The Hype Box
Can't-miss news and updates from across the Marvel Universe!