Comics
Published August 14, 2017
Celebrating Star Wars #32
A new era of Star Wars comics begins...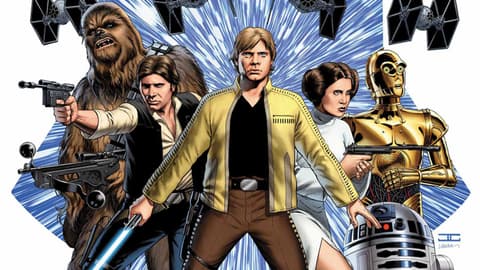 We all know that the first Star Wars film changed the face of pop culture forever when it hit theaters 40 years ago—but it's not just the movie that's celebrating that milestone in 2017. Star Wars comics arrived with force in 1977, and hundreds of issues later, they're more popular now than ever.
To celebrate the 40th anniversary of Star Wars, we're looking back at our 40 favorite moments from the history of comics from a galaxy far, far away—one day at a time.
"I have a very good feeling about this," says C-3PO within the first few pages of STAR WARS #1. Beyond simply speaking for himself by turning one of Star Wars' most well-known phrases on its head, he's even more so speaking on behalf of us, the fans. The first Star Wars title published by Marvel since the 1980s, this issue represents a rebirth for comics set in a galaxy far, far away, with every action taken and word spoken officially now adopted as Star Wars canon.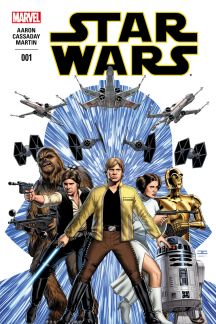 Thankfully, the issue's story and art perfectly match the cinematic tone of its source material. You can practically hear the actors' voices and John Williams' score in your head as you read Jason Aaron's words and marvel at John Cassaday's spot-on, dynamic art. Set within the months following the destruction of the first Death Star, we follow all of our favorite characters—Han, Luke, Leia, Chewbacca and the droids—as they infiltrate an Imperial outpost. Things go well for a while…but then Darth Vader shows up. After an incredible moment where he defends himself against a barrage of blaster fire, Vader ignites his lightsaber—with Luke right before him.
Now at issue #36, STAR WARS continues to delight fans on a regular basis. And it's still a very good feeling to read it.
The Hype Box
Can't-miss news and updates from across the Marvel Universe!