Comics
Published October 19, 2017
Deadpool vs. Old Man Logan: Mutant Melee
Declan Shalvey breaks down the Canadian combatants' deadly dynamic!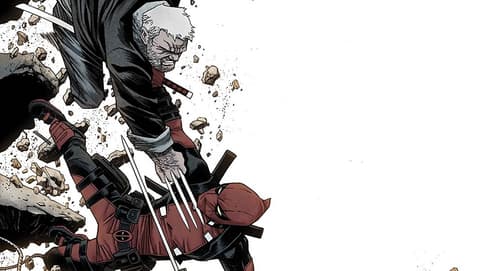 Everyone's favorite immortal Marvel characters tear each other to pieces in writer Declan Shalvey and artist Mike Henderson's limited series DEADPOOL VS. OLD MAN LOGAN!
But the fighting between big mouth Wade Wilson and crotchety old James Howlett only teases at the larger game at play in this five issue event. With a new Omega-level mutant named Maddie on the run, the two heroes will have to fight a mystery organization—and each other—to keep her safe. And on November 15, issue #2 claws deeper into the battle and its surrounding secrets.
We spoke with Declan about writing and drawing comics—and what makes this team-up unlike any other.
Marvel.com: You've made the transition from artist to writer for this series. What's that switch been like?

Declan Shalvey: With writing, I've gotten to dip my toe a bit, with the Nick Fury CIVIL WAR II: CHOOSING SIDES serial from last year and the VENOMVERSE story I did this year. In both cases though, I drew those stories as well. Writing an actual Marvel limited series for another artist seemed pretty intimidating, but a challenge I felt up to. I had just written a creator-owned graphic novel for another artist that ended up being roughly the same page count, so between that and the previously mentioned shorts, I think I'd built up enough confidence to do something as ambitious as DEADPOOL VS. OLD MAN LOGAN.
Marvel.com: As an artist, do you automatically illustrate the story in your head while writing a story? If so, does it make writing easier?
Declan Shalvey: In a way—I've heard some writers tend to draw layouts when they're writing, but I feel I have a good sense of how much I can fit into a page as I'm writing. My brain has some visuals in mind, so I'll structure a lot of the other moments around the bigger moments. Because of that, I know where to dole out the appropriate real estate—I know to have some moments with more space on the page more than others.
I've been fortunate to work with Mike Henderson on this project, as I feel we have a large overlap in our visual sensibilities. There's a few pages that look just like what I had in my head. Others look very different, but in interesting ways that feel very like Mike, so I respect his choices.
As an artist, I have a similar relationship with my colorist Jordie Bellaire. I tell her what I'm thinking and she'll deliver on that—or do something different that's better than what I would do. I've learned to embrace those opportunities as an artist, so I try do the same with my writing; I leave the artist the space to bring something of their own to the book. It can only result in more good ideas being available.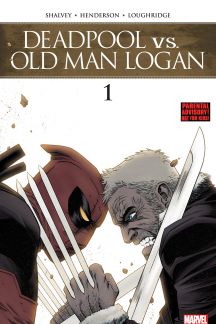 Deadpool Vs. Old Man Logan (2017) #1
Marvel.com: Have you found an element of the writing process that you enjoy more than the illustration process? How about vice versa?
Declan Shalvey: The writing process can be a lot more frustrating than the illustration process…probably because I have so much to learn. But also with illustration, I want to lock everything down before I start drawing in order to be more productive overall. With writing, results end up being more nebulous—it's harder to pin things down and say they're "done," but that's been the great thing about working with Heather Antos as my Editor. She's been great to push me to do my best on the book, and to point out where I might need to spend more time developing the story.
I will say that writing takes up a very different part of my brain, so it can be difficult to focus. My natural state has always been drawing—I can pick up a pencil and get to work instinctively. Writing means I have to force myself to sit in the chair more and get words on the page. My favorite part of both disciplines, though, is the problem-solving. Taking words and making them into a visual narrative feels like solving a puzzle that I find very satisfying. Similarly, breaking down a story and figuring out story problems can be hugely rewarding.
Marvel.com: You did the cover art for another "DEADPOOL VS." series in DEADPOOL VS. THE PUNISHER with Fred Van Lente and Pere Perez. Did drawing the covers for this run feel different since you're also writing?
Declan Shalvey: The DEADPOOL VS. THE PUNISHER covers got assigned so far ahead of time, I didn't have much story material to work from so I just had to come up with random visuals to help sell the book. The covers on DEADPOOL VS. OLD MAN LOGAN on the other hand…I had the advantage of knowing all the story…but I don't want to incorporate too many story elements from the book. I tried to create a more unified design look to the whole series, so it always has the two title characters, generally fighting, with a limited color palette and a strong, bold design approach too.
I didn't tie in anything about Maddie or the mysterious baddies. I'm hoping every cover of DEADPOOL VS. OLD MAN LOGAN will be recognizable as part of a unique and identifiable limited run. That's what I tried to do anyway—and again, Editors Heather Antos and Jordan D. White were really accommodating by letting me try to do so.
Marvel.com: It's so cool to pit two immortal characters against one another. How did you want their invincibility to come across in the story and art?
Declan Shalvey: Oh I just had to try and rip both these guys to pieces; this book allowed us to push things as far as we possibly could. There had to be a "Parental Advisory" tag on this book, otherwise what would be the point in doing it? It's been brilliant fun to bang these characters heads together…figuratively and literally.
The violence has been a lot of fun to write, and from what I can tell, Mike loves drawing it. Getting to the heart of the matter though—the violence ends up being trivial because both these characters have invincibility. Swords and claws won't really hurt these two…what really affects them will be mistakes from their past. And the young mutant that they meet in issue #1 brings a lot of that stuff to the surface as the series progresses.
Grab DEADPOOL VS. OLD MAN LOGAN #2, by Declan Shalvey and artist Mike Henderson, on November 15!
The Hype Box
Can't-miss news and updates from across the Marvel Universe!