Comics
Published June 1, 2015
Deadpool Vs. Thanos: Racing to Find Death
Tim Seeley forces the Merc with a Mouth and Mad Titan together in a quest to save the woman they both love!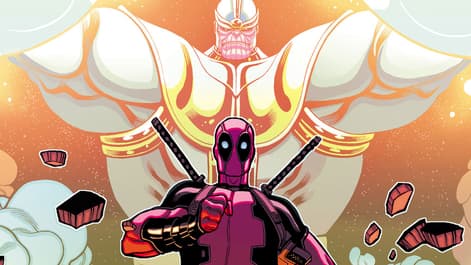 What happens when one of the most powerful threats in the galaxy around finds himself forced to work with one of the most insane figure in the Marvel Universe? Chaos.
That will be the name of the game in DEADPOOL VS. THANOS, a bi-weekly, four-issue limited series launching this September.
Penned by GUARDIANS OF THE GALAXY: BEST STORY EVER writer Tim Seeley with art by Elmo Bondoc—who recently made his Marvel debut on MS. MARVEL #12—the story brings the title characters together over the most common motivator of all: love.
"Mistress Death, the epitome of death itself is kidnapped and disappears, so no one is doing the job of 'reaping' the living," explains Seeley. "Both Thanos and Deadpool have a romantic history with Ms. Death, so they're drawn together to find her."
As you might expect the Merc with a Mouth easily gets on the Mad Titan's nerves, and not just because they share an ex.
"He hates him," Seeley says. "To Thanos, Deadpool is everything he despises about life. He's unpredictable, he's irrational and he's just plain annoying. There's a good reason Thanos kills Wade on the second page of issue #1."
Even though the duo doesn't get along so well, they feel compelled to work together to bring back their lady love thanks to an element potentially more infuriating than Wade Wilson himself.
"Thanos finds he needs Wade," reveals Seeley. "Mistress Death is only speaking to Deadpool, not him. So, in addition to just plain hating the guy, he's resentful and jealous too."
Seeley teases that there's plenty of room for appearances from some of Marvel's most malicious malcontents within the confines of DEADPOOL VS. THANOS.
"We'll be taking a tour of Marvel bad guys in this series," he teases. "We'll see Dr. Doom, Mephisto, Blackheart, the Black Talon, and a few surprises along the way."
While Thanos and Deadpool might not be overly excited about teaming up, Seeley's having a great time working with Bondoc and cover artist Tradd Moore.
"It's been pretty amazing," he says. "[Bondoc] has serious cartooning chops, while also being really adept at doing the dark and twisted stuff I throw at him. It's a gorgeous book, and we've got Tradd 'Damn' Moore doing covers to boot!"
The first two issues of DEADPOOL VS. THANOS hit shops in September with the next two landing in October!
The Hype Box
Can't-miss news and updates from across the Marvel Universe!