Comics
Published April 21, 2017
Doctor Strange: Post Script
Writer Jason Aaron reflects back on his run with the Sorcerer Supreme!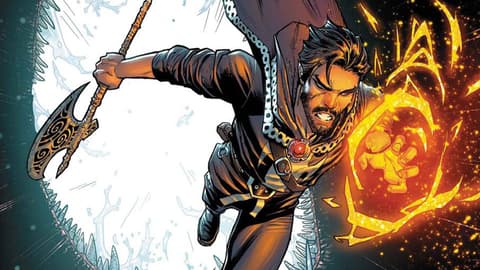 We find ourselves at the end of an era, folks. Just as Stephen Strange once faced The Last Days of Magic, writer Jason Aaron finds himself fast approaching the final installment of his nearly two-year run on DOCTOR STRANGE with issue #20 coming May 17. No need to worry, though, because the MIGHTY THOR writer says he has more plans in store for the Sorcerer Supreme.
Jason worked some of his magic on us to deliver a few poignant thoughts on a comic that means a lot to him and the Marvel Universe. Prepare for things to get strange—well, stranger than usual anyway.
Marvel.com: You've been writing DOCTOR STRANGE for nearly two years. What has been your favorite part about writing for Stephen Strange? Put another way: What was been the most magical part?
Jason Aaron: I think to me, the most important part coming in was just making the book fun. DOCTOR STRANGE as a series is one that didn't always catch on. We hadn't had a solo DOCTOR STRANGE ongoing in a quite a while so the character is sometimes hard for people to connect with or relate to and his world maybe seems so different compared to the rest of the Marvel Universe and maybe a little impenetrable. So I wanted it to be welcoming to people who'd never read a STRANGE book before, but also at the same time, something that could be embraced by the longtime fans of the character and as part of that, I wanted to make it fun to hang out with Stephen Strange and embrace the fact that he is very different from the all the rest of the heroes of the Marvel Universe; I did want to give a weight to what Strange goes through and let you understand a little bit about what it's like to be him and the price he has to pay to be the Sorcerer Supreme. It's not like Cap throwing a shield or Thor throwing a hammer. There's a real price to be paid every time Doctor Strange uses magic. Sometimes that's a price that's paid by other people, by the world at large, but most often that's the price that's paid by him. So I think we demonstrated that in a lot of different ways and just how difficult it is to be the Sorcerer Supreme. I like kind of that dichotomy and the fact that Doctor Strange seems to be having a good time, the guy even embraces the weirdest little corner of the Marvel Universe, but at the same time, you don't really wanna be Doctor Strange. It's not a fun gig.
Marvel.com: Which character, hero or villain, have you most identified with and why?
Jason Aaron: I think it was nice to add a character like Zelma [the librarian] to the mix, someone who came into Strange's world with fresh eyes, someone who didn't really even believe in magic before that and certainly didn't embrace the weirdness in a way that Strange does so I liked seeing [the weirdness] through her eyes and seeing how that experience has changed her along the way, which we really drive that point home in the last issue, issue #20.
Marvel.com: Under your direction, Stephen went from the top of his game as a Sorcerer Supreme to seeing magic die off. Can you discuss the process of crafting this roller coaster-esque odyssey for such a unique character and the challenges therein?
Jason Aaron: I like the way of sort of establishing Strange and the beat he walks as Sorcerer Supreme and what it's like to him. I like the idea of [villains] who really [burn] his world to the ground—I think from there we start to kind of rebuild it. [We put] a few more limits on his powers; Strange has become kind of a deus ex machina for a while in the Marvel [Universe] where he could always just sort of show up and wave his fingers and save the day so I wanted to get away from that and show it's a lot harder for him to be who he is and to do what he does, show him really have to fight and struggle for it, sometimes literally. We wanted him to be able to mix it up a little bit more and not just stand around and shoot magical energy blasts, but have to pick up a weapon and jump into the fray more than we're used to seeing.
Marvel.com: Another theme in the comic is the existence of supernatural horrors just beyond the veil of human comprehension, which was brought to vivid life by Chris Bachalo's artwork. Was the cosmic horror and weird fiction of H.P. Lovecraft an influence at all?
Jason Aaron: Sure. I've read a lot of Lovecraft and love it. I think, again, that Doctor Strange is very different from all the other heroes in the Marvel Universe and that he's the guy who walks a very different sort of beat and has to deal with threats that most of the other heroes may not even know exist. We wanted to drive that home and Chris has been a huge part of that. Right out of the gate in issue #1 we did the bit where we kind of see the world through Doctor Strange's eyes; we call it "Strange Vision" where we see the normal world kind of go into black and white and we see all the things that only someone like Stephen Strange can see in pop and color. Chris is the perfect artist to do stuff like that. He really took it to another level on this. All along the way, once he was on board, he's been filled with all sorts of crazy ideas with stuff to put in this book, visually, and has taken it to some really wild, imaginative places.
Marvel.com: What was it like writing this comic in the midst of big releases like the "Doctor Strange" movie that helped propel Stephen to a status of fame that he may not have enjoyed before?
Jason Aaron: Yeah, I think that's really cool. Certainly anything that helps get more eyes on the comics, I'm always a fan of. I really enjoyed the movie, I really liked the tone of it and it felt like the movie and the comic were kind of pulling in the same direction in that regard. I'm really excited to see Strange pop up again in the [Marvel] Cinematic Universe.
Marvel.com: What hints and/or spoilers can you offer up about issue #20 before it drops in May?
Jason Aaron: I think it kind of sums up my run-up to this point. It's the big issue; it's drawn by the two artists who've handled most of it in the art so far: Chris Bachalo, the main artist, and then Kevin Nowlan who's drawn a few bits here and there. So the two of them together, I think they're the perfect pairing for this series. It's a story that goes to a lot of different places, kind of focuses on Stephen and the core group of supporting characters around him and like I said, sums up my run so far and kind of sets things up for the new writer Dennis Hopeless to [take on] these same characters and take them forward into some new and different stories.
Marvel.com: And going off that, can you say anything on where Doctor Strange will go from here? Is he gonna be making any cameo appearances in MIGHTY THOR?
Jason Aaron: Maybe. You never know. I really enjoyed writing that team-up issue of STRANGE where we saw Doctor Strange and Thor teaming up so yeah, I don't think I'm done writing Doctor Strange in some capacity.
Marvel.com: Is there anything in particular that you hope readers have taken away from your run on the title?
Jason Aaron: Just, you know, don't ever touch Doctor Strange's refrigerator…
Join Jason Aaron, Chris Bachalo, and Kevin Nowlan for DOCTOR STRANGE #20 on May 17!
The Hype Box
Can't-miss news and updates from across the Marvel Universe!