Comics
Published November 17, 2017
Falcon: Windy City War
Rodney Barnes details Blackheart and Falcon's battle for Chicago!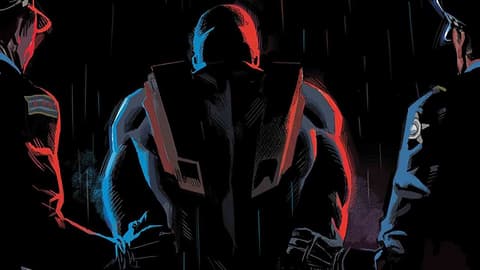 Masquerading as the mayor of Chicago, the demon called Blackheart has declared The Falcon public enemy number one.
On December 13, writer Rodney Barnes and artist Joshua Cassara present FALCON #3! With Sam Wilson on his heels—and his young partner, Rayshaun Lucas, unable to handle the fight alone—how will the Windy City fare?
We caught up with Rodney to find out more.
Marvel.com: Blackheart's been knocking around for a little while—do you have a favorite appearance?
Rodney Barnes: His first, in DAREDEVIL #270, which, from my hazy recollection, saw Spider-Man and Daredevil fighting Blackheart. There was something dope about heroes associated primarily with foes of a similar strength-level then fighting a demon. Plus the kid version of me thought the name "Blackheart" sounded cool.
Marvel.com: What made him stand out in your eyes?
Rodney Barnes: His look and size were just brutal. Everything about him screamed evil. He can't be reasoned with and every appearance he made in a storyline confirmed that.
Marvel.com: So what made him the perfect villain for this storyline?
Rodney Barnes: Returning Sam to the street after his high-profile adventures of late had to have meaning. I wanted him to wrestle with his inner demons, but have it play out in a unpredictable way. Blackheart fit the bill because he stands above Sam's power level, but not so much so that he doesn't still have to scheme and manipulate to achieve his goals. That meant at some point he'd have match wits with Sam. And there, our hero has the advantage.
Marvel.com: How does he get under Sam's skin? Does Sam have what it'll take to battle such a supernatural powerhouse?
Rodney Barnes: Sam has been wrestling with doubts and regrets from both his past and recent events. Demons exploit those dynamics in people and Blackheart continues in this tradition. I believe Sam is bigger than his regrets, but defeating the son of the devil is no simple task.
Marvel.com: How has working with Joshua Cassara been on this story? What do you see as his greatest strengths?
Rodney Barnes: Josh's art is incredible! I love his ability to go from the gritty urban environment to space, Hell, and everyplace in between. I'm grateful to have him as a partner in this. Plus he put me in a fight scene in issue #3, so he's earned free dinners for life!
Marvel.com: Last question…might we see Blackheart's dad anytime soon?
Rodney Barnes: Yes, you'll see Dad pretty early on, as well as a few other evil devil baddies. Let's just say one of them doesn't like being shown up by Sam. There'll be hell to pay!
FALCON #3, by Rodney Barnes and artist Joshua Cassara, drops on December 13!
The Hype Box
Can't-miss news and updates from across the Marvel Universe!