Comics
Published August 14, 2017
Get Ready to Run: True Believers
The Runaways fight for the future in the second volume by Brian K. Vaughan and Adrian Alphona.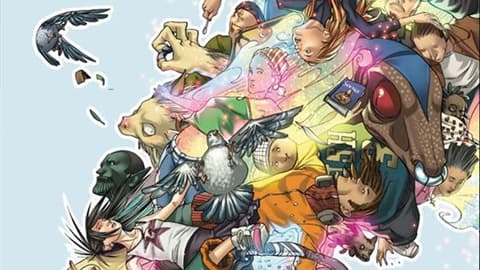 Before Rainbow Rowell and Kris Anka's RUNAWAYS launches in September, take a look at all of their major adventures as seen on Marvel Unlimited!
After taking on the Wrecking Crew, the gang returned to their hideout under the La Brea Tar Pits Museum only to discover a time traveling Gert appearing out of thin air. She gave warning of an all-powerful foe named Vicot Mancha before dying, thus giving the team a new threat to focus on.
Meanwhile, a group dubbed Excelsior attempted to track down the kids at the request of a mysterious benefactor. Dedicated to offering former teen heroes a chance at a normal life, Turbo, Phil Urich, Chamber, Julie Powers, Richocet and Darkhawk agreed to take on the assignment in exchange for a healthy cash infusion to their organization.
This, of course, did not sit well with our heroes. Everyone wound up smashing into each other at East Angeles High School where Victor attended. The Runaways landed right on the football field to grab their prey, but Excelsior appeared not long after.
In the ensuing super hero brawl, the kids made an escape with Victor in tow. They returned to their base where he continued telling him that his parents consisted of a mom working three jobs and a Marine who died in the line of duty.
Before long – and right in the middle of a less-than-great escape attempt on Victor's part – the group headed out to save Mancha's mom Marianella from his real dad, Doctor Doom! Well, that's what they thought at least. See, Mancha turned out to be a cyborg created by an Ultron who also got his steely hands on a Doombot and used that as a ruse. After revealing his true identity, Ultron killed Victor's mom.
While taking over Victor's programming and using his pseudo-son to knock the Runaways around, Ultron gave the young man a tour of their shared past. As the kids lost the advantage in the battle, Karolina literally blew the roof off the place, giving the members of Excelsior a pretty good indicator of where the action was.
As the more experienced heroes jumped into the fray, the proved effective enough to take out the android while Chamber watched the kids in another room. He let them bail out, this time with Victor attending of his own free will, though devastated by the loss of his mother.
LOST & FOUND
At the end of this arc, the members of Excelsior learned that Rick Jones acted as their mysterious benefactor after Captain America let him know about the Runaways. Though Chamber turned out to be an impostor – more on that in the next installment – Jones asked the others to continue working together which lead to an appearance in MARVEL TEAM-UP #15, a name change and a spinoff limited series in 2007 by C.B. Cebulksi and Karl Moline called THE LONERS. Their ranks grew to include Mattie "Spider-Woman" Franklin, the second Red Ronin known as Namie and former Generation X member Penance, then going by Hollow. Eventually, the remaining members signed up for further work in AVENGERS ACADEMY #21.
Next time, Brian K. Vaughan, Adrian Alphona and Takeshi Miyazawa introduce the gang to new heroes, enemies and a very important person in Katarina's life in RUNAWAYS #7-12.
The Hype Box
Can't-miss news and updates from across the Marvel Universe!