Comics
Published August 28, 2017
Master of Kung Fu: On the Chopping Block
CM Punk brings Shang-Chi back with a Marvel Legacy one-shot!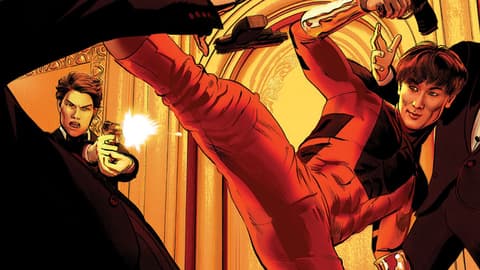 He's the greatest hand-to-hand fighter in the Marvel Universe.
Stepping back into the limelight with this title's first appearance since 1983, Shang-Chi returns in MASTER OF KUNG FU #126!
Brought to life by a writer that knows a thing or two about combat in close quarters, CM Punk, alongside all-star artist Dalibor Talajic, the Marvel Legacy one-shot kicks off on November 8!
We met up with Punk for a little insight into a revival 34 years in the making.
Marvel.com: What's your approach to bringing the Master of Kung Fu to life?
CM Punk: It helps that it's a one-shot, because I think we can just create a fun comic book. I have zero history with Shang-Chi, aside from being a comic book fan and knowing about him from various team-ups, but I wanted to do a throwback to some 1970s action with a bit of campiness.
Marvel.com: How does your own fighting mastery influence the way you write this story? Do you and Shang-Chi have similar styles?
CM Punk: Oh, absolutely not. Shang-Chi is a martial artist. I'm a fighter. I'll be able to lay out some great action, though.
Marvel.com: What's he up against in this one-shot?
CM Punk: Without giving anything away, I want to have fun with the idea of him having a "day off" from fighting forces of evil. However, evil never sleeps…
Marvel.com: And how does it feel to work with Dalibor Talajic on the book?
CM Punk: He's such a perfect artist for this—he practices martial arts himself! I think that will be a great help.
CM Punk and artist Dalibor Talajic reawaken MASTER OF KUNG FU with issue #126 on November 8!
The Hype Box
Can't-miss news and updates from across the Marvel Universe!