Comics
Published August 10, 2017
Monsters Unleashed Journeys to the Savage Land
Cullen Bunn on what's to come for Kid Kaiju, including Fin Fang Foom… times two!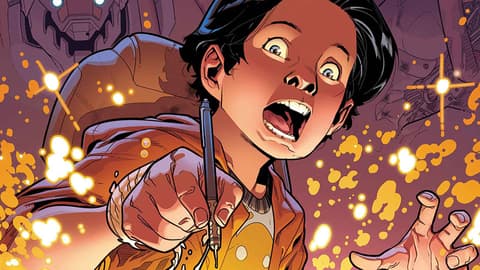 With big monsters, comes big responsibility…for Kei Kawade, at least. When you can bring massive behemoths to life just by drawing them, people start to take notice. Kei, AKA Kid Kaiju, currently enjoys his own ongoing series-MONSTERS UNLEASHED, from writer Cullen Bunn and artist Andrea Broccardo-and soon, he gets to join the Marvel Legacy initiative too.
In MONSTERS UNLEASHED #7 (out this fall), Kei and his colossal compatriots find themselves in the Savage Land, the classic Marvel locale untouched by time and populated by unfriendly beasts. Talking to writer Cullen Bunn we learned that the first arc will focus on classic creatures like Fin Fang Foom while also setting up important new developments for the future of the Marvel Universe.
Marvel.com: Can you talk a little bit about how this issue will directly tie into the Marvel Legacy initiative? 
Cullen Bunn: MONSTERS UNLEASHED started off as a bit of a love letter to all the classic monsters in Marvel's vast history. With the new series, we've been focused on our new monsters. In this arc, though, we're putting the spotlight back on one of the classic monsters in a big way. In addition, this story focuses on the idea of a kid struggling with powers that are new and unusual and scary to him. That's the kind of story that made me love Marvel when I was a kid.
Marvel.com: Going off that, what kind of throwbacks can we expect to Marvel's legacy of monsters from the Kirby era and the like?
Cullen Bunn: We're spotlighting one iconic monster–Fin Fang Foom–in this arc. He's arguably the most popular of the classic Marvel beasts, and he's definitely one of my favorites. Wait. Did I say we were spotlighting one monster? I meant two. But they are both Fin Fang Foom. What does that mean? It means that while we're honoring the legacy of Marvel comics, we're also looking toward some very important things coming in the future.
Marvel.com: What about the Savage Land makes it so well-suited for a MONSTERS UNLEASHED story? 
Cullen Bunn: Besides the fact that the Savage Land is one of Marvel's most legendary locales, there is an important reason that this story takes place there. When we first arrive in the land of prehistoric beasts, it is because Kei has a big secret he wants to reveal, but for various reasons he wants to be far away from modern civilization.
Marvel.com: How will Kid Kaiju's band of world-saving monsters get along with the ones we'll meet in the Savage Land? 
Cullen Bunn: They will not get along at all.
Marvel.com: In terms of an antagonist, what kind of threat are we looking at here, both to this land untouched by time and the world at large? 
Cullen Bunn: The threat in this story is huge–and not just physically. This creature is a threat to Kei, a threat to the Savage Land, and–if Kei and Elsa Bloodstone don't stop it–to the world as a whole. As I mentioned, as much as this story honors Marvel's past, it also looks to the future. The villain in this issue is just part of something much, much bigger and more terrifying.
Marvel.com: How does Andrea Broccardo's artwork on this correlate to the story you want to tell?
Cullen Bunn: Andrea draws some great monsters and dinosaurs! He also draws great action and adventure. Most importantly, though, Andrea never forgets to keep the artwork fun. We're telling an important story, but MONSTERS UNLEASHED is still a book you'll have a good time reading.
Marvel.com: Will this experience be enough to turn Kid Kaiju into Man Kaiju?
Cullen Bunn: This might be a harrowing enough experience to age Kid Kaiju. It's definitely going to open his eyes to the enormity of his abilities a little more. But I think he'll still be a kid when it's all over–a kid with some big responsibilities.
The Hype Box
Can't-miss news and updates from across the Marvel Universe!