Comics
Published December 20, 2017
Old Timers: A Spider-Man/Deadpool Sketchbook
Artist Scott Hepburn flashes to the future with Spidey and the Merc!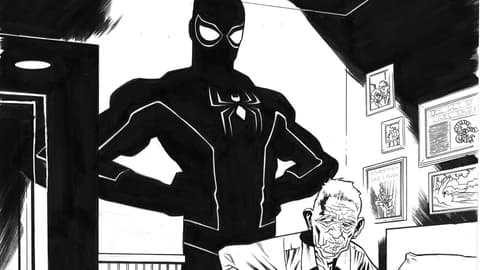 Big plans have been set in motion for SPIDER-MAN/DEADPOOL in 2018. On January 10, get a taste of the machinations in store with writer Robbie Thompson and artist Scott Hepburn's SPIDER-MAN/DEADPOOL #26! Jump into the future as 80-somethings Peter Parker and Wade Wilson realize they live in the same nursing home!
We spoke with Hepburn about moving the book's stars down the timeline, Deadpool's old man facial hair, and working with Thompson to bring it all together.
Marvel.com: This issue sounds like a lot of fun. How did you like working with Robbie Thompson to bring it to life?
Scott Hepburn: Robbie is the best. Super nice guy, but more than that, he comes from a TV writing room and encourages input and collaboration. When I met him at [New York Comic Con] for the first time in person, he asked me, "What do you wanna draw?" And that opened up a bunch of ideas for me, which will start to play out in the next few months.
Marvel.com: Spider-Man may be the most iconic Marvel character in existence—so what'd it feel like to figure out his 80 year-old look?
Scott Hepburn: I love character design, so having a chance at creating my own new versions of Spider-Man and Deadpool was very exciting. Editor Nick Lowe mentioned putting Spidey in a wheelchair so that kind of defined him as a more vulnerable, subdued, classic old man.
Marvel.com: And how about Deadpool? How does he look as an octogenarian?
Scott Hepburn: With Deadpool, I thought age would just break down barriers and filters even more. So his outfits and crazy mustache stand as a reflection of that.
Marvel.com: What challenges come from drawing super folks of such an advanced age?
Scott Hepburn: Their age changes everything about them, but "challenge" implies a problem—it's actually just really fun. Through the story, we learn why Pete is in his chair and why Deadpool has aged so badly, but again, Robbie has made the choices I made integral to the story.
Marvel.com: Are Old Man Parker and Old Man Wilson wearing their classic costumes or did you play with those designs?
Scott Hepburn: My "redesign" of the heroes was simply to put their wrinkly withered old bones into their classic costumes and have the fabric hang off them creating a new silhouette and energy!
Writer Robbie Thompson and artist Scott Hepburn's SPIDER-MAN/DEADPOOL #26 shuffles its way into the world on January 10!
The Hype Box
Can't-miss news and updates from across the Marvel Universe!