Comics
Published March 20, 2017
Psych Ward: X-Men: Blue
Mutant expert Cullen Bunn lends a hand in evaluating the original five!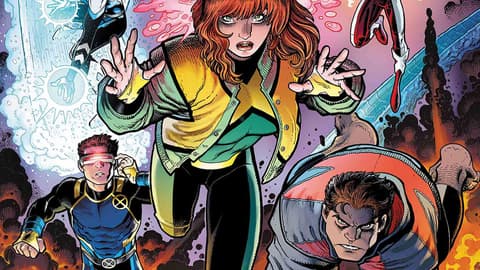 Here are my and Doctor Bunn's notes and observations on the mutants as requested. You received their releases in advance and we have kept copies as well should their waiving of privilege need to be proven at a later date. Please let us know if there is anything further we can do to help
Jean Grey: With the knowledge of her future—or the future she would've had—Jean has proven to more assertive at a younger age than the Jean Grey who was not plucked from the timeline and moved forward. With this assertiveness has come some arguably problematic behaviors including overreaches in power and some manipulations.
Overall, as Dr. Bunn describes below, the main thrust of Grey's therapy is about her feelings of responsibility for her teammates and the larger mutant community.
Dr. Bunn's Notes: "Jean Grey has assumed a leadership role among the young X-Men, but she struggles with worry that she could be letting her teammates down. She has put her team on a potentially very dangerous path, and she feels solely responsible for their safety.
"She also shows concern over being patronized by the rest of the X-Men. She relies upon and confides in her teammate Scott Summers, who understands the struggles of leadership. Knowing that the older X-Men have faced great challenges in their lives, she hopes to prepare her team to better face the same level of threats."
Cyclops: Summers, intriguingly, has followed an almost opposite path than Grey. Instead of the knowledge of his future making him more assertive and dedicated to assuming a leadership role, it has served to encourage him to take a step back. While supportive, he has gladly ceded the role of team leader to Grey. This stands in contrast to a Cyclops who once would literally fight teammates for the "honor" of leadership.
Knowing his future has also allowed him, it seems, to expand his attention beyond mutant concerns as demonstrated by his joining the Champions and exploring the idea of being more of a super hero and less of a mutant spokesperson/advocate.
Dr. Bunn's Notes: "The destructive power he possesses—and the great discipline he feels he must always maintain—has contributed to Scott's restrained, controlled, and rigid demeanor. He was the first of Professor Xavier's X-Men, and he feels that this distinction comes with a great responsibility. Still, he is somewhat relieved that Jean has taken a leadership role for the team."
Beast: Henry McCoy is an intriguing case to this writer. I've gotten to know the "adult version" as a devoted man of science so to see his teenage self beginning to dabble in more mystical pursuits has been both interesting and alarming. The client's struggle to find a path when, of all the clients, his future seems the least fraught has certainly caught my attention, leading me to wonder if there has been some tragedy encountered by the client since he arrived that he has kept secret or that the adult McCoy has hidden or suppressed some painful memories while I worked with him.
Dr. Bunn's Notes: "Hank is a man of many secrets. Since finding himself lost in our time, he has struggled to find his place in the world and his value to the team. This has led him to dabble in the mystic arts, a new interest that could prove dangerous for him.
"When cautioned about the risks inherent with the magical arts, he scoffed, saying that he has a 'teacher' who is guiding him in this new field of study. No record of this teacher could be found."
Iceman: Of all the team, Bobby Drake seems to have taken the most advantage of this timeline, for lack of a better way to express it. While his confession of his sexuality was something he was rushed into by Grey's mind-reading, he has since proven rather comfortable with both the self-knowledge of his desires and living an out life. While his adult counterpart has often seemed to vacillate between identities and responsibilities to the point that it was difficult to know if he had an authentic self, this teen seems comfortable, level-headed, and very aware of who he is.
Dr. Bunn's Notes: "Bobby uses humor to mask his feelings of discomfort and nervousness. A great deal has changed for him since he arrived in our time. He has developed a romantic relationship with the Inhuman Romeo, and he is experiencing a wide range of emotions, as would any teenager. The fact that the young men no longer see each other as much as they once did—because of physical distance and increased responsibilities—causes Bobby a degree of uncertainty and worry. This anxiety appears to be manifesting as minor fluctuations in his powers."
Angel: The popular conception of Warren Worthington prior to the traumatic destruction of his wings and subsequent alliance with Apocalypse was that he was a gifted and privileged adolescent who experienced little by way of adversity that was not directly associated with his wings.
This interpretation may have been true, but the teen Worthington in our timeline has shown himself to be far more complex. After being compelled to stay by Grey's powers—as noted above, an unfortunate side effect of her increased assertiveness—Worthington has quickly shed his timeline homesickness, replaced by a sort of reckless arrogance. In some ways, he has become the least charitable assumptions about him: that he is a self-involved rich boy who only cares about his own glory. That would be concerning enough on its own, but paired with a violent streak that is unlike anything recorded about his adult counterpart's years as Angel, it becomes something altogether worrying.
Dr. Bunn's Notes: "At first, Warren was the most uncomfortable of the time-lost X-Men, wanting desperately to return to his point of origin. He has, however, now embraced this time period as willingly as—if not more so than—his teammates.
"With his abilities changing to be more dangerous, Warren has adopted more aggressive tactics in combat. Perhaps this has influenced a more impulsive side of his personality. Warren appears to be displaying near-narcissistic tendencies in his relationships with his teammates and others."
This X-Men team will next meet with Doctor Cullen Bunn and his associates Doctors Jorge Molina and Matteo Buffagni on April 12 and the session notes will be found in the file labeled X-MEN: BLUE #1.
Psy D. Candidate Tim Stevens is a Staff Therapist who knows his teenage version is out there somewhere, just whooping it up.
The Hype Box
Can't-miss news and updates from across the Marvel Universe!