Comics
Published September 10, 2018
Remembering Marie Severin, 1929-2018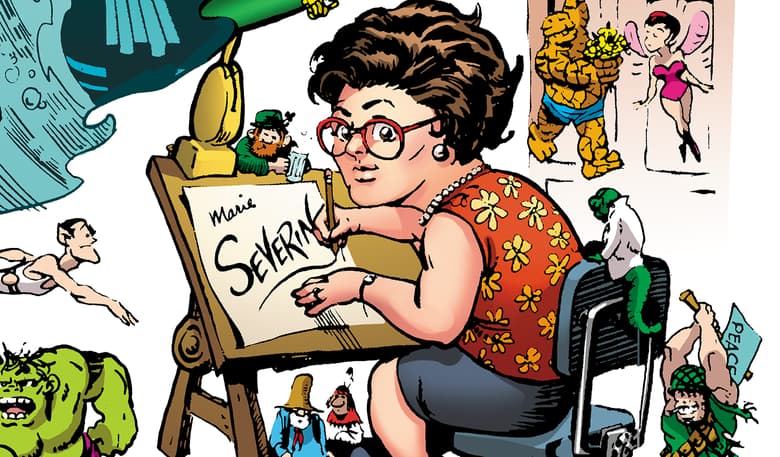 Comics pioneer Marie Severin was a renowned cartoonist widely known for her iconic contributions across genres and as a trailblazer for women in comics. She broke into the comic book industry at EC Comics as a colorist and later became a full-time member of the Marvel Bullpen. She worked as a colorist and artist for Marvel and helped co-create characters like Spider-Woman, the Cat, and the Living Tribunal. She lived to be 89 years old.
Marie was born in East Rockaway, New York, and grew up on Long Island and Brooklyn. She was surrounded by a family of artists — her mother and father both worked in design, and her brother, John, was a comic book artist — who encouraged her talents. To pursue her love of drawing, Marie spent a few months taking cartooning and illustration courses during her teenage years, and she briefly attended the Pratt Institute to hone her skills. After some time, she eventually decided to work on Wall Street to pursue a career in finance.
While she was working in New York, Marie's brother approached her to work at EC Comics. After accepting his offer, Marie became a vital part of the company; starting out coloring A MOON, A GIRL...ROMANCE #9 in 1949, she became the company's main colorist and a key member of the production team.
After leaving EC Comics in 1954, Marie was briefly hired by Atlas Comics before heading to work for the Federal Reserve Bank of New York, where she drew educational illustrations while working on comics with her brother in her spare time.
In 1964, she was hired by Marvel Comics to manage production, and while there, she was asked to illustrate a drawing for Esquire magazine. This work led Editor-in-Chief Stan Lee to assign her the feature "Doctor Strange" in STRANGE TALES. She was the third artist on the title, and her run included co-creating the cosmic entity the Living Tribunal in STRANGE TALES #157.
"Mirthful" Marie was an important presence in the Marvel Bullpen, bringing both her artistic talents and riotous sense of humor to everything she did. She was well-known for her caricatures of the staff, a talent she would later bring to Marvel's satirical magazine CRAZY and comic NOT BRAND ECHH. Meanwhile, she would do cover roughs—essentially sketches that artists could follow for the finished piece—for many of Marvel's top artists, including Jack Kirby, Dick Ayers, John and Sal Buscema.
She became Marvel's head colorist until 1972 when she handed the reins over to George Roussos so she could concentrate on penciling, inking, and lettering. From then on, she drew stories about the Sub-Mariner, Hulk, Iron Man, Conan the Barbarian, Kull the Conqueror, and Daredevil. She also co-created the Cat, a character who would later lead to Marvel mainstays Hellcat and Tigra. Her legacy continued in 1976 when she designed Spider-Woman's original costume. In the '80s, she began work on licensing the company's toys and tie-in products but continued to draw for Marvel's Star Comics imprint, as seen in FRAGGLE ROCK and MUPPET BABIES.
Marie spent a decade penciling and collaborating with artists like Jim Mooney, Dave Cockrum and Richard Howell. After retiring, she continued contributing her coloring expertise and re-colored comics. In 2003, Marie won both Harvey and Eisner awards for her work on a Fantagraphics Books biography of B. Krigstein.
Celebrating a legacy in comic books, she was inducted into the Will Eisner Hall of Fame in 2001. Her lifelong dedication to drawing and coloring at Marvel and the industry at large will never be forgotten.