Comics
Published November 16, 2017
Runaways: Get Ready for Molly's Return
Rainbow Rowell on how things have changed when Molly makes her way back to the team.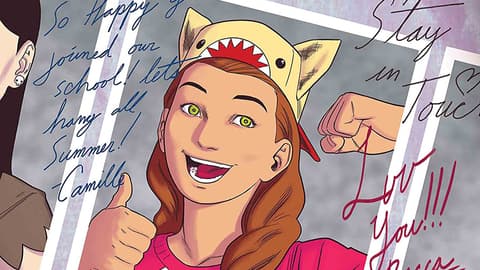 Make way for the princess… Princess Powerful that is. Molly Hayes returns to the RUNAWAYS comic thanks to writer Rainbow Rowell and artist Kris Anka. Similar to Karolina Dean, Molly enjoys a normal life, getting to be a real kid, when her old teammates show up out of the blue. Will the youngest Runaway leave the comfort of middle school and the warm embrace of her grandmother or will she tell her close friends to take a hike?
Marvel.com spoke with Rainbow Rowell to try and get a grip on the "Powerful" reunion coming up in RUNAWAYS #4.
Marvel.com: We recently discussed Karolina Dean living a normal life at college. Where do we find Molly in life right now?
Rainbow Rowell: Molly is living with her grandma in the Hollywood Hills. She's back in school – the seventh grade – and she's loving life. She plays soccer, she plays tuba, she has lots of friends … She has a real home again. Her own room, her own stuff. Pets. She's gotten a second-chance at a more normal childhood.
Marvel.com: Molly was the youngest Runaway at the time of the original series. How has she matured since then?
Rainbow Rowell: Well, she's 13 now. So she's entering that space between childhood and adulthood. I think Molly has always had a strong sense of self. (We've seen her tell Wolverine and the Avengers to get packing.) But she's becoming an even better advocate for herself and for what she wants in life.
Marvel.com: As a mutant, is she facing any discrimination from the world at large?
Rainbow Rowell: I don't think so. Molly's power isn't evident when you look at her. So most people at school don't know her complete identity.
Marvel.com: I don't think many of us knew she had a grandmother. What can you tell us about her? Is she actually related to Molly? 
Rainbow Rowell: I don't think Molly's extended family has been mentioned before. That's true of most of the Runaways. Nico goes to a cousin's wedding, Chase has a mysterious uncle… But we don't really know much about their families beyond their parents. So this is a new character. And yes, she's Molly's blood relative. What we know so far is that she lives in the Hollywood Hills – and she's really happy to have Molly back in her life.
Marvel.com: Molly was named one of the toughest women in the MU just a few years ago. How will we see her toughness on display in this issue?
Rainbow Rowell: In this issue, we'll see a lot of emotional toughness – resilience. Despite everything that Molly has been through, she's found home again with her grandmother. She's still able to let people into her heart. My favorite part of this issue was reuniting Molly and Gert. Molly never made peace with Gert's death. Now Gert is back – and closer to Molly's age. They get to have a different kind of friendship.
You can pick up Runaways #4, from Rainbow Rowell and Kris Anka, on December 13.
The Hype Box
Can't-miss news and updates from across the Marvel Universe!