Comics
Published September 13, 2017
Secret Empire Exposed: The Finale
Nick Spencer wraps up an epic event with SECRET EMPIRE OMEGA.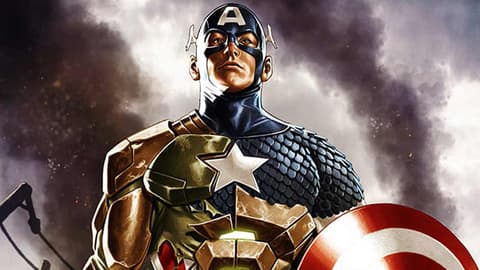 Each week, we use our super sleuth skills to dig into the histories of the characters fighting on both sides of Secret Empire!
Nick Spencer kickstarted an epic tale starting with CAPTAIN AMERICA: STEVE ROGERS #1 last year and this week, he wrapped it all up with SECRET EMPIRE: OMEGA #1 along with artists Andrea Sorrentino and Joe Bennett.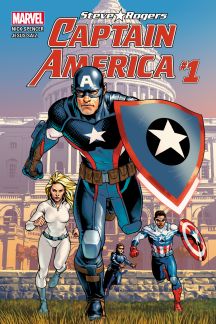 Before getting to the main event, let's look at a few of the side stories that found their completion in this issue. First, as Clint Barton wept over Black Widow's casket, Bucky Barnes found himself in Madripoor looking into the upcoming assassination of a general who aligned himself with Hydra. When the guy gets shot, Barnes thinks that the killer had to be Black Widow.
At the same time, Emma Frost and Hank McCoy talked about the dissolution of the mutant nation New Tian. While McCoy said that the efforts to put forth a solid mutant society would mean a lot to younger generations, Frost regretted that they would never know who their actual queen was.
Meanwhile, we also caught up with one of the more surprising members of HydraCap's crew: The Punisher. Feeling betrayed and used, Frank Castle decided to make it his mission to burn Hydra to the ground. As Punisher continued his crusade, Nick Fury looked on and said to Control, "He's ready."
With those mysterious set-ups out of the way, it's time to talk about the main confrontation in this issue which came between Steve Rogers and his Cosmic Cube-created copy with the octopus tattoo across his chest. To do so, Cap broke into a jail holding just the one captive.
Inside, he faced the man with his face. HydraCap, still convinced that the reality he understood thanks to Red Skull's essential brainwashing of Kobik, was the correct one and one still worth fighting for. He also brought to Steve's attention how quickly people seemed to turn on one another and reach for the power he offered them.
Rogers, while concerned with the damage HydraCap did to his image and reputation, still saw some good in the whole situation, hoping that this whole nasty endeavor would stop some people from blindly following anyone, even himself.
Ultimately, though, the true Captain America believes in the goodness of people and the resilience of his homeland. We'll see him trying to make up for the mistakes a man with his face made over in MARVEL LEGACY #1 and CAPTAIN AMERICA #695.
The Empire Strikes Back
Upon leaving HydraCap's cell, Steve Rogers warned his double not to leave his cell, letting him know that he'd be able to spot him no matter the face he wore. As the guards rushed in at the very end, though, one of them whispered something in his ear: "Hail Hydra." So, while the threat of HydraCap seems low at this point, don't be surprised if we see him again!
The Hype Box
Can't-miss news and updates from across the Marvel Universe!