Comics
Published July 12, 2017
The History of Spider-Man: 1973
The many faces of Peter Parker's allies and foes.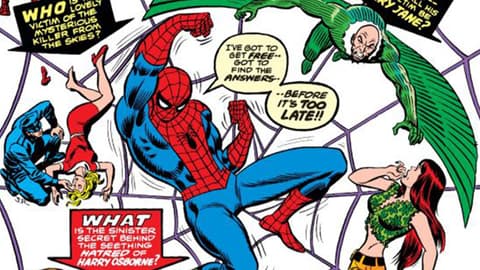 For over 50 years, Spider-Man has been a sensational standout in the Marvel Universe, and this summer, the web-slinger swings onto the silver screen once more in "Spider-Man: Homecoming"! In celebration of this stories history, we present Spidey's spectacular step-by-step story!
After teaming with the Thing in MARVEL TEAM-UP #6 to put down a joint plane between the Puppet Master and the Mad Thinker, Spider-Man swung into a political quagmire in AMAZING SPIDER-MAN #116 involving a popular yet controversial candidate called Richard Raleigh. Things heated up when a new villain named the Disruptor tried to kill Raleigh in AMAZING SPIDER-MAN #117, and Spidey got quite a shock in AMAZING SPIDER-MAN #118 when he learned the baddie's real identity: Raleigh himself.
The webslinger aided Thor in MARVEL TEAM-UP #7 versus Kryllk the Cruel, and the Cat in MARVEL TEAM-UP #8 against the Man-Killer. Later, as Peter Parker he jetted off to Montreal to investigate a mysterious telegram sent to his aunt in AMAZING SPIDER-MAN #119, but stumbled into a battle with the Hulk that spilled over into AMAZING SPIDER-MAN #120. With little to no rest after that, our hero became embroiled in a war between the Tomorrow Man and Kang the Conqueror in MARVEL TEAM-UP #9 that also involved the Human Torch in MARVEL TEAM-UP #10 and the Inhumans in MARVEL TEAM-UP #11.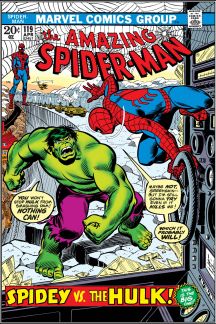 Peter's friend and roommate Harry Osborn fell deeper into his addiction to drugs in AMAZING SPIDER-MAN #121, a situation made even worse by his father Norman Osborn's relapse into his criminal role as the Green Goblin. The wallcrawler swung to the rescue when the Goblin kidnapped Gwen Stacy to hurt Peter, and witnessed the worst moment of his life when the young woman died from a fall off the Brooklyn Bridge during the fight.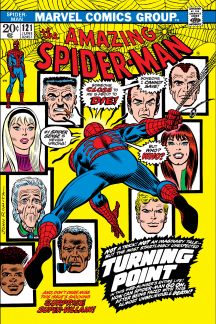 An inconsolable Spider-Man desired nothing less than full revenge on Norman Osborn in AMAZING SPIDER-MAN #122, and their subsequent ultimate showdown ended in the Goblin's death from being impaled on his own glider. Later, Mary Jane Watson comforted Peter over his loss of Gwen. J. Jonah Jameson hired Luke Cage to hunt down and capture Spidey in AMAZING SPIDER-MAN #123, but the young hero convinced Cage to doubt Jameson's dubious high-moral reasons for doing so.
Running from his sorrows in San Francisco, Spidey helped the Werewolf triumph over Moondark in MARVEL TEAM-UP #12, and back in New York in AMAZING SPIDER-MAN #124 fought another lycanthrope, John Jameson as the Man-Wolf. After diving the solution to Jameson's hairy problem in AMAZING SPIDER-MAN #125, he joined with Captain America against the Grey Gargoyle in MARVEL TEAM-UP #13, with Namor the Sub-Mariner versus Tiger Shark in MARVEL TEAM-UP #14, and with Ghost Rider against the Orb in MARVEL TEAM-UP #15.
The Kangaroo bounced back into the webslinger's troubled life in AMAZING SPIDER-MAN #126, and a new super villain named the Basilisk created chaos for Peter and Captain Marvel in MARVEL TEAM-UP #16. When Mary Jane became the target of the Vulture for witnessing a crime in AMAZING SPIDER-MAN #127, the bird-brained baddie swooped in to snag Spidey and drop him from a very, very high height…
The Hype Box
Can't-miss news and updates from across the Marvel Universe!