Comics
Published February 28, 2017
Unleash the Beasts: Jinni Devil
Thor and the Warriors Three go monster hunting!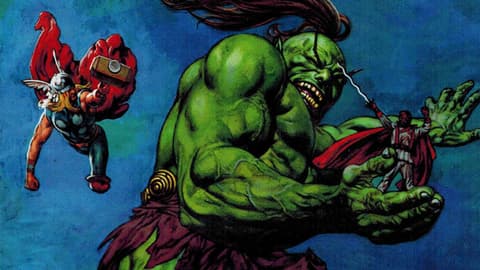 With so many classic creatures on the loose in Monsters Unleashed, we turn to their earlier adventures thanks to Marvel Unlimited.
Even though those new-fangled super heroes stole the show in the early 60's, creators like Stan Lee and Jack Kirby still created plenty of monsters for them to fight. That duo did exactly that in a back-up story found in THOR #137 called "The Tragedy of Hogun."
In this tale from 1967, the title character, while traveling with Fandral, Volstagg, and Thor, came across Saguta, a fellow countryman. With his dying breath, Saguta identified his attacker as Mogul, sending Hogun into a fit of rage at the name's very mention.
Hogun called out a challenge for Mogul who appeared without fear of the assembled Asgardians. Before a true battle could commence, a giant green hand reached down and snatched up the villain. Said appendage belonged to none other than the Jinni Devil who quickly carried Mogul away.
"Mogul has ever been served by his giant jinni slave—the last of a species whose origin is unknown, but who possesses powers which defy the imagination!" Hogan explained.
Though he intended to track Mogul down on his own, Thor and the other Warriors Three vowed to help their friend in a story that continued on in many a THOR back-up. The Jinni Devil reappeared at the end of the story in issue #139 to take on the Asgardians, carrying over into the next issue.
Fiercely joined, the battle raged as Mogul and his cohorts watched from the underground city of Zandu. One of the rogue's advisers revealed that "with the fall of night, the temperature doth change the very body fabric of the mindless Jinni!" Another added that this weakness during the dark times lead to the race's demise.
As shadows fell on the Jinni Devil, it literally disappeared before our heroes' eyes, leaving them to continue their quest to find Mogul. The creature did reappear in 1994's THOR #474 in an issue by Roy Thomas and Sandu Florea that recounts the Mogul story while adding new pieces like additional scenes with the Jinni Devil.
The most popular tree in fiction stomps into public consciousness as Groot debuts in TALES TO ASTONISH #13.
The Hype Box
Can't-miss news and updates from across the Marvel Universe!