Comics
Published February 13, 2020
What Happens When the X-Men Fight the Fantastic Four?
Revisit 1987's 'Fantastic Four vs. X-Men' as you read 2020's 'X-Men/Fantastic Four'!
Hey Marvel Insiders – did you know reading this article could earn you 250 points? All you need to do is sign in or join now before you keep reading!
Ever since the Dawn of X began, the vast majority of Marvel's mighty mutants have resettled on Krakoa and formed a new nation. However, Franklin Richards, the son of the Fantastic Four's Reed and Sue, is one of the most notable exceptions. Franklin may also be the only known Omega mutant who hasn't made an alliance with Krakoa's Quiet Council. But that may be about to change in the pages of X-MEN/FANTASTIC FOUR.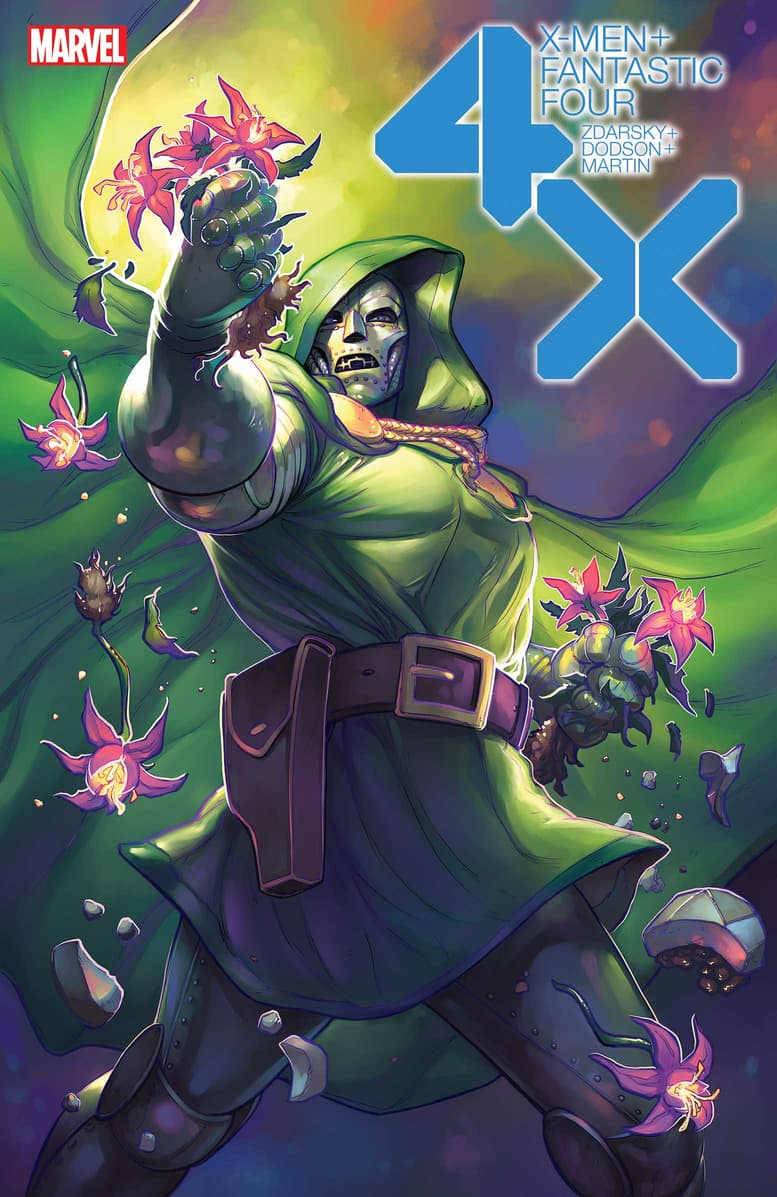 The story picks up on a thread from HOUSE OF X #1, in which Cyclops told the FF to pass on an invitation to Franklin to come to Krakoa, because he had "family" waiting for him there. In X-MEN/FANTASTIC FOUR, the mutants will be making the full court press to bring Franklin into the fold. They may also be able to help Franklin stem the loss of his powers, which has been an ongoing problem in FANTASTIC FOUR (2018).
One of the keys to Franklin's recruitment is Kate Pryde, the captain of the Marauder and perhaps Franklin's closest friend among the X-Men. Their connection dates back to the landmark 1987 limited series, FANTASTIC FOUR VS. X-MEN, by Chris Claremont, artist  Jon Bogdanove, and Terry Austin, an inker who left his legendary mark on both FANTASTIC FOUR (1961) and UNCANNY X-MEN (1963). Back when Kate was known as Kitty Pryde, Franklin was instrumental in saving her life.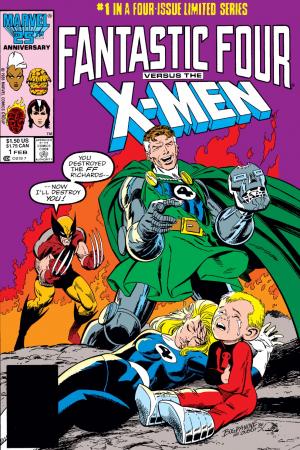 Fantastic Four Vs. X-Men (1987) #1
published

added to marvel unlimited

writer

penciller

inker

colorist

letterer

artist
What is Marvel Unlimited?
Claremont essentially used FANTASTIC FOUR VS. X-MEN as four extra issues of his UNCANNY X-MEN run. The story took place shortly after MUTANT MASSACRE, when Nightcrawler, Colossus, and Kitty were gravely injured by the Marauders. Kitty's situation was more desperate because she had become a living ghost and her body was losing cohesion. And only Reed Richards' unparalleled genius could possibly save her. Unfortunately, the FF's bond as a team and as a family was sorely tested at an inopportune time, and that brought the two teams into a very ugly conflict.
When he was younger, Franklin's powers were at their greatest when he was asleep. But in his sleep, he saw his father as the architect of the FF and the X-Men's destruction before Reed merged with Doctor Doom. In reality, Franklin recognized Reed's hidden journal as the cause of their problems. Buried within the journal's pages was the revelation that Reed knew that the FF's fateful space trip would turn them into Super Heroes. The family took that as a betrayal, especially Ben Grimm, who was condemned to life as a monster. Worst of all, Reed couldn't proclaim his innocence because he wasn't sure whether the journal was real or not.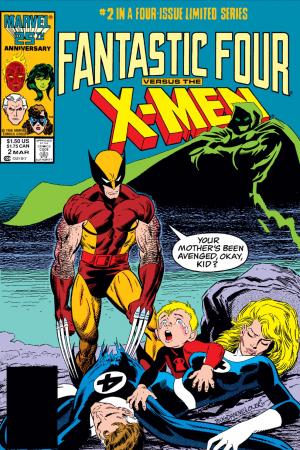 Fantastic Four Vs. X-Men (1987) #2
published

added to marvel unlimited

writer

inker

colorist

letterer

penciler
What is Marvel Unlimited?
Reed's personal crisis robbed him of the confidence he needed for a risky treatment to save Kitty. In X-MEN VS. FANTASTIC FOUR #2, this enraged Wolverine enough to attack Reed and set off a fight between the two teams. In a horrific accident, Storm was severely burned by Johnny Storm, and the incident created bad blood between the two teams. Doctor Doom took the opportunity to offer the X-Men help with Kitty and to personally treat Storm's burns. The FF warned the X-Men that it was a devil's bargain, but there was seemingly no other choice.
The third issue of the series cemented the bond between Kitty and Franklin. Kitty couldn't vocalize her objections to the X-Men's new alliance. Rather than let her friends and family sell their souls to Doom, Kitty elected to step out of her containment chamber and let her body disperse forever. Only the desperate cries of Franklin's dream projection convinced Kitty to come back off of the ledge. The X-Men were grateful for Franklin's help. So much so, that in issue #4, Psylocke allowed Franklin and Kitty the opportunity to share each others' thoughts so they could openly communicate.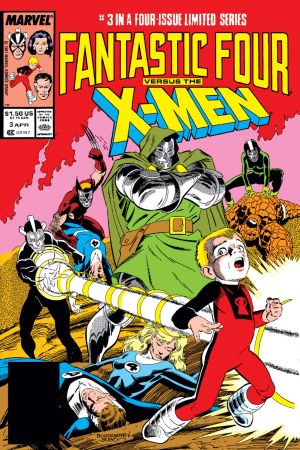 Fantastic Four Vs. X-Men (1987) #3
published

added to marvel unlimited

writer

penciller

inker

colorist

letterer
What is Marvel Unlimited?
By the time the FF had worked through their problems, it was almost too late to save Kitty. The final issue gave fans the epic battle they had been promised. Once again, it was Franklin who stepped up and reminded the two teams that Kitty's life was at stake. That helped heal the divide between the FF and the X-Men and made them closer than ever.
Kitty ultimately recovered and joined Excalibur soon after this series. Kitty and Franklin haven't had a lot of interaction in the intervening years, but their bond is still strong. Thanks to the aftermath of SECRET WARS (2015), Franklin is now much closer in age to Kitty than he was before. And it'll be fascinating to see how this dynamic continues to evolve in the pages of X-MEN/FANTASTIC FOUR!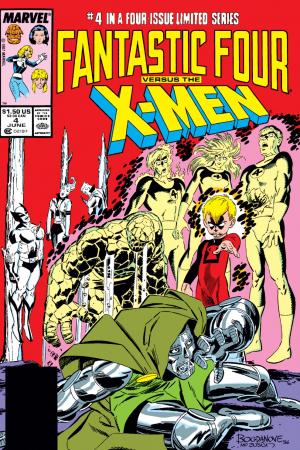 Fantastic Four Vs. X-Men (1987) #4
published

added to marvel unlimited

writer

penciller

inker

colorist

letterer

editor
What is Marvel Unlimited?
The Hype Box
Can't-miss news and updates from across the Marvel Universe!