Comics
Published December 2, 2020
What's Next for Hell's Kitchen in 'Daredevil' #25?
Get ready for some major developments in the life of Matt Murdock!
WARNING! THIS ARTICLE CONTAINS SPOILERS FOR TODAY'S DAREDEVIL #25, SO READ ON AT YOUR OWN RISK, TRUE BELIEVERS!
Last year, Chip Zdarsky and artist Marco Checchetto kicked off their stellar run on DAREDEVIL with an accidental death that has haunted Matt Murdock AKA Daredevil. In DAREDEVIL #1, Matt's actions caused the demise of a low-level criminal named Leo Carraro. Regardless of Leo's past, Matt simply hasn't been at peace with himself since this happened. That's why he turned himself in for murder in issue #21 and took a two-year sentence in issue #24. In DAREDEVIL #25, the Devil is in jail... again. But at the same time, there's a Devil in Hell's Kitchen. A new Daredevil.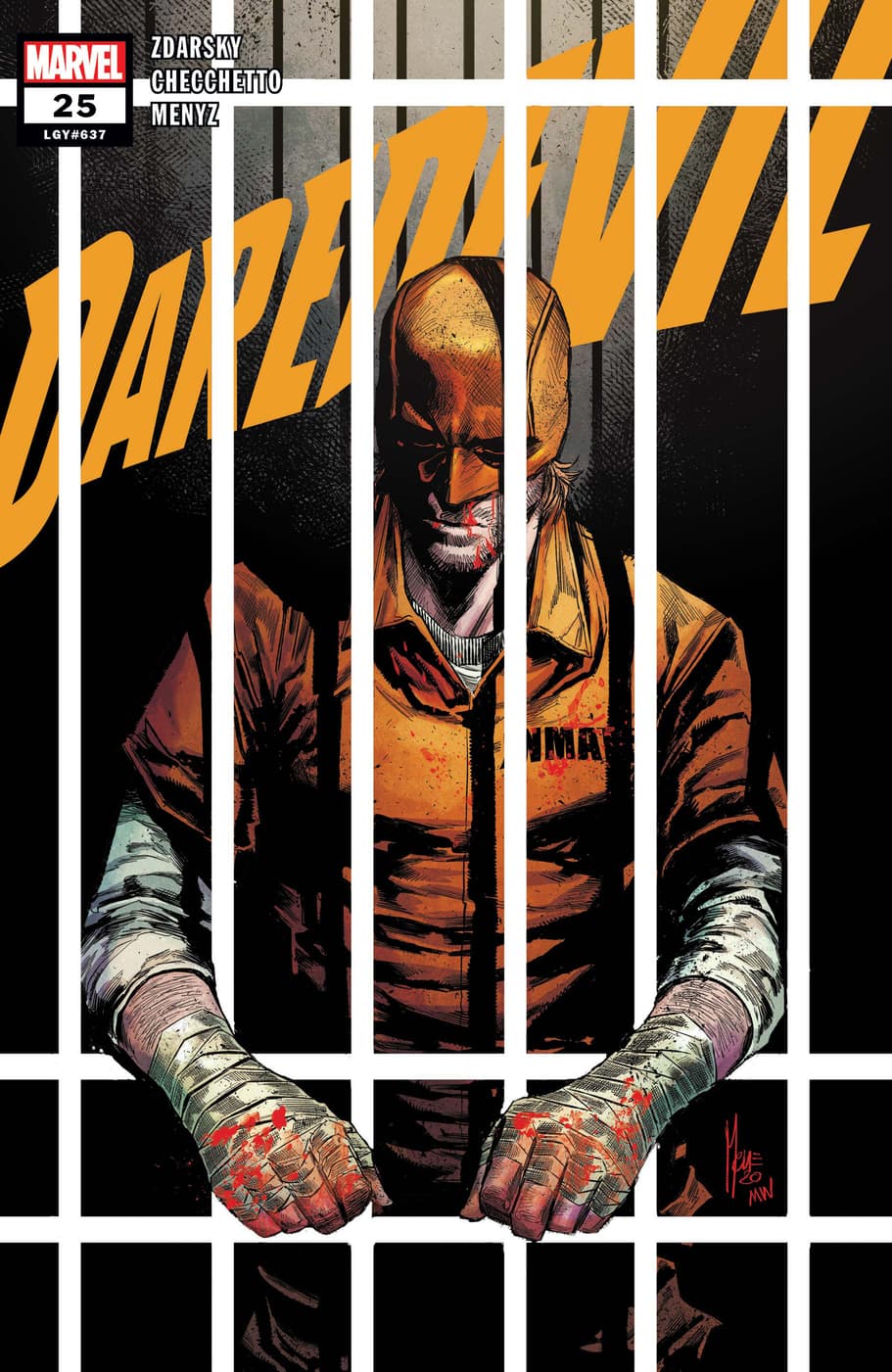 This is not Matt's first stint in prison. In the classic DAREDEVIL (1998) #81-86, Matt was stuck behind bars on suspicion of being Daredevil, while Danny Rand AKA Iron Fist filled in by donning DD's signature red suit. A similar situation is unfolding now, but Iron Fist isn't the one running around in Daredevil's costume this time.
The only reason Matt went through with his plan to make a plea deal is because Elektra told him that she had saved Hell's Kitchen from the Stromwyns, the malevolent billionaires who have been making life hell for both Daredevil and Mayor Wilson Fisk. Elektra tricked Matt into helping her rob billions from the Stromwyns, only to then turn around and use the money to halt their plans.
Elektra was actually being truthful with Matt when she touched upon her motivations. After brazenly visiting Matt in prison well after hours, Elektra told him that she's tired of living in darkness. More importantly, she believes that she's found a way to destroy the Hand for good. According to Elektra, the Hand is ascending again. WOLVERINE (2020) #6 and X-FORCE (2019) #13 reinforced that assertion, because Logan discovered that the Hand have been demonically transformed, and they are now physically able to go to Hell in the service of their master, the Beast.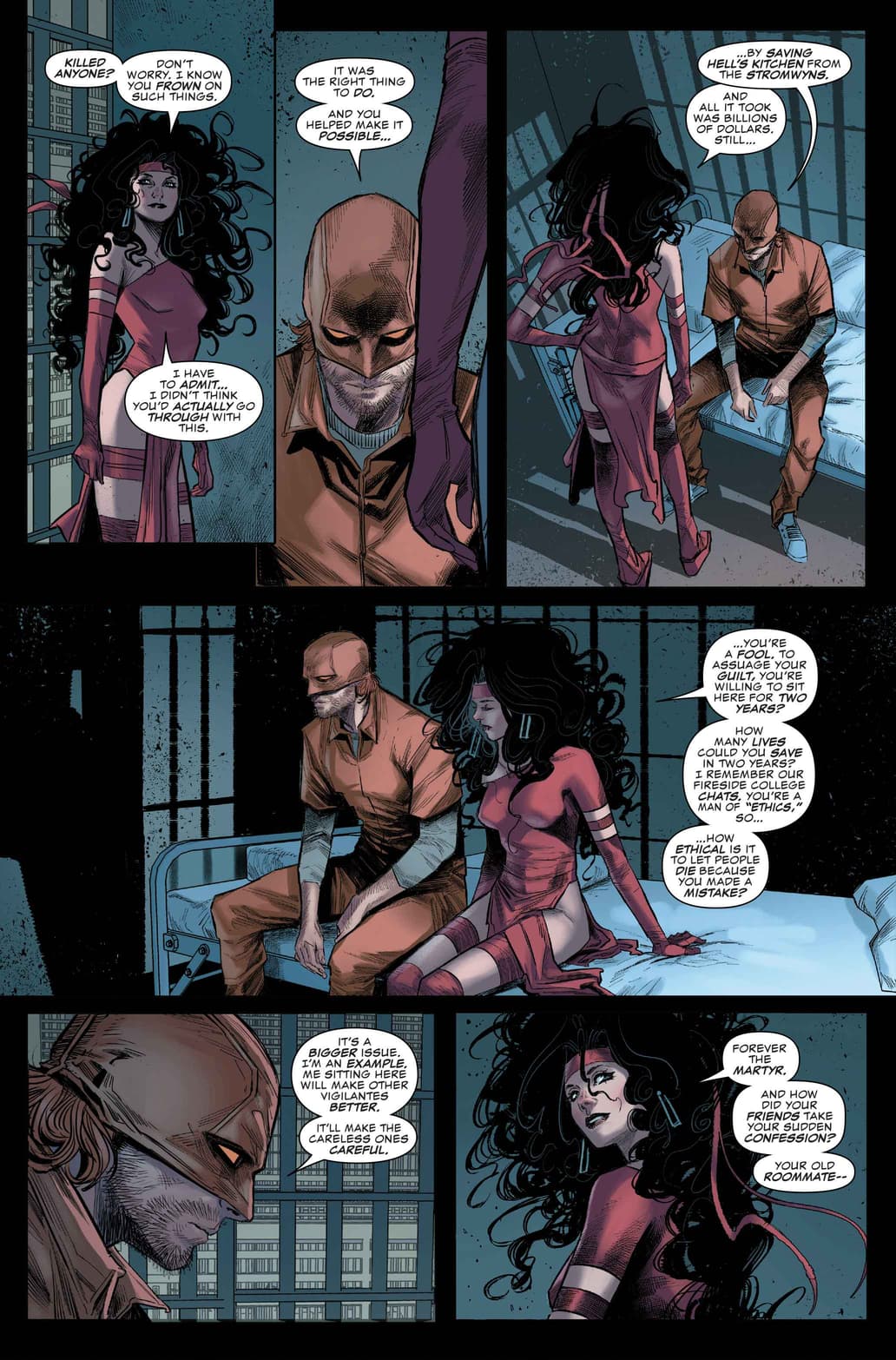 An ancient text recovered by Stick and Elektra revealed the existence of the Fist, the Hand's opposite number. At its full power, the Fist can exterminate the Hand if a king and queen have been chosen. Elektra nearly died to get that information, and Stick implied that bringing her back from the brink of death was a costly endeavor.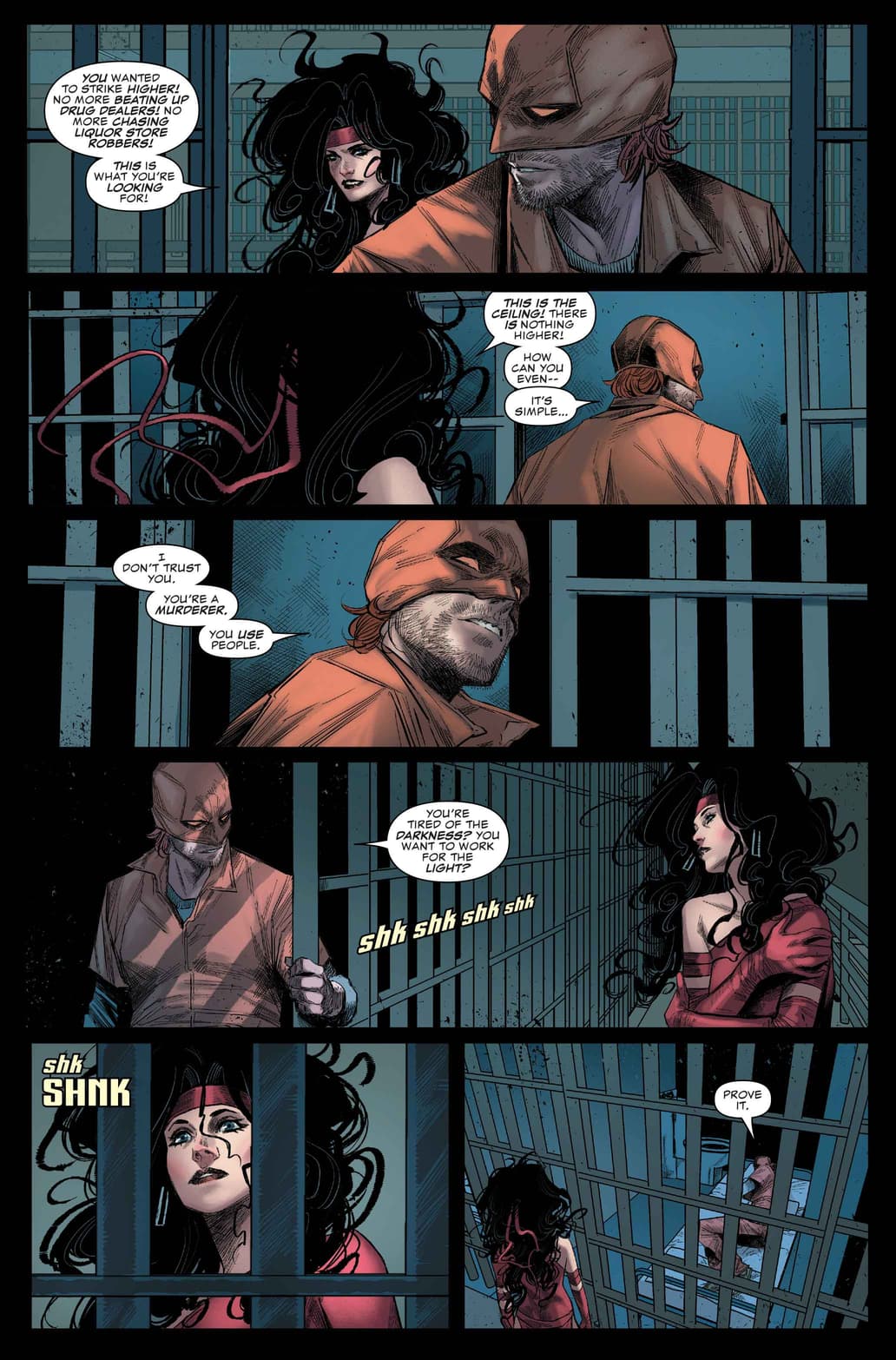 In the present, Matt rejects Elektra's talk of escaping the darkness and anything to do with the Fist. Dejected, Elektra admits to herself that she was trying to buy Matt's trust, rather than earn it. However, a chance encounter with one of Matt's former clients gives Elektra a new perspective on Hell's Kitchen and the people who live there. They're Elektra's people now, and she's got something to prove to Matt.
That's why Elektra has become the new Daredevil.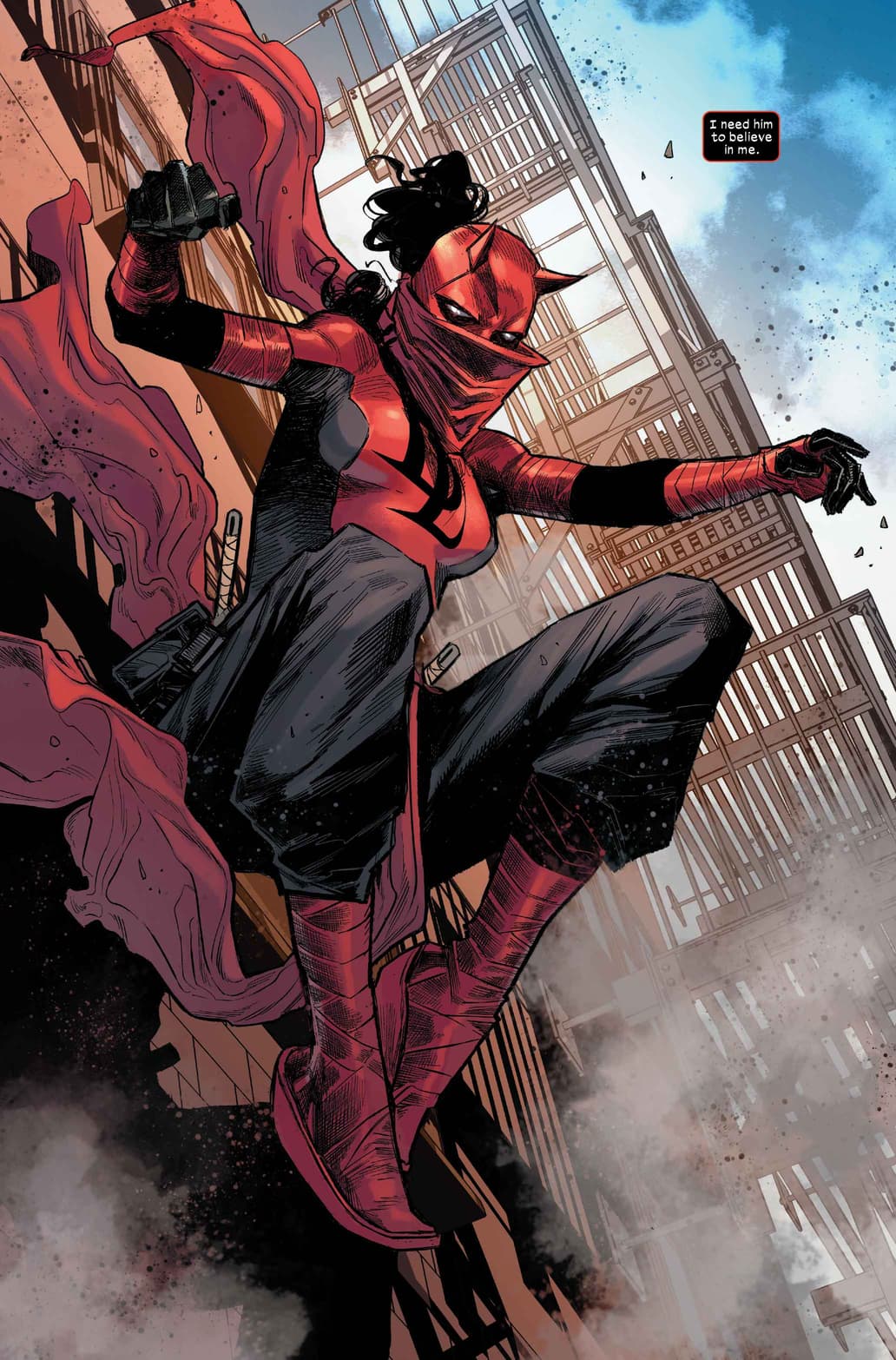 And she's doing it in such a flashy way that Matt is bound to notice, even from his prison cell. Elektra has also adopted non-lethal tactics to ensure that her Daredevil doesn't stain the legacy that Matt has created.
If Matt is really content to serve out his sentence, then Elektra could be Daredevil for the foreseeable future. Unfortunately, that future has a time limit. Stick's translation of the ancient text confirmed that the queen and the king of the Fist can defeat the Hand. But one of them will have to perish. That means that even if Elektra convinces Matt to be her king, they will eventually be parted by death once again.
But for now, there's a new Daredevil in town, and her adventures will continue in DAREDEVIL #26 on Wednesday, January 27!
Be sure to ask your local comic book shop about their current business policies to observe social distancing or other services they may offer, including holding or creating pull lists, curbside pick-ups, special deliveries and other options to accommodate. Find and support your local comic book shop at http://comicshoplocator.com or by visiting http://marvel.com/lovecomicshops.
For digital comics, all purchases in the Marvel Comics app can be read on iPhone®, iPad® and select Android™ devices! Our smart-paneling feature provides an intuitive reader experience, ideal for all types of mobile device and tablet users!
For Marvel's most up-to-date release schedule for your favorite comics, visit http://marvel.com/newcomics.
The Hype Box
Can't-miss news and updates from across the Marvel Universe!