Comics
Published July 14, 2021
Who Is Yelena Belova?
A super-spy, a Black Widow, a loyal agent, or a defector? We've got all the answers here.
Have you tried Marvel Unlimited yet? It's your all-access pass to over 28,000 Marvel comics, available at your fingertips. Sign up now to get 50% off your first month.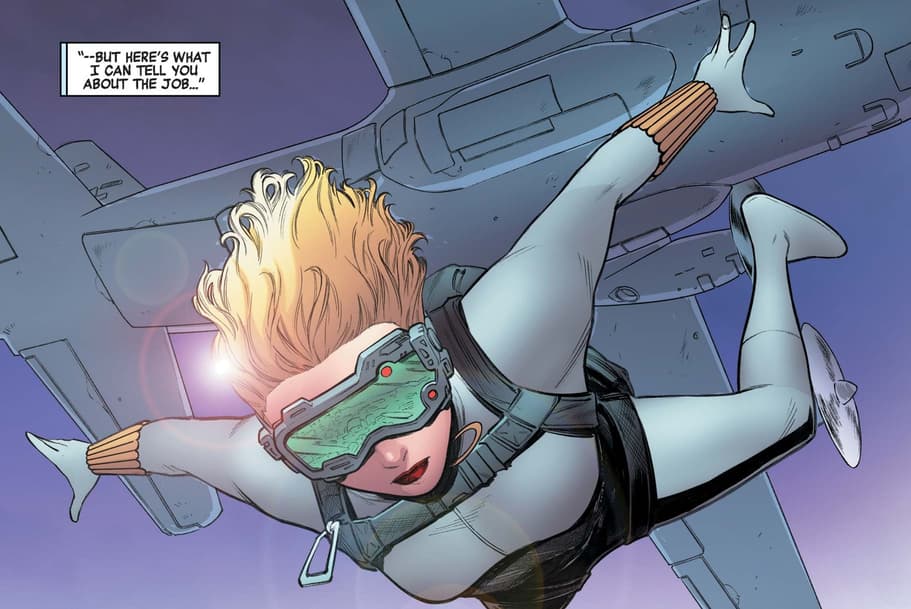 When Avenging super-spy Natasha Romanoff, AKA the Black Widow, renounced her assassin ways,  "they" sent Yelena Belova from Russia with love. But who is Belova? Do her skills measure up to Romanoff and are her allegiances as flexible as her predecessor? We've got all the answers and more from the Marvel Unlimited comic archives!
WHO IS YELENA BELOVA?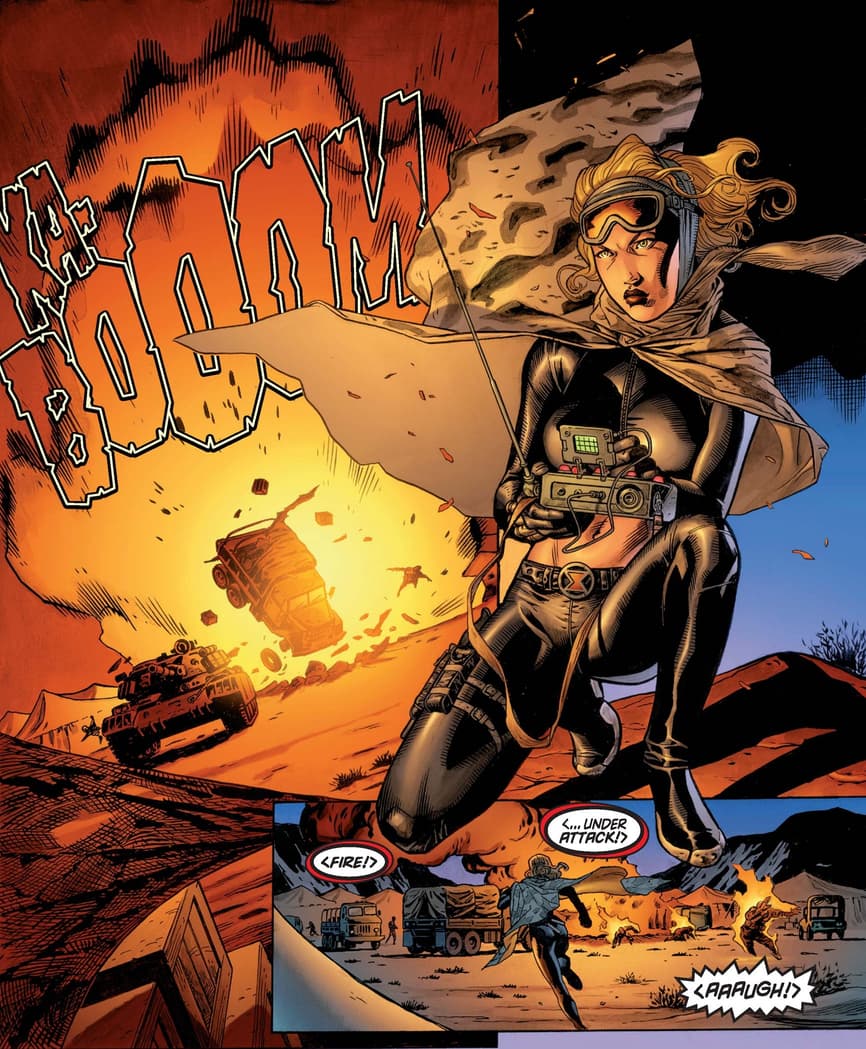 Chosen as a candidate for the Russian agency's Black Widow program at the age of 15, Yelena Belova quickly rose in the ranks at the Red Room academy, the same shadowy institution that trained deadly assassin-turned-Avenger Black Widow. Graduating from the academy, Yelena surpassed Natasha Romanoff's marks. She also proved her worth by slaying her mentor Lt. Col. Vasilievich Pyotr Starkovsky's killer and taking up the Black Widow mantle.
WHO ARE HER RIVALS?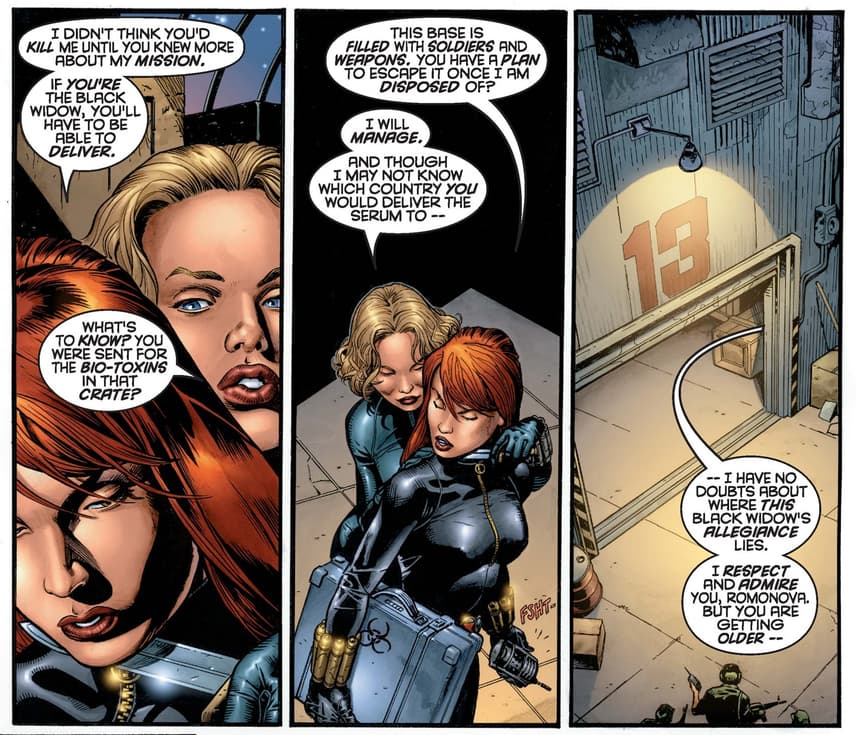 Only those most skilled in spy craft… and Earth's Mightiest Heroes.
Natasha Romanoff was her foremost rival following her defection to the United States. In an effort to prove her superiority to Natasha and deliver a device to her superiors, Yelena took on the Black Widow. She also went up against the Avengers and nearly defeated them thanks to body-mod augmentations she received from the subversive Hydra.
SO, WHERE ARE HER ALLEGIANCES?
With Mother Russia… some of the time.
When Natasha believed Yelena had the potential to be a hero, she drugged and kidnapped her younger counterpart, bringing her to the U.S. with Nick Fury's help. She then had their physical identities surgically swapped and when "Natasha" received orders to kill "Yelena," she became confused but carried out the order. "Yelena" survived, and by duping Yelena's superior Yuri Stalyenko, the real Yelena learned that she was a mere pawn in his greater game. See how her loyalties are put to the test in limited series BLACK WIDOW (2001) #1-3.
WHO ARE HER CONFIDANTS?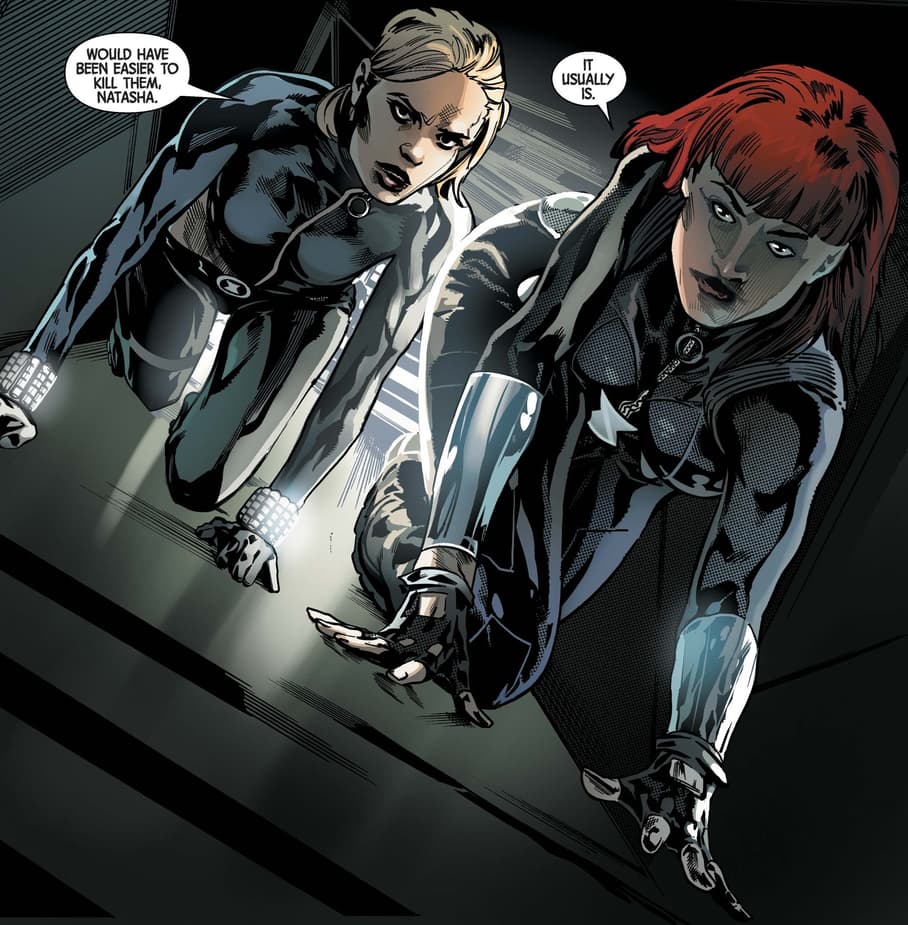 A tricky question since Yelena trusts no one.
Actually, this loner spy occasionally teams up with fellow Russian agent Alexei Shostakov, AKA Red Guardian, and her rivals the Avengers and Natasha—especially when one or both of them need each other. The two Black Widows joined forces after Yelena retired from espionage. She had become a model, a lingerie entrepreneur, dabbled in television, and started hero work helping women get medical supplies. While Yelena was living in Cuba, Natasha arrived in Havana on the run and got caught in a snag with local authorities. Yelena saved her, even calling Natasha a close personal friend. See how these itsy-bitsy spiders team up to protect others and take down the remnants of the Red Room.
WHAT SKILLS DOES SHE POSSESS?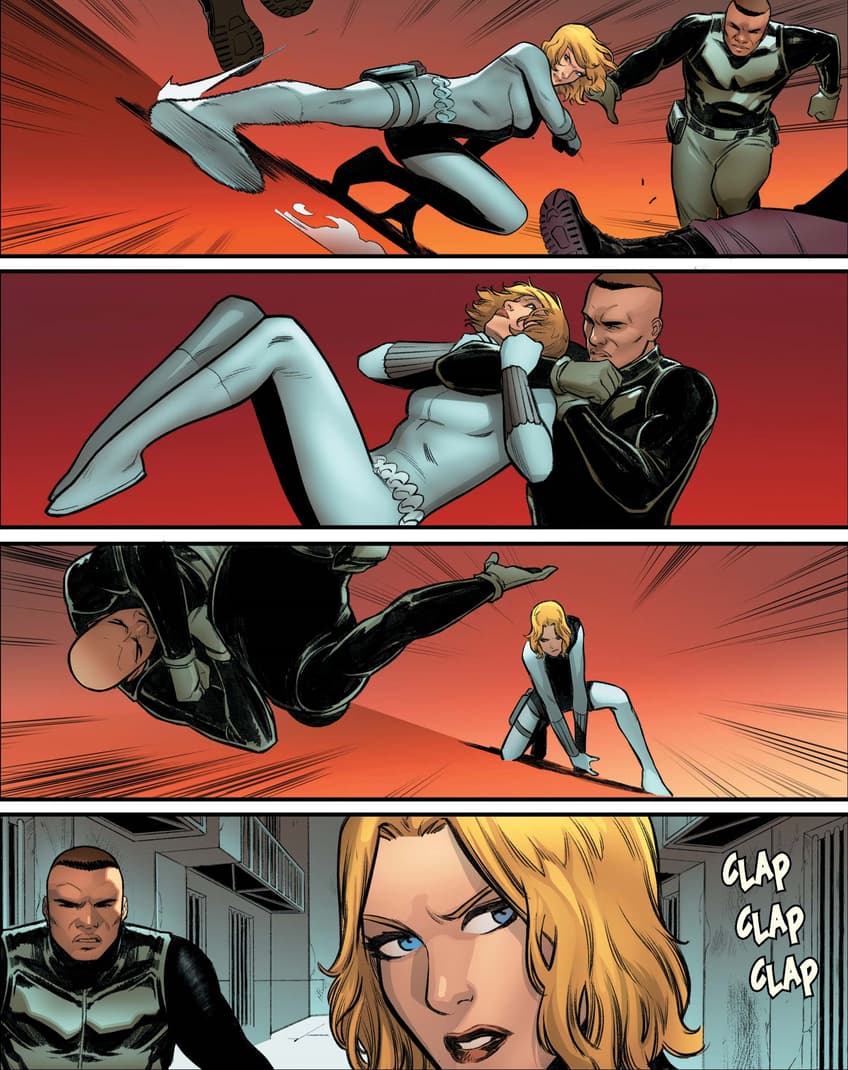 A very particular set of spy skills!
Trained in the infamous Red Room for about a decade, Yelena is a master martial artist, an expert armed (and unarmed) combatant, and an Olympic-level gymnast. She's proficient in a number of handheld weapons and uses a Widow's Bite device on her wrists that fire high-voltage energy blasts. Yelena has mastered stealth so much so that many remain unaware or startled when she gets the drop.
DOES SHE HAVE SUPER-POWERS?
Does she ever! This super-spy was also a Super-Adaptoid!
While working for S.H.I.E.L.D., Yelena led a rogue black ops team unknowingly backed by Hydra. The Avengers interrupted her mission searching for super-criminal Karl Lykos, AKA Sauron. After Yelena suffered severe burns at the hands of Sauron, Hydra offered her revenge against Earth's Mightiest Heroes. They coordinated with A.I.M. who genetically modified Yelena using research from their Super-Adaptoid program. Able to copy other superhuman's powers, she faced the Avengers in an epic battle. See how she measures up in NEW AVENGERS ANNUAL (2006) #1!
WHAT WILL SHE DO FOR HER FRIENDS?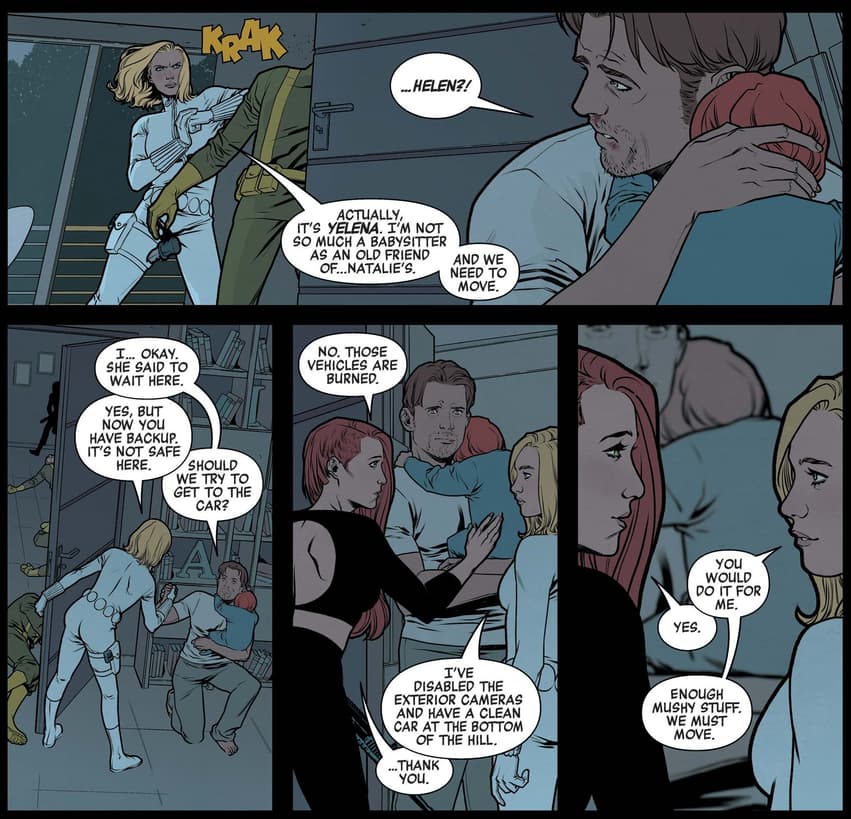 You'd be surprised.
While Yelena has fought both for and against her rivals and their villains, she often works alone. She will come to call if her friends, mainly Natasha, need her. Going undercover in BLACK WIDOW (2020), she finds Romanoff has resurfaced after being shot out a window without her memories. See how Yelena helps Natasha escape this tangled web starting with issue #3!
Now that you have her dossier down, read all of Yelena Belova's comic appearances on Marvel Unlimited today!
Follow Marvel Unlimited on Twitter and Facebook to stay tuned in to weekly announcements, articles, and more, all @MarvelUnlimited. Follow us today to join the conversation with thousands of fellow fans, and let us know what you're reading!
The Hype Box
Can't-miss news and updates from across the Marvel Universe!