Comics
Published December 5, 2016
X-Men '92: Here Ride the Horsemen
Chad Bowers and Chris Sims give their take on the servants of Apocalypse!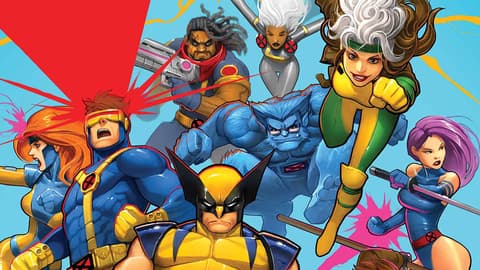 The end has come. Apocalypse has arrived and Death rides with him. And Pestilence, War, and Famine, too.
Despite X-MEN '92 writers Chris Sims and Chad Bowers preparing to close the book with December 28's issue #10—and possibly take all of mutantkind down in the process—they took the time to talk to us about Apocalypse's favorite tools, the Horsemen, and point out some of their favorites of all-time. Besides their own, of course.
"Every time they show, it's a big deal," Bowers argues. "It should be a big deal.
"I think, in a lot of ways, what's most terrifying about the Horsemen is they're people, but they are really concepts," he continues, asserting their draw. "It's hard to fight against a concept. Even if you beat the Horsemen, the power is just going to go to somebody else."
"There's always going to be a next one," Sims agrees. "And the next one might be someone you know; it might be a horror movie monster. You don't know."
Archangel
"I gotta say, Walt Simonson, good at drawing," Sims states.
"I love it," Bowers enthuses. "I like Angel a lot as Death especially. He's like the first X-Man to have a real lasting change."
"I absolutely prefer him to Angel, as Archangel," Sims concurs. "It's really hard to empathize with Angel's problems because he's a rich beautiful man who has beautiful bird wings."
"So it makes perfect sense, when he loses them, that he gets super depressed," Bowers continues.
"It's metal, in a literal and metaphorical sense," Sims jokes. "It's the one 'aww, it's extreme now' reboot of a character that everyone agrees is good."
Colossus
"That's their friend, this giant gentle artist who can turn his body into a battering ram," Bowers points out. "And then suddenly he's trying to kill [them]. That's terrifying."
Wolverine
"He seems like a no-brainer," Chad admits.
"With Wolverine it works in a way; with him there's always this aspect that's been building for 20 years at that point," Sims elaborates. "That Wolverine is just constantly holding back so he doesn't flip out and stab everybody. Apocalypse takes Wolverine and—all the hard work he's done to control himself [Apocalypse] just pops the seal off, hands Wolverine a sword, and says, 'Alright, you are going to kill everyone.'"
Gambit
"He's a real weird choice," Sims confesses. "Of all the things that Gambit is, seeing him as the embodiment of Death—it makes sense with his powers because everything he touches becomes a bomb. So from there, that makes sense. But in term of character, it's something I never would've expected."
"He's Death, but he's not Death, you know?" agrees Bowers. "Like that's not who Gambit is."
"Which maybe makes it a really solid idea," Sims reflects.
Psylocke
"That makes total sense," states Sims.
Bowers concurs. "Yeah, that's a good one."
"What's scarier than a Death that can read your mind and then kill you with a sword?" points out Sims.
Jeb Lee
"Good visual," asserts Bowers. "There's something overall creepy about that battlefield look."
"[He taps] the magic element that makes a great Horseman," Sims says. "Interpreting one of the aspects in a way we really haven't seen before."
"[He and the other UNCANNY X-FORCE Horsemen] really did feel different," concludes Bowers. "I liked that."
The '92 Horsemen
"[It's] every corner of the X-Men Universe, tied together," Bowers explains. "You've got a representative of the human interests in [Senator] Kelly, you've got a representative from the anti-mutant militaristic Sentinel interest with Bastion, the idealist in Exodus, and then you've got Mystique as the mutant that kind of gave up and became a weapon or a tool."
"If you were going to do a big Apocalypse story in 1996—you know, like they did—who would be the guys that you'd want them to pick for that," continues Sims. "It's like Bastion and Exodus. In the 90's all of them looked like they were going to be the next big villains."
"These are guy who anchored their own events," Bowers contends. "If the X-Men had a tough time beating these guys by themselves, what happens when they team up?"
Saddle up with Chad Bowers, Chris Sims, and Alti Firmasyah one last time for X-MEN '92 #10 on December 28!
The Hype Box
Can't-miss news and updates from across the Marvel Universe!