Games
Published October 26, 2017
Blade Brings Impressive Abilities to 'Marvel Contest of Champions'
Learn what a formidable force the Day Walker is beginning on October 26.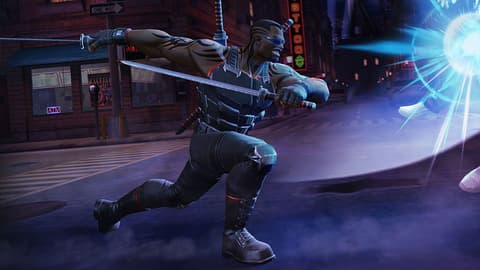 Armed to the fangs with vampire hunting weaponry and a less than sunny disposition, Blade slices his way into "Marvel Contest of Champions" ready to bring down some bloodsuckers. Want to harness the Day Walker's vampiric powers for yourself? Well we talked to Kabam Art Director Gabriel Frizzera and Champion Designer Piero Herrera and we've got the skinny on all his awesome abilities.
Marvel.com: How did the Day Walker end up in the Contest? Out hunting vampires in space?
Gabriel Frizzera: It's the final frontier for vampire hunters! Blade came to The Battlerealm to hunt Guillotine, who possesses the infamous bloodsucking sword "La Fleur du Mal." So, in his own point of view, he's still hunting a vampire. It's up to Doctor Strange and his friends to stop him before he puts a stake through poor Guilly.
Marvel.com: And he definitely looks like he's ready to get to slicing. Where'd the team get the duds?
Gabriel Frizzera: His costume is a blend of many incarnations, from the classic cinematic leathered costume to some of the comics' most recent versions. We decided to go with a non-trenchcoat look with a kevlar vest like in the comics to better show his tattooed guns, as well as his double katanas and throwing stars. And of course the sunglasses, because Blade likes to fight in the shade!
Marvel.com: What can you tell us about Blade's Vampiric Immortality?
Piero Herrera: Vampiric Immortality is one of the most powerful regeneration abilities in the game, and it is practically the first time the player will be able to control when and how much health to heal. This ability will activate whenever players hold their block stance, converting a portion of their current power to health. Blade also gets Power from nearby Bleeding opponents, synergizing really well with his regeneration ability.
Marvel.com: And Danger Sense? What's going on there?
Piero Herrera: Danger Sense provides a huge attack bonus against Dimensional Beings like Dormammu, Mephisto and Magik. Additionally, Danger Sense will also lowers their opponent's Ability Accuracy. That said, Danger Sense is not only useful against Dimensional Beings, if you pair him with the right team.
Marvel.com: We don't have very many other vampire hunters on the roster, but who does Blade want to team up with?
Piero Herrera: Pairing him up with Ghost Rider will allow his Danger Sense to expand to all Villain Champions while pairing him up with Dormammu and Mephisto will also allow him to go hunt all Mystic Champions with his Danger Sense. To finish off, his Danger Sense bonuses are enhanced if you pair Blade with Spider-Man (Stark Enhanced)!
Marvel.com: And when do we get to fight with Blade on our side?
Piero Herrera: Blade will officially enter The Contest on October 26. Make sure to check out your in-game messages for more information on how to get The Battlerealm's first vampire hunter, Blade!
Stay tuned to Marvel.com for more "Marvel Contest of Champions" news and interviews.
The Hype Box
Can't-miss news and updates from across the Marvel Universe!