Games
Published March 1, 2018
Entering Contest of Champions: Sentinel
These mutant-hunting robots enter the Battlerealm this week!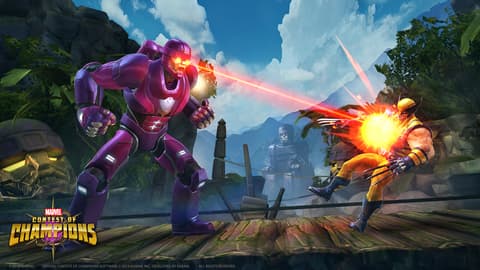 A fleet of Sentinels make their way to "Marvel Contest of Champions" this week, fueled by ISO-8 energy and on a mission to bring mayhem to the arena. Big, bad, and ready to reduce players to their component parts, the Sentinels came to blast first and ask questions never. We talked to Kabam Art Director Gabriel Frizzera and Game Designer Erich Kohlweg and got the breakdown of all of Sentinel's awesome abilities.
Marvel.com: It was only a matter of time before the mutant-hunting Sentinels made it to Battlerealm. But they're not just chasing down mutants right?
Gabriel Frizzera: There's a bit of a twist on this version of the Sentinels. They actually come from the future of The Contest, where a corrupt mutant elite are the ones imprisoning everyone else in prison camps, including their own kind. The Sentinels were their army… But the robots rebelled against their masters, and after dominating their own timeline, they have breached the other territories of the Battlerealm to exterminate all forms of life, be them mutant or not.
Marvel.com: What makes these Sentinels different than what our heroes have dealt with in the past?
Gabriel Frizzera: They are a new experiment for us. We wanted to create a new, more powerful kind of "grunt" to replace the Symbioids, which we love, but were getting a bit overused. So we created a different version of the Sentinel for every class in the game (which worked well in the story since Sentinels can adapt to various kinds of foes), and they'll be populating all our game modes. But we had an extra character release slot in March, so we decided to have a special playable version, so the Summoners can add giant killer robots to their team!
Marvel.com: How did the team trick out these Sentinels for Contest of Champions? They look pretty similar to the metal monstrosities we know and love but I'm sure you all did something to set them apart.
Gabriel Frizzera: The Sentinels are one of the characters that is always changing. There are many versions of them and it's very hard to pick a favorite. So, starting from the classic model from the original "Days of Future Past" storyline (the inspiration for this month's event), we designed our own version. We call this one the "Mark-ISO", since they have evolved to use ISO-8 as a power source. Their design is analogous to what Marvel has done to Iron Man in the last decade: from simple and "Super Hero-like", Iron Man's armor evolved to take cues from vehicle and industrial design. We did the same with the Sentinels, adding machine-shaped curves and panels but still paying homage to the original. Also, he's BIG! Sentinels are supposed to be large, and although we can't make them 30 feet tall without compromising gameplay, we made them our largest character to date.
Marvel.com: And does their enhanced weaponry match their new and improved sense of style? What makes them tick?
Erich Kohlweg: Sentinel is as a tanky Champion that builds up increased defensive and offensive abilities throughout the fight. Sentinel's core ability, Target Analysis, allows it to analyze the target's actions through their movements and attacks. Each time the target performs a consecutive action, Sentinel's Attack, Armor, and Critical Resistance increases leading to the target becoming fully analyzed. Once fully analyzed, the duration of Debuffs that Sentinel inflicts with his abilities are all doubled! Sentinel is a Champion that can easily get out of control if not dealt with quickly.
Marvel.com: Overall they seem like a fairly straightforward addition to the roster, while being very difficult to bring down.
Erich Kohlweg: Sentinel has strong defense but even if they are broken, there's still more to deal with. Sentinel's Signature Ability provides valuable utility by reducing the effectiveness of target's Power depletion abilities such as Power Burn. This is particularly good when combined with another of Sentinel's abilities, Special Attack cost reduction as Sentinel analyzes a target.
Marvel.com: And teammates? Do any of their directives have them playing nice with any other champs?
Erich Kohlweg: Sentinel is a machine and has no "teammates" as it is only concerned with its own objectives. Pairing with a wide variety of Champions from almost every Class, Sentinel assimilates powerful abilities to overcome the exact Classes matching those that provided the ability. When Sentinel is paired with Ant-Man, Sentinel gains the ability to reduce Debuffs when facing Science Champions. This same structure applies with The Hood, Iceman, Kingpin, Green Goblin, and a quite few more!
Marvel.com: When can we grab Sentinel for ourselves?
Erich Kohlweg: As of today, March 1!  Make sure to keep an eye out for the in-game message and you'll be able to get your hands on Sentinel.
Stay tuned to Marvel.com and @MarvelGames on Twitter for more "Marvel Contest of Champions" news and interviews!
The Hype Box
Can't-miss news and updates from across the Marvel Universe!