Games
Published January 5, 2017
Entering Marvel Contest of Champions: Gwenpool
The unlikeliest of candidates gets her shot in The Contest!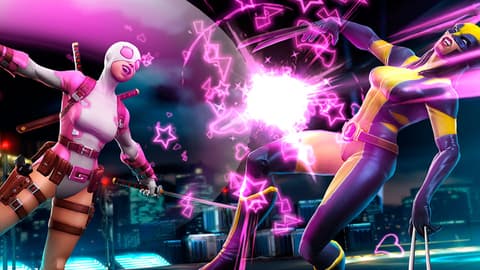 Did you have fun wrecking faces with Howard and the Iso-Loader in "Marvel Contest of Champions"? Well now you can take Gwen Poole, comic book trivia queen and all-round ne'er do well, for a spin!
We talked to Kabam Art Director Gabriel Frizzera and Game Designer Simon Cameron about the blonde bomber and the chaos she's bringing to Battlerealm.
Marvel.com: So the Collector's picking up comic book nerds now? Who's he gonna collect next, me?
Gabriel Frizzera: Nobody is safe. The Collector has noticed you've been working out, so you could wake up trapped in a crystal at any point!
Marvel.com: Well thanks for noticing! But Gwenpool's slightly less conventional than a lot of the other Champions in the game and her particular brand of weird is very Deadpool-y. What makes her special?
Gabriel Frizzera: She does have the Deadpool vibe, but there's a distinction: she's just a normal person who's very knowledgeable in story tropes and Marvel lore. Deadpool is part of the Marvel Universe and can't help being who he is, while Gwenpool is very methodically manipulating in what she thinks is a fictional universe for her own benefit. And she does that in the game too. She has played ["Marvel Contest of Champions"] in her "real" universe, so she knows how the gameplay goes, and how to exploit it.
Marvel.com: And she's looking fly in that pink and white. Any special "Contest" flare?
Gabriel Frizzera: She's such a new character, we wanted to keep her really close to what we have seen in the comics. One thing we paid special attention to was not to make her body idealized: she's a normal teenage girl playing Super Hero, not a muscled athlete. We also gave her some interesting weapons, like the pink bazooka, the football bomb and the Special-Edition Collector Plushie, which she uses as a shield when blocking.
Marvel.com: Plot Armor sounds like a really interesting ability. Essentially this puts a hard cap on the special damage her opponents can dish out right?
Simon Cameron: It's actually even better than that. It caps based on her current health. This means once her signature ability is unlocked, Gwenpool can't be killed by a special attack, though she'll come really close to death! Turns out knowing all your opponent's powers and abilities is a pretty big advantage!
Marvel.com: Are there good times to use Gwenpool specifically because of this ability? Maybe in a really tough boss fight?
Simon Cameron: Definitely! Tough boss fights are definitely a place where she can shine. This is especially true for bosses with really scary special attacks.
Marvel.com: What about her other abilities? How do they fit into her kit?
Simon Cameron: The rest of her kit is built around Debuffs. The most important of these is Bleed. She has two different Bleeds: one comes from her basic attacks but is relatively short, the other involves landing a heavy attack on an already bleeding target but lasts a long time.
Her other Debuffs come from her Special Attacks, each with their own—Incinerate, Ennervate, and Armor Break respectively. Then when one of these Debuffs expires, she will remove a Bleed to re-apply her Special Debuffs. She definitely needs to play aggressively to keep lots of Bleeds stacked up. With clever timing of when she applies her Debuffs—you don't want them to all expire at the same time!—she can stack several of them or keep one Debuff alive for as long as possible.
Marvel.com: And when can we break her out of a crystal and recruit her for ourselves?
Simon Cameron: She'll be available on January 5!
Stay tuned to Marvel.com for more "Marvel Contest of Champions" news and interviews!
The Hype Box
Can't-miss news and updates from across the Marvel Universe!