Games
Published February 26, 2019
Piecing Together Marvel Puzzle Quest: Captain Marvel (Galactic Warrior)
Rise up to save Earth with Carol Danvers!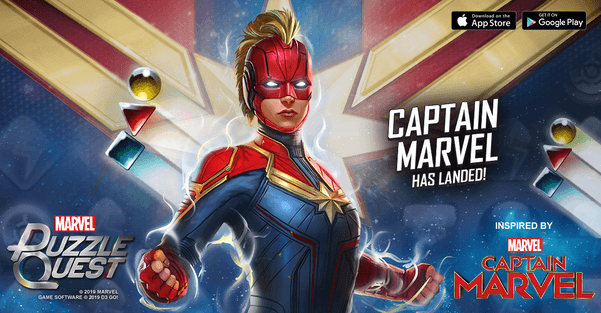 Marvel Puzzle Quest goes higher, further, faster with the addition of Captain Marvel (Galactic Warrior), which enters the game this Thursday, February 28! Recruit her to your team here.
Paralleling her story in her Marvel Cinematic Universe debut next week on March 8, Captain Marvel finds herself caught in the middle of a war between two alien races. Earth needs a hero; they need her.
Get a glimpse of the brand-new 5-star Captain Marvel in this Marvel Games teaser:
As the Kree-Skrull War rages on, Captain Marvel stands tall, a galactic warrior and one of the universe's most powerful super heroes, and rises up to save Earth. Can she reconcile her mysterious past to save a present in turmoil?
Captain Marvel leverages Repeater tiles to barrage her opponents with damage and strike tiles. She can also passively generate Green AP to speed up dealing damage as well as sending allies Airborne to heal them and deal damage to the enemy. The 5-star Rarity (Epic) hero is best paired with other Heroes and Avengers.
The Galactic Warrior has a hefty arsenal of attacks for you to utilize, including Mean Right Hook, Photonic Rush, and Got Your Six. Captain Marvel soars up swinging, blasting, and bashing in skulls and ships as she rockets through the atmosphere with Mean Right Hook. The medium-cost red power creates a 2-turn Red Repeater tile that deals 5,846 damage and creates 3 Red strength 266 Strike tiles. Whenever a friendly Strike tile is destroyed by any means other than a match, gain 1 Yellow AP.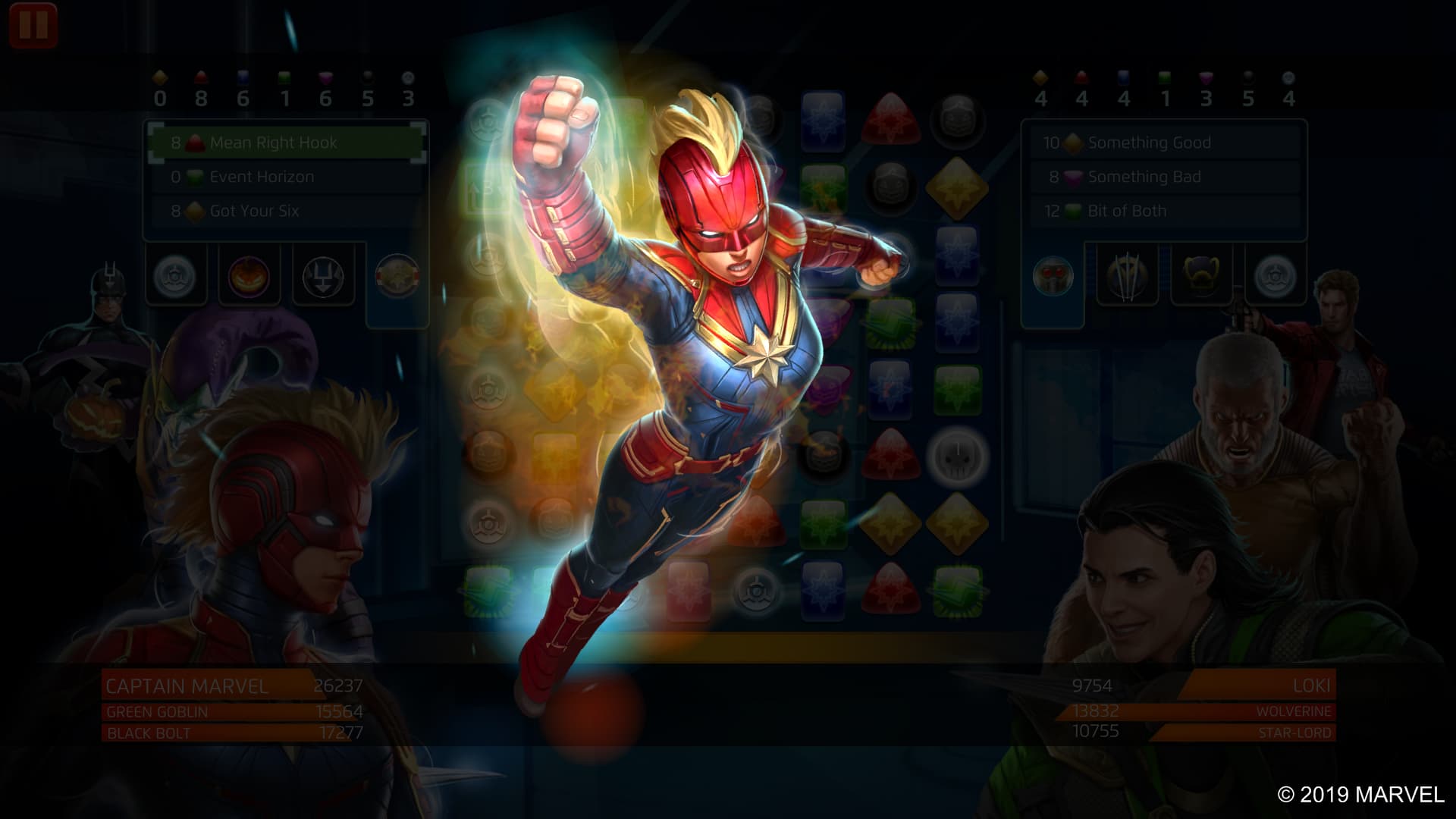 Captain Marvel draws power from within and readies herself for an attack with Event Horizon, a low-cost passive green power.
At the start of her turn, if one does not exist, create a 3-turn Green Repeater tile that generates 2 Green AP. When Carol has 9 or more Green AP, this power becomes Photonic Rush and Captain Marvel's Repeater tile is removed.
Captain Marvel goes binary, with Photonic Rush, a high-cost green power, unleashing a massive surge of photonic energy. She places a 3-turn Countdown tile that destroys its row and deals 6643 damage. If the destroyed row contains friendly special tiles, destroy one additional row for every friendly special tile destroyed. Destroyed tiles deal damage but do not generate AP.
When Captain Marvel has less than 10 Green AP, this power becomes Event Horizon.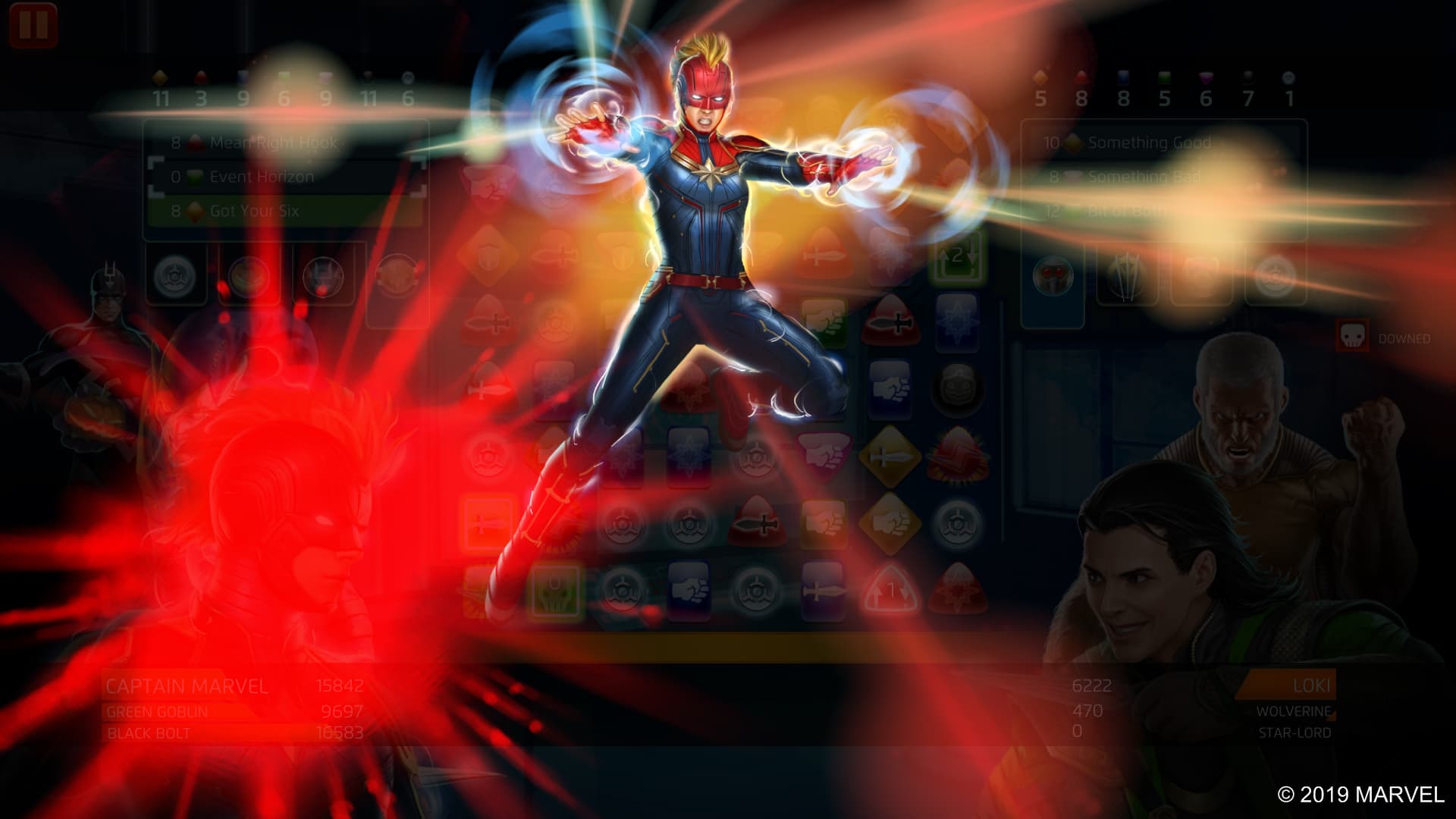 With Got Your Six, a mid-cost yellow power, Danvers is back in the cockpit, and she's pretty sure she remembers how to fly this thing well enough to save the day. Captain Marvel sends a chosen ally Airborne for 2 turns. When they land, heal the ally for a bust of 1727 and deal 3853 damage to the target.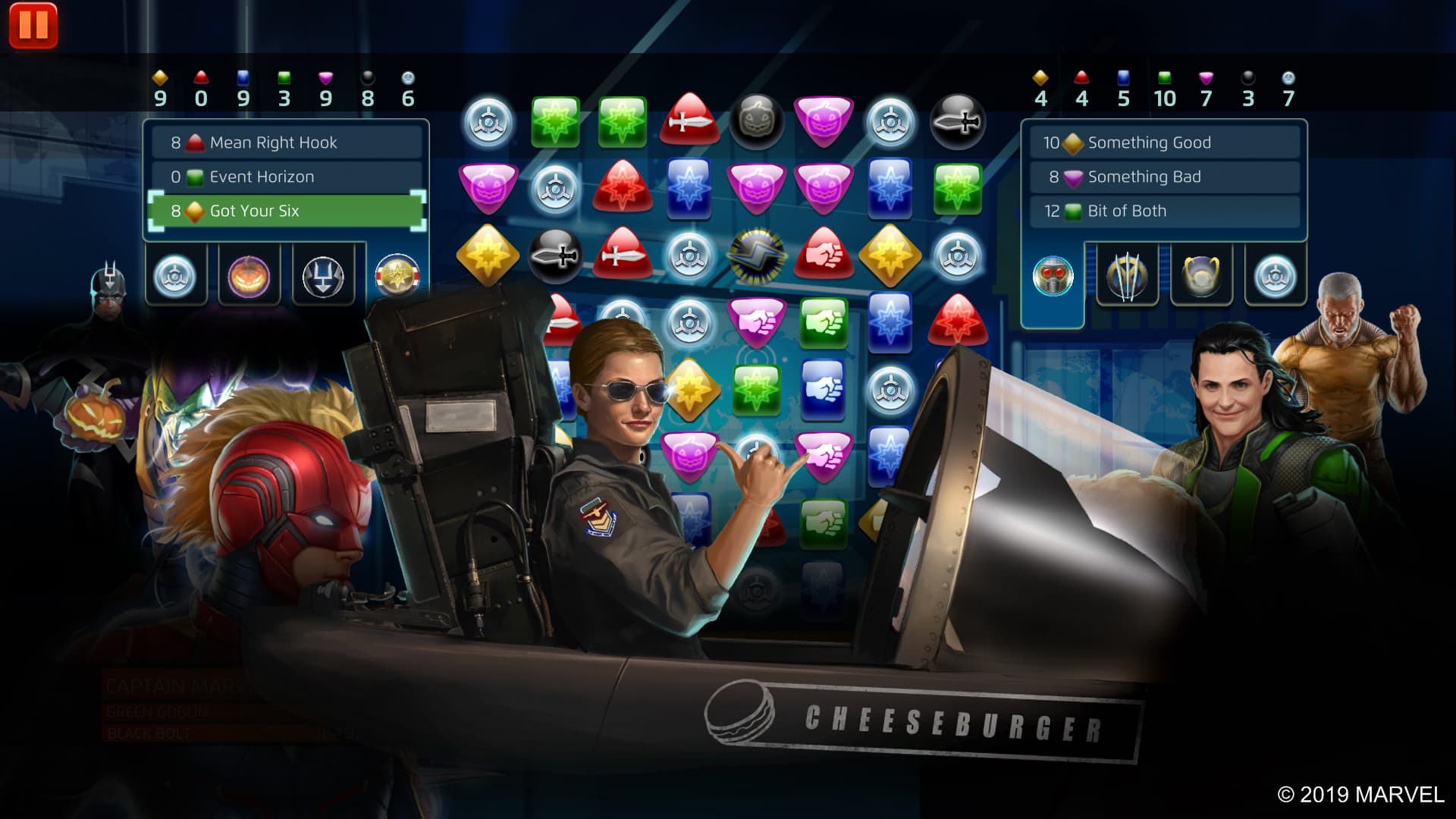 Captain Marvel (Galactic Warrior) is available at increased odds for a special limited time. She makes her debut beginning February 28 with special legendary store, Galactic Heroes, and a special limited vault, Carol Danvers. The featured alliance event, Come and Get Me, also kicks off on the 28th.
We previously teased antagonist 4-star Talos will be joining the game on March 14.
Join Captain Marvel (Galactic Warrior) as she fights to save Earth from the machinations of Talos! As the Kree-Skrull war rages on in the Marvel Cinematic Universe, Marvel Puzzle Quest celebrates Captain Marvel with a brand new story of its own: Cosmic Chaos! Team up with Captain Marvel to track down a monolithic object sent to cause chaos on Earth, and travel from Avengers Tower to Knowhere to uncover the mystery of The Devourer.
Pick up Marvel Puzzle Quest here, and stay tuned to Marvel.com for more "Marvel Puzzle Quest" news and interviews!
The Hype Box
Can't-miss news and updates from across the Marvel Universe!