Games
Published March 21, 2017
Piecing Together Marvel Puzzle Quest: More Iron Fist
The Immortal Weapon of K'un-Lun dons his Netflix attire!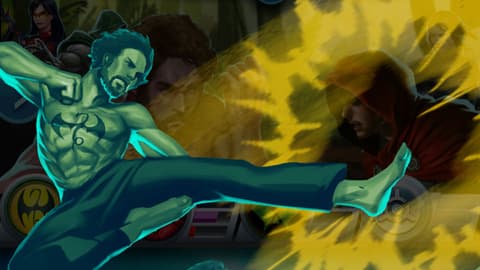 Celebrating Danny Rand's big jump to Netflix, "Marvel Puzzle Quest" unleashes a new 4-Star Iron Fist, bringing some seriously powerful martial arts abilities to bear.
We talked to D3 Go! Senior Producer Josh Austin about the Hero for Hire's upgrades and the best ways to dish out righteous kung fu fury to the bad guys. Read on for the breakdown!
Marvel.com: In my humble opinion Iron Fist (Immortal Weapon) is one of the best 3-Star characters in the game. His Black AP generation is top notch and Iron Fist of K'un-Lun hits like a truck for cheap. What does this Danny Rand do differently?
Josh Austin: 3-Star Iron Fist definitely is one of the best characters in 3-Star land! This 4-Star Iron Fist (Danny Rand) is also powerful after you build up his chi, which in the game, translates to strike tiles that his abilities can generate. Basically the new Iron Fist's abilities were designed to chain into each other—kind of like 2-Star and 3-Star Thor—so the player can gain AP.
Marvel.com: I noticed that just like 4-Star Luke Cage (Power Man), who has a unique interaction with Iron Fist, this 4-Star Iron Fist has a special interaction with Luke. How do the designers decide who gets these unique interaction? They're fairly rare in "MPQ."
Josh Austin: Iron Fist (Danny Rand) and Luke Cage have a history together with their Heroes for Hire partnership in the comic world, where they take assignments. A lot of characters have a synergy together in "Marvel Puzzle Quest" that's not as apparent, but both Luke Cage and Iron Fist have been designed to work together and their power lists this out. This new Iron Fist (Danny Rand) brings either Luke Cage 3-Star or 4-Star—depending on which variant you have on your team—into the animation when using Danny's second power and Luke Cage is on the team, which is a fun reinforcement of the upgrades the power contains.
Marvel.com: Care to tell our readers all about Danny's kung fu? No doubt he'll make the Thunderer proud.

Josh Austin: Iron Fist (Danny Rand)'s first power is called Chi Focus and costs six Blue AP. For this power, Danny concentrates his energy to augment his physical power. What that means in the game is this power creates a Purple Strike tile. Then, if there are any additional friendly Strike tiles on the board, it Fortifies them and the team gains Green AP.
Danny's second power is called Crowd Control for eight Green AP. Danny rushes into the fray, making quick work of his enemies. This power deals damage, then if there is more than one enemy remaining, the team gains two Black AP. Otherwise, he deals extra damage.
Danny's third power is called Like Unto Iron and costs 12 Black AP. Danny channels all his chi into his fist to deliver a devastating punch. It converts up to two friendly Protect tiles to Strike tiles, then deals damage.
Marvel.com: Like Unto Iron packs a seriously painful punch! And just to confirm I read that right, Danny changes Protect tiles to Strike tiles before he does direct damage? So he'll get the added power of the Strike tiles behind his fists?
Josh Austin: That is correct for Like Unto Iron; the fist attack animation plays, then if the player has a Protect tile it converts to a Strike tile, and the enemy receives the more devastating hit.
Marvel.com: When we're thinking about teammates, obviously Luke Cage enters the equation, but who else? Who makes Strike tiles quickly so Iron Fist can get right to fortifying them? And Sam Wilson, Falcon or Captain America, would make sure that there are plenty of Protect tiles to turn.
Josh Austin: Here are a couple examples of team-ups [that came up] during development! One team-up to make Iron Fist (Danny Rand) a strong damage dealer is to have Luke Cage (Power Man) and Wasp (Janet Van Dyne). Wasp works well as a means of strengthening whatever tiles Luke Cage and Iron Fist pump out. Luke Cage will be throwing down strong Protect tiles whenever an enemy activates a power and he will also slowly remove enemy special tiles with his Defender power.
Another option is to have Moon Knight and Medusa to put Iron Fist (Danny Rand) into a battery role. Using Iron Fist (Danny Rand)'s AP generation for Moon Knight to soak up and activate Moonsilver Blades and Fist of Khonshu while Medusa generates health and additional Green AP from matching any special tiles.
Marvel.com: And how are you building his covers? Honestly I feel like all of his abilities are worth having five points in them, but I'm thinking I would roll 3/5/5 making sure he's capable of doing as much damage as possible. What do you think?
Josh Austin: That breakdown definitely makes sense. Definitely the Crowd Control fueling Like Unto Iron is a dependable way to generate AP since the cost of Crowd Control and the relatively easy condition of having more than one enemy remaining makes Crowd Control his go to Power.
Marvel.com: And when do we get to unleash the power of Shou-Lao the Undying on our foes?
Josh Austin: Iron Fist (Danny Rand) will be available this Thursday, March 23 and can be found in Venom Bomb that runs Thursday, March 23 through Tuesday, March 28. He will also be in the Juggernaut: Heroic Vault from Monday, March 27 through Friday, March 31. His versus tournament will be Last Defender and it starts March 30th and lasts until April 3.
Also, I wanted to mention that we're running a 30% bonus currency sale right now through March 27 to celebrate Puzzle Quest's 10th Anniversary. Players can use this currency boost to recruit or level up Iron Fist (Danny Rand)! Finally, we're working with Marvel Insider on some upcoming promotions, so please stay tuned!
Pick up the all-new Iron Fist here and stay tuned to Marvel.com for more "Marvel Puzzle Quest" news and interviews.
The Hype Box
Can't-miss news and updates from across the Marvel Universe!