Gear
Published March 29, 2023
New 'Spider-Man: Across the Spider-Verse' Marvel Legends Swing into this Multiverse
Arriving in store and on shelves April 10!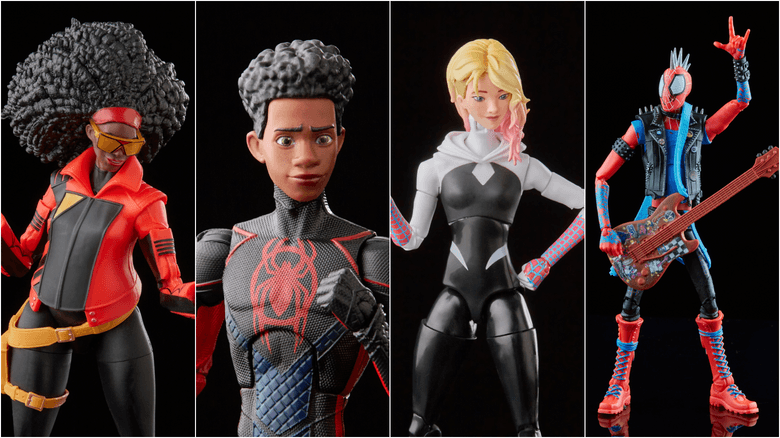 Swinging into stores soon, find brand new Marvel Legends from the upcoming Spider-Man: Across the Spider-Verse! 
In the upcoming sequel to the Oscar-winning movie, Miles Morales returns for the next chapter of the Spider-Verse saga. After reuniting with Gwen Stacy, Brooklyn's full-time, friendly neighborhood Spider-Man is catapulted across the Multiverse, where he encounters a team of Spider-People charged with protecting its very existence. But when the heroes clash on how to handle a new threat, Miles finds himself pitted against the other Spiders and must redefine what it means to be a hero so he can save the people he loves most.
The latest Marvel Legend wave includes the likes of Miles and Gwen, of course, but also a handful of new Spideys that will be seen in the upcoming movie — Hello Spider-Woman, and Spider-Punk! Find all the new figures in the image gallery below, and all figures will be available online at Hasbro Pulse and in stores on April 10! 
MARVEL LEGENDS SERIES CYBORG SPIDER-WOMAN
Cyborg Spider-Woman is part Spider-Woman, part machine -- and with years of experience and a cannon for an arm, she's seen it all! 
MARVEL LEGENDS SERIES MILES MORALES
Miles Morales faces a new villain with abilities that will take more than one Spider-Man to defeat.
MARVEL LEGENDS SERIES SPIDER-GWEN
Spider-Gwen has grown up a lot over the past two years, keeping busy between band practice and protecting her city. 
MARVEL LEGENDS SERIES SPIDER-MAN 2099
Trying to create a new superhero, Miguel O'Hara accidentally turned himself into the best Spider-Man in the multi-verse. 
MARVEL LEGENDS SERIES THE SPOT
If The Spot can realize the power of his abilities, he could become a threat to the entire universe.
MARVEL LEGENDS SERIES SPIDER-PUNK
Hobie Brown is the British punk Spider-Man better known as Spider-Punk.
MARVEL LEGENDS SERIES PETER B. PARKER
Peter B. Parker must decide between protecting his old pal Miles and siding with his more experienced comrades.
MARVEL LEGENDS SERIES JESSICA DREW
Jessica Drew is a modern Spider-Woman who fights crime with an arachnid's ease.
Spider-Man: Across the Spider-Verse swings into theaters (and the Multiverse) on June 2, 2023. 
The Hype Box
Can't-miss news and updates from across the Marvel Universe!