Published August 31, 2017
James Gunn's Three Big 'Guardians of the Galaxy Vol. 2' Reveals
Own 'Guardians of the Galaxy Vol. 2' on Digital, Blu-ray, and 4K UHD now!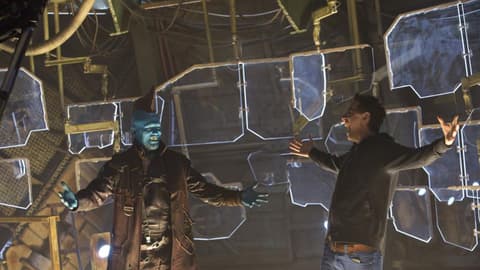 On a recent Facebook Live, writer and director James Gunn stopped by Facebook Los Angeles to celebrate the release of "Guardians of the Galaxy Vol. 2" on Blu Ray, DVD, and 4K UHD.  While in the studio, Gunn revealed some interesting facts to excited fans! Watch the Facebook Live below:
James Gunn, writer and director of #GotGVol2, is LIVE on Facebook!Marvel Studios' "Guardians of the Galaxy Vol. 2" is now available on Blu-ray, Digital, and 4K UHD: http://bit.ly/GOTG2GetItNow

Posted by Guardians of the Galaxy on Tuesday, August 22, 2017
One of the most hilarious scenes at the end of "Guardians of the Galaxy Vol. 2" was when Peter Quill was presented with a Zune, a post-mortem gift from Yondu. Gunn revealed that just as Peter's mother Meredith communicated with him through her mixed tapes, Yondu will be communicating with Peter through the Zune playlist. What genre of music was Yondu's favorite? We'll have to wait and see.
Easter eggs are a huge part of the "Guardians" films; while Gunn refused to completely reveal the most hidden Easter egg from the first "Guardians of the Galaxy," he did say that a few fans had gotten close to figuring it out. Gunn also teased that there's an extremely difficult to find Easter egg in Vol. 2 that has yet to be found. Good luck, fans!
David Bowie's music was a major part of the 1970's soundtrack that was so prevalent in "Guardians of the Galaxy Vol. 2," so it makes sense that Gunn was in talks with Bowie's people about a possible guest appearance as a Ravager in the film. Sadly, Bowie passed away before it could happen. Ziggy Stardust, we will see you in the stars.
Make sure to stay tuned to Marvel.com for the latest on Marvel Studios film releases, and follow @Guardians on Twitter and like the official Guardians of the Galaxy page on Facebook for the latest!
The Hype Box
Can't-miss news and updates from across the Marvel Universe!