Movies
Published March 28, 2018
Anthony Mackie and Sebastian Stan Are Ready To Fight Side By Side in 'Avengers: Infinity War'
Cap's pals are reunited and ready to take on Thanos!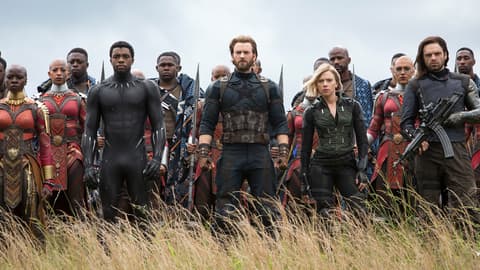 The Avengers are back with more heroes than ever to face the biggest threat in the universe. To take on Thanos the team is going to need help from all sides, reuniting old friends and meeting colleagues.
Both Anthony Mackie (Sam Wilson/Falcon) and Sebastian Stan (Bucky Barnes/Winter Soldier) know what's it's like to be Captain America's right hand man. The two actors sat down to talk with Marvel.com on the set of Marvel Studios' "Avengers: Infinity War," to talk about what this brand new threat means for the Avengers.
Mackie revealed that the characters went their separate ways after "Captain America: Civil War." After going in to hiding, the heroes received their call to rally and were ready to assemble once again. "One thing about Falcon I've always loved since the beginning of discovering this character is his military background, his belief that his job in life to fight for his fellow man." It's this righteousness that Mackie finds so noble about Falcon's bravery, "So when he hears about those in his overall idea of world destruction, he's very disheartened and shaken by it. He's eager to get into the fight against this super evil, this diabolical demon known as Thanos."
If you're looking for a warm and fuzzy reunion between Cap and Bucky, don't hold your breath said Stan, "It went by fast. It felt pretty natural. We weren't milking the moment or anything. It is what it is. I think the urgency of the circumstance that we find ourselves in kind of makes things go a little bit quicker." [Note: We covered their 'warm and fuzzy reunion' here.]
Assembling Earth's Mightiest Heroes is an unenviable feat. Stan is apprehensive, "I don't know. I'm sure it's going to be challenging for sure because there's so many different tones to these films and that all of these characters carry. So I think it'll be interesting to see how tonally everybody fits into the same world."
"It's not like you see one person who is the lead of the movie. It's truly and ensemble movie," explained Mackie. "I would say if anybody is the lead of the movie it's Thanos. And it's all of us working around, orbiting Thanos because he's such a big bad guy."
The Mad Titan is a definite force to be reckoned with, "He's the uber bad guy. He's the worst bad guy of all bad guys of all time," emphasized Mackie. "So you can't like put them in three scenes down, then a fight scene at the end. You really have to give them just due. So, our relationship and our scenes are more ensemble based. Everybody playing with a relationship with each other."
With an ensemble this big, confidence between the directors and the cast goes both ways. Directors Joe and Anthony Russo had faith in their actors, "We've been with these characters so long, I feel like they trust us. It's not like you're showing up to all new material. You come to it with a history, and that's part of it also."
The directors' trust is something that is important to Mackie, "You know the great thing about their style of directing is it's really actor-first. It's really supportive of your craft and your process, and what you bring to the characters. The best thing about working with Marvel is they know what everyone does well, and what you don't do well. So they put you around people who do well, what you don't do well. So they put us in a position to win, every single time with every single scene."
The universe is big and all these heroes from across the galaxy coming together is bound to be a sort of culture clash. As for the Winter Soldier's reaction to seeing a talking space raccoon for the first time, Stan lamented, "As usual, I question my own stability, mentally and wonder whether or not I should have just stayed asleep. Things clearly did not get better."
"Avengers: Infinity War" opens in theaters on April 27. Get tickets on Fandango now! Stay tuned to Marvel.com, follow @Avengers on Twitter, and Like "The Avengers" on Facebook for the latest on the Avengers as it develops!
The Hype Box
Can't-miss news and updates from across the Marvel Universe!