Podcasts
Published August 31, 2022
'Spider-Man' Editor Nick Lowe Offers an Inside Look at 'Amazing Fantasy' #1000
Marvel's Pull List covers the mega-sized anniversary issue that celebrates the Wall-Crawler's 60-year legacy!
This month, Marvel's Pull List podcast is going all-in on Spider-Man to celebrate Peter Parker's 60th anniversary! In an all-new episode, hosts Ryan Penagos and Jasmine Estrada cover AMAZING FANTASY #1000 with Executive Spider-Man Editor Nick Lowe! Now on shelves in print and digital comic shops, AMAZING FANTASY #1000 commemorates Peter Parker's heroic 60-year history since his debut issue in AMAZING FANTASY (1962) #15. Featuring an all-star cast of creators from Dan Slott, Rainbow Rowell, Kurt Busiek, Jonathan Hickman, Steve McNiven, Jim Cheung, Ryan Stegman, Neil Gaiman, and even screenwriter Armando Iannucci, AMAZING FANTASY #1000 will awe and delight Spidey readers with eight original stories that explore the character's legacy as told by the writers and artists who shaped him.
"We were staring down Spidey's 60th anniversary," recalls Lowe on what sparked the issue's conception. "I knew I wanted to do a big celebratory Spidey one-shot and MARVEL COMICS #1000 had just come out. And so everyone was on board to do something. I can't even tell you the amount of emails and calls I made to try and get people on stories. But I got so many of my moonshots on this one and I'm just so proud of them. I think maybe the most surprising one was Armando Iannucci. For those of you at home who might not know, he created the show Veep, he created In the Loop… And he is such an awesome person and a hilarious person and a huge fanboy. And I had been trying to get him to write comics for six years"!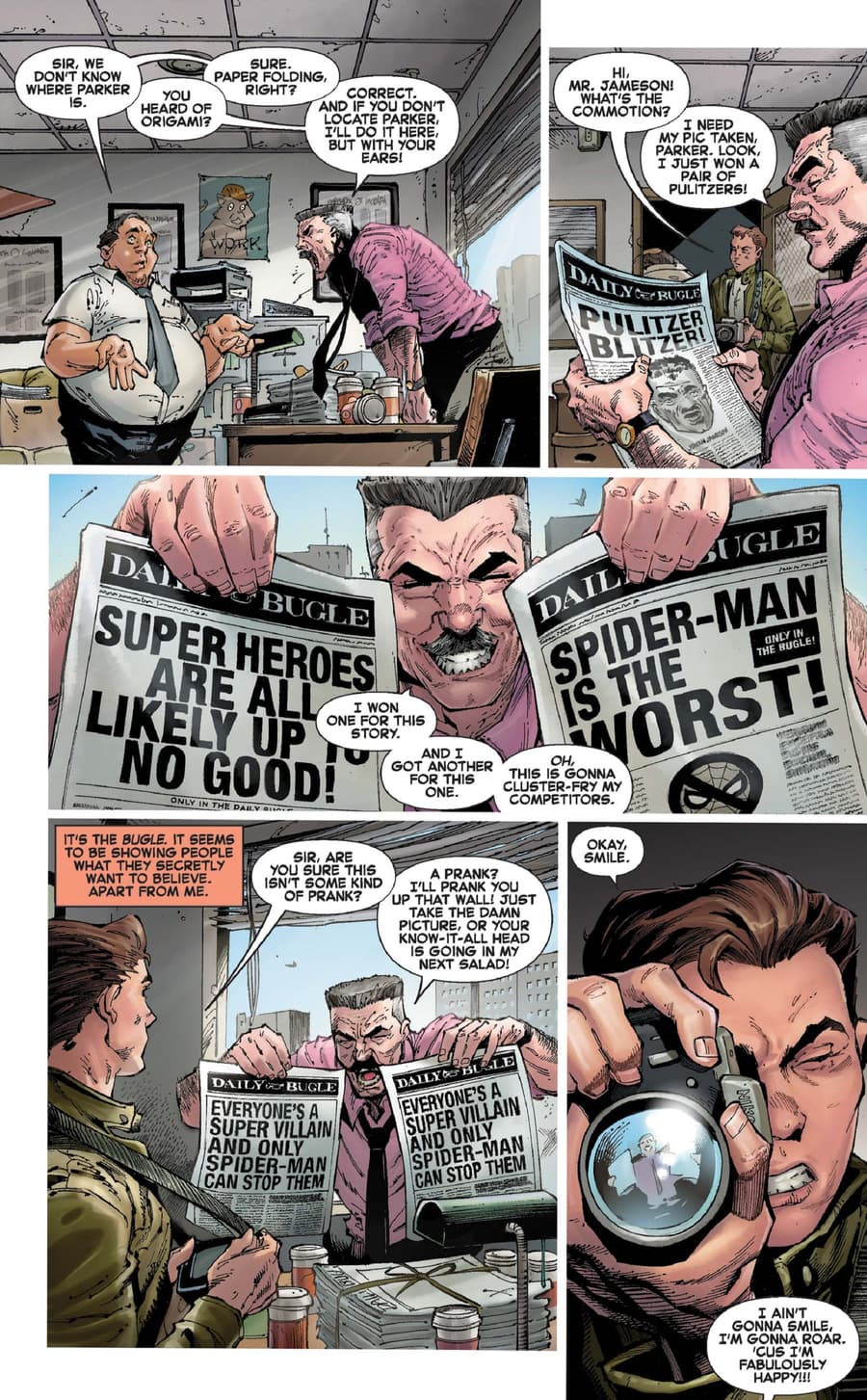 Lowe also broke down each of the eight stories featured in the one-shot, including behind-the-scenes tidbits on the issue's extraordinary talent.
"[The story] 'With Great Power' was pretty special, too. Neil Gaiman I've edited twice at Marvel. And I mean, I'm so lucky to because he is such a wonderful collaborator. He's been so generous with me, with his time and his wisdom. And he's just lovely. And I contacted him knowing, full well thinking, that he was going to tell me 'no.' But he has a young son who is a huge Spidey and His Amazing Friends fan. And so he basically wrote this to get points with his son! And all while he was writing it, he kept telling me, 'I don't know if this is going to work, Nick. What I'm writing is very weird.' And I was like, 'Sounds great, Neil, I'm all for weird!' and I'm thinking like, 'It'll be all, Mysterio and Mysterio changing the way up is down.' But no, Neil does what only Neil can do and tells something that is Meta and yet not trying to out clever itself. It is something that is utterly human and personal and gorgeous."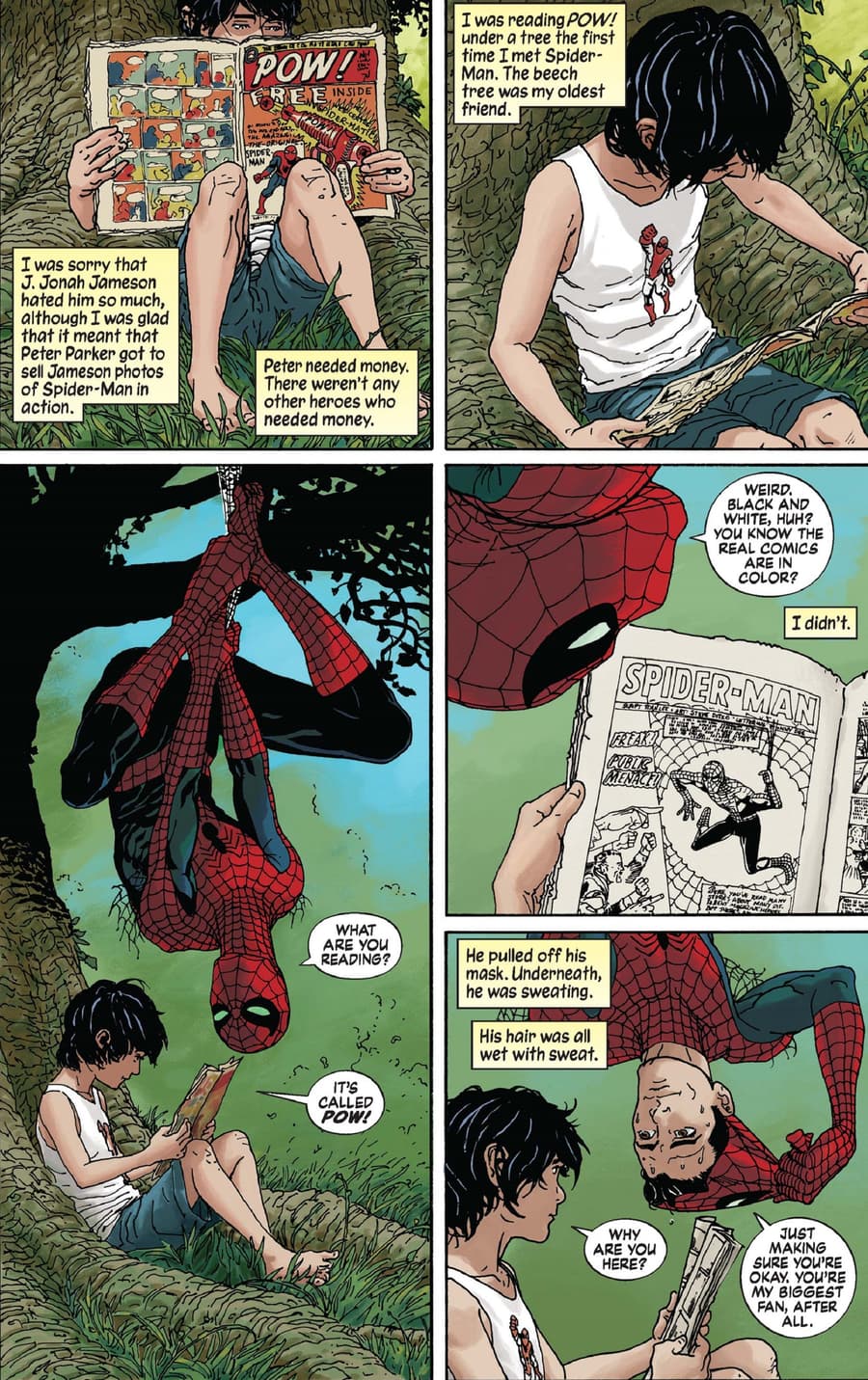 Listen to the full episode on Marvel's Pull List now, then pick up AMAZING FANTASY #1000 in print or digital wherever comic books are sold!
Marvel is celebrating Spider-Man's 60th anniversary all month long! Stay tuned for more Spider-fun right here on Marvel.com.
The Hype Box
Can't-miss news and updates from across the Marvel Universe!