TV Shows
Published August 15, 2017
The Creators of 'Marvel's Rocket & Groot' Talk About Their Emmy Nomination
Congrats to Marvel Animation on their first Emmy nomination!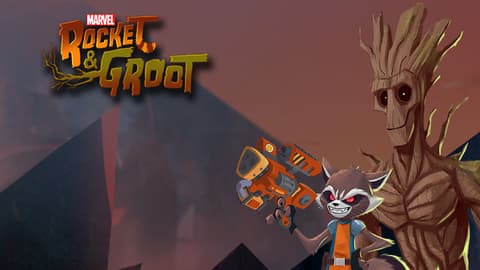 Thanks to a genetically-enhanced raccoon and a Flora colossus, Marvel Animation has garnered its very first Emmy nomination for "Outstanding Animation Short Form Program." "Marvel's Rocket & Groot" features the voice talents Trevor Devall ("Marvel's Guardians of the Galaxy," "Johnny Test") as Rocket and Groot is voiced by Kevin Michael Richardson ("Marvel's Guardians of the Galaxy," "The Cleveland Show").
Featuring animation by Oscar-nominated Passion Pictures, the shorts are directed by Arnaud Delord, written by Chris "Doc" Wyatt and Kevin Burke, executive produced by Cara Speller, Alan Fine, Dan Buckley, Joe Quesada, Cort Lane, and co-executive produced by Stephen Wacker and Stan Lee.
We spoke with SVP, Animation & Family Entertainment Cort Lane, as well as writers Chris "Doc" Wyatt and Kevin Burke about what makes the Emmy-nominated "Space Walk" short (above) so very special.
Marvel: This is Marvel Animation's very first Emmy nomination, how excited were you when you found out the news?
Kevin Burke: I was in a state of denial for a bit, I was waiting for Cort to make the announcement. I was texting Doc, "Is this real, is this a misprint?"
Doc Wyatt: I checked the official Emmy website that has the nominations but I was also waiting to hear from Cort. I stalked his social media.
Cort Lane: I also checked the official Emmy website, then I congratulated the folks at Disney XD. Then it was a flurry (ed: on social media).
Kevin Burke: It's thrilling!
Marvel: Marvel animated shows all have their own uniquely designed look—I know Skottie Young consulted on the series but the final product almost feels like a loving tribute to the style of Chuck Jones.
Kevin Burke: On the writing side, in terms of coming up with bits and gags, the material is very much inspired by that. We had 90 seconds so it wasn't so much about big plots, it was about a setup and a payoff and some fun gags, and the Chuck Jones style is very much that as well. So we were looking for comedy in that sense, and visually it went that direction.
Cort Lane: Passion Animation in the U.K. brought in Arnaud Delord, who's a famous French animation director—well known for the Gorillaz music videos—and in the pitch we expressed being influenced by the Skottie Young style from publishing.
Passion Animation delivered something that had that Chuck Jones looseness and comedic sensibility—which really adapted well to the Skottie Young illustration style—but then rendered it in CG so that it felt really rich. It's hard to capture that level of expressiveness and squash-and-stretch cartoony quality in CG, so they actually gave us a little animation test which showed us what it might be like and they blew us away. Then we got Skottie Young involved in creating some ancillary characters, but a lot of the baseline stuff was what he had already done in publishing.
Marvel: Not to discount the always amazing voice acting work in Marvel animated shorts, but "Space Walk" was gorgeously done with very little dialogue. Again that's reminiscent of Saturday morning cartoons and captivating kid's imaginations, was that the intention?
Kevin Burke: Absolutely, conceptually it was always about the visual nature of them being unable to speak. So from a pitch when we put it together it was: they're trapped outside, they can't say anything, they're pulling everything they can to make it back inside the ship to survive. And so the setup was always there, in fact it was one of the easiest story pitches that we've ever done because that framework was there.
Then the fun part was working with the animators and Doc and I writing up gags because there's so many different gags you can play, all visual. We got a chance to do something that we don't do that often. In some of our other Marvel shows they're very story driven with complex villain plots—this was just a moment in time—to play visually with music and sound, it worked out really well and we're very proud of it.
Doc Wyatt: The director is French and he had his team with him at the story summit, we got up in front of the room and pitched the story idea and they would confer amongst one another in French for a very long time. Of all the stories that we discussed at our story summit, "Space Walk" was particularly well received.
Cort Lane: It was a strong concept from the beginning. I've always had a preference for Blue Danube—so I think I suggested it—and then someone said, "That's waltz music, on their way back to the ship as they're holding each other spinning back and forth it will look like a waltz." Which was one of the little payoffs that we did manage to get in there.
Marvel: Fans truly love the space duo of Rocket & Groot.
Cort Lane: Everybody is so pleased with how these came out, they work so well as a duo. And it's not just because they're both funny and odd, it's because their personalities are so distinct and opposites attract in a wonderful way. Rocket is such a strong personality but he needs Groot's heart to get him to do the right thing a lot of the time.
Kevin Burke: On the writing side it is some of the most fun stuff we've ever written and most of that comes from these characters. As Cort said, Rocket is sarcastic and a big character and Groot has heart, but at the end of it, the whole thing has heart to it. It isn't just about gags and doing the most funny, outrageous thing, these guys actually care about each other and there's a friendship there and that helps move along any adventure they go on. I think people really relate to that.
Marvel: It's inevitable to ask about Easter Eggs in these shorts.
Doc Wyatt: In the "Space Walk" short in particular, no. But there are a couple of…the answer is yes, but we're not going to give them away!
Marvel: How amazing would it be if Groot was to give an Emmy speech?
Doc Wyatt: He wouldn't need the teleprompter!
Cort Lane: I think it would be more awesome if Rocket did one because he would just yell at everyone!
Emmy voting is now open. Cast your vote for "Marvel's Rocket & Groot" short between now and August 28! Stay tuned to Marvel.com for all the latest news and updates on all of your favorite Marvel animated series.
The Hype Box
Can't-miss news and updates from across the Marvel Universe!