TV Shows
Published March 18, 2021
'WandaVision': The Importance of Wanda's Runes
"It was such a journey finding the climactic moment of the battles."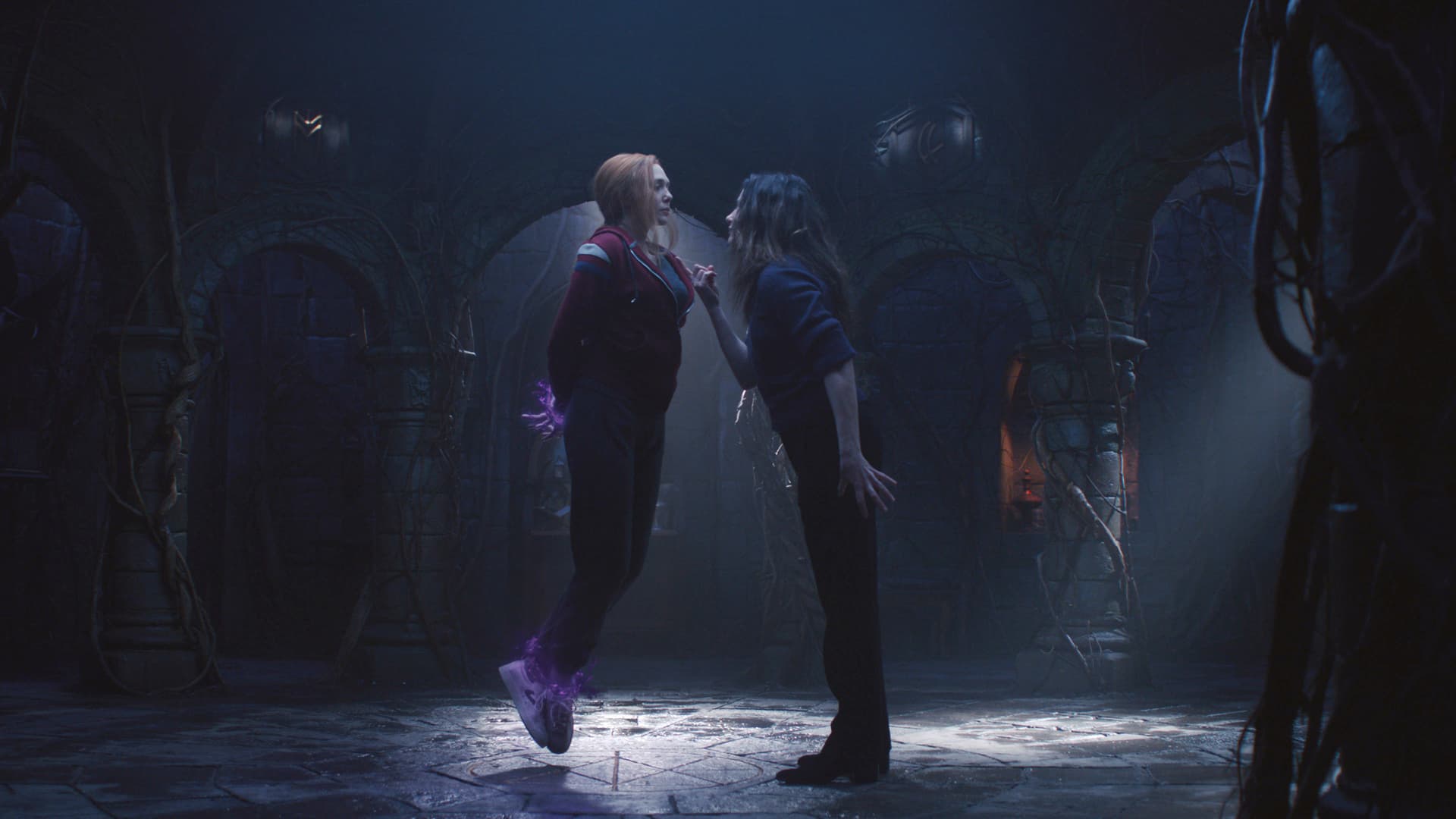 Wanda Maximoff says it herself during the final episode of Marvel Studios' WandaVision — she might have this immense power, but no one ever taught her anything about it, let alone how to wield it. In a way, though, Agatha Harkness becomes a teacher of sorts to her next-door neighbor, showing her throughout Episodes 8 and 9, what kind of power she could have should she accept the mantle of The Scarlet Witch.
High above Westview in a climactic battle, Wanda and Agatha trade magical blows back and forth, with Wanda clearly learning a little bit more about who she is, and what power she has, with each blast. Eventually, when it's revealed Wanda has cast her own runes high in the sky about the town, she remarks back to Agatha, "Thanks for the lesson" — as these runes were something Agatha had used against her, Wanda is now using herself.
"I'm so proud of the runes because we were like, 'How does this witch battle end? How do we make this clever, and how do we have it dovetail into Wanda's journey?'" head writer Jac Schaeffer explained to Marvel.com. "[Writer] Megan McDonnell did a lot of witch research. And she kept talking about this thing called 'wards.' She eventually showed me in a book what they were. And I was like, well, [those] looks like runes."
For those not familiar, wards are a form of protective magic involving the use of magical barriers, and in those case, those became Wanda's giant runes.
"She talked about how they work, like, if you put them up, what they do," Schaeffer continued. "And so from that was born this idea that we see it in Agatha's face in Episode 8, and then Wanda uses it in this colossal way, in this enormous way on the walls of her Hex, man. This is her Hex. It's not your Hex, Agatha. It's Wanda's Hex!"
With the runes high in the sky, it caps off everything Wanda has learned, and accepted, along her journey to accepting her destiny as The Scarlet Witch.
"I loved that. I was proud; it was such a journey finding the climactic moment of the battles," Schaeffer continued. "And I remember the day we landed it... [it's] about acceptance and stepping into your power and having a full understanding of yourself and no longer being in denial. Wanda is not in denial of herself as The Scarlet Witch. She fully embodies and then the becoming happens."
Every episode of Marvel Studios' WandaVision is now streaming on Disney+.
Want more exciting information about Phase 4? Find the latest Marvel Cinematic Universe news right here — and stay tuned for more!
This is just the beginning of the Phase 4 news. Stay tuned to Marvel.com for more details! And be sure to follow Marvel on Facebook, Twitter, and Instagram.
Looking for more Marvel movies and shows to stream? Check out everything on Disney+, Hulu, and ESPN+ right here, and where to find all your favorite Super Heroes right here. Sign up for Disney+ and start streaming now!
The Hype Box
Can't-miss news and updates from across the Marvel Universe!