Comics
Published June 20, 2019
5 Times Daredevil Came Back from Tragedy
Matt Murdock has been through the wringer – but he always finds a way back.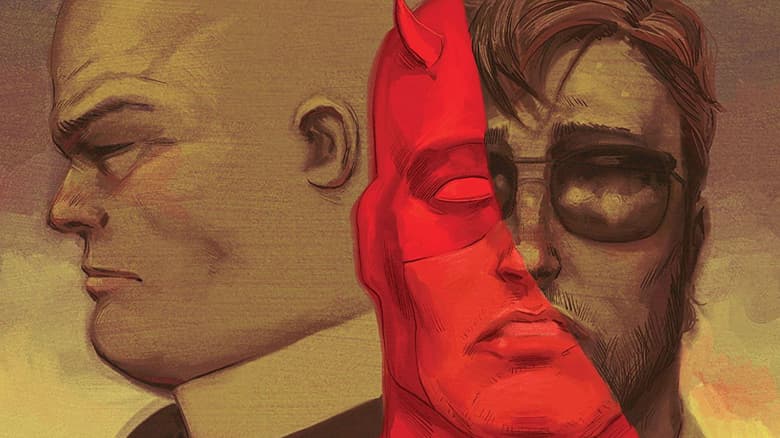 It has been said that Daredevil stands, at any given moment, on the edge of tragedy. Ever since the fateful day he risked his life for a stranger and ended up dredged in toxic waste, Matt Murdock's life has been one of quick, shocking moments of tragedy. He is living in such a moment right this second in Chip Zdarsky's DAREDEVIL run.
However, to be looked at another way, Daredevil's life has been about recovery. He has confronted the darkness time and again and come back from the brink.
Born Again
After Kingpin literally and figuratively brought Matt Murdock's world around his ears, DD had never been at a lower point. Homeless, fatigued, and hallucinating, he seemed too far gone to ever come back.
However, he realized that a man with nothing to lose was a man without fear. Redoubling his strength, he saved Hell's Kitchen from utter destruction by an out-of-control Nuke and foiled Wilson Fisk's attempts to be rid of Hornhead for good. He went on to reconcile with Karen Page, start their relationship anew, and open a low-cost law clinic where he could continue to help until his license was reinstated.
Fall From Grace
When Ben Urich's intern found out the secret of Daredevil's identity, she took it to the closest tabloid. Even after she was discredited, however, Murdock felt like more needed to be done. He faked his own death to keep Daredevil alive and his friends safe. A skirmish with a collective of super-powered hackers followed, ensuring that the world "knew" Murdock was dead and Daredevil, very much alive, was not the blind lawyer from Hell's Kitchen.
For months, Matt became "Jack Batlin," a low-level hustler. He kept his proverbial ear to the ground and let the similarly small potatoes "players" let him know where to look for crimes to solve. More truly street-level than he had been in years, DD became something of a hero to the community he now found himself a part of. Eventually, mental health issues and the strain of pretending to be someone other than Matt Murdock derailed this new status quo rapidly.
The End of Batlin
Murdock struggled so much to be Batlin that he declared war on himself, entering a fugue state and destroying his own apartment and armored costume. Even after he realized he was the architect of his own misery, the Man Without Fear still had to fight back against intense hallucinations of everything from attacking ninjas to blizzard-pounded mountains. In the end, he emerged in a right state of mind and ready to be Murdock once again.
The hero that came out on the other side was still as strong as ever but now he also seemed lighter, even healthier. With the help of S.H.I.E.L.D., he returned to life and the law and immediately proved his commitment to both. First, he reached out and revealed his truth to his former partner Foggy Nelson and reconnected with Karen. Then, he chose to represent Mr. Hyde when he was charged for a murder that he knew the Super Villain did not commit – and he did it all with a smile on his face and a joke tumbling from his lips.
The Devil on Cell Block D
It was the darkest period of Daredevil's life to death and it unfolded like a slow-motion car crash. Every move, every course correction the hero could muster, fate seemed to counter. And, despite all his efforts and maneuvering, eventually he ran out of room. Matt Murdock had to go to jail for his double life. While still in contention, the FBI believed they had enough evidence to conclude the lawyer and vigilante were one in the same and set out to punish him for it.
DD, however, found a way out of this, too, and immediately went on an international sojourn to punish those that he believed killed Foggy and confront Vanessa Fisk, Kingpin's wife. By the end of his holiday, Hornhead had learned the truth of Nelson's apparent demise and leveraged Fisk's influence to ensure a life out of bars for himself – a second chance to be a happy, married man.
It proved to be perhaps the shortest recovery period ever for Murdock when Mr. Fear poisoned Milla Donovan and brought a definitive end to the possibility of Murdock's matrimonial bliss.
The Shadowlands
Daredevil had seized control of the Hand but lost himself in doing so. Unbeknownst to the hero, while he thought he had gamed them, they had set him up. As he lost control, Murdock became the perfect nesting ground for the Beast (the demonic presence worshiped by the Hand) to be born into flesh. Under the Beast's influence, Hornhead became a literal moniker, and the demon formerly known as Matt Murdock conquered Hell's Kitchen and slowly began to turn it in the Shadowlands. He eventually even murdered his rival Bullseye.
The heinous act and an intervention by his friends and fellow heroes finally broke the hold of the Hand and Daredevil emerged, battered and emotionally broken. As in times past, he took to the road to find himself again.
When he returned, he returned anew. Once again, laughing and joking and valuing the little things in life in a way he had not since representing Mr. Hyde. He seemed so happy that Foggy Nelson went right past being relieved to being freaked out over his friend's mental state.
How will Matt Murdock come back from his latest tragedy? You'll have to follow DAREDEVIL!
DAREDEVIL #7, written by Chip Zdarsky with art by Lalit Kumar Sharma, is on sale now online and at your local comic shop!