Culture & Lifestyle
Published May 15, 2023
Behind The Scenes of Marvel Studios' 'Hawkeye' with Hailee Steinfeld
Read the exclusive excerpt from 'MARVEL STUDIOS' HAWKEYE: THE OFFICIAL COLLECTOR SPECIAL' on-sale Tomorrow, May 16, 2023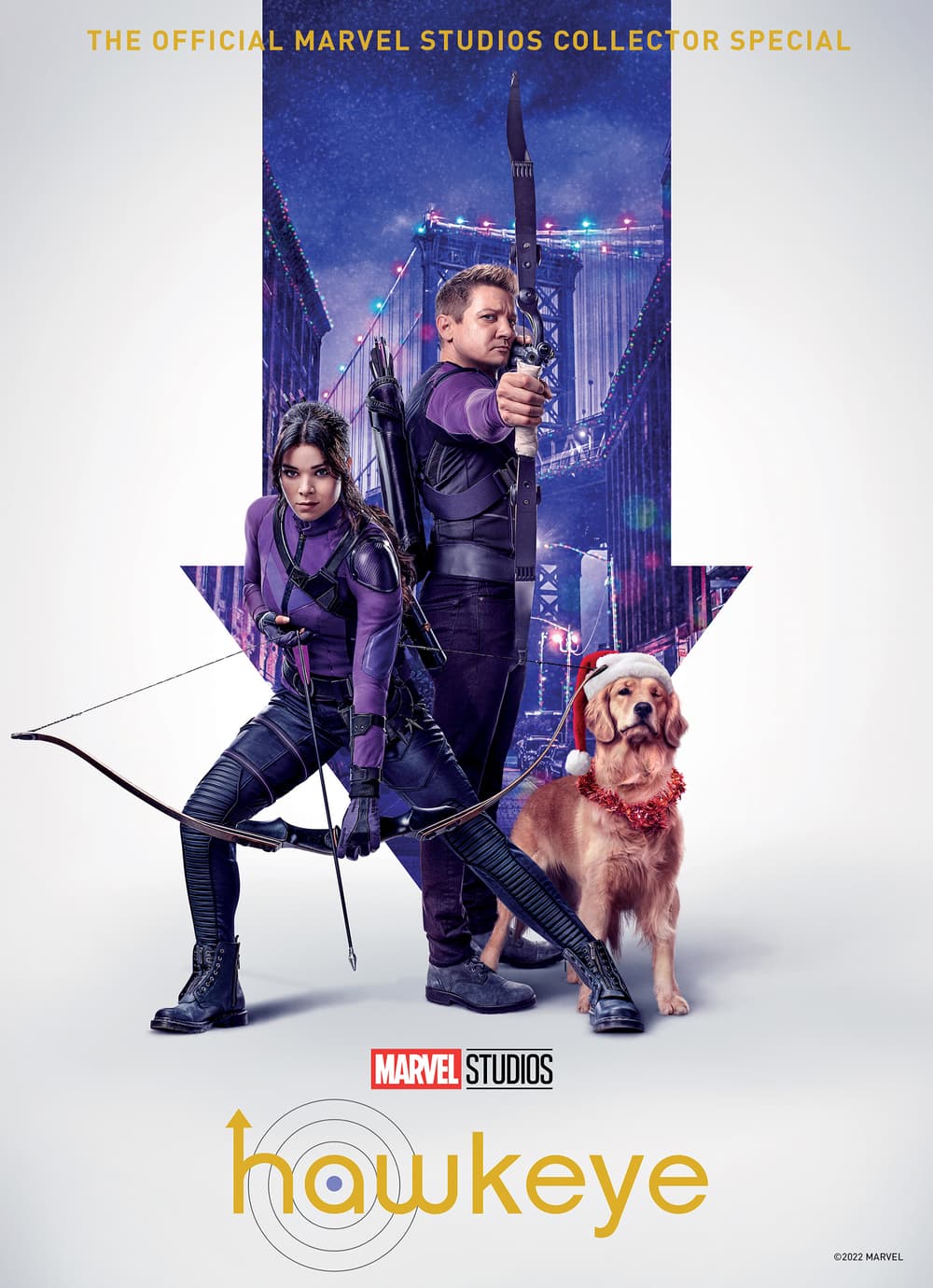 A new hero emerged during Marvel Studios' Hawkeye, introducing the world to Kate Bishop as she translated her archery skills and appreciation for Clint Barton into becoming one of the MCU's newest stars. Now fans can go behind the scenes with the upcoming release of Marvel Studios' Hawkeye: The Official Collector Special, hitting bookstores everywhere on May 16, 2023.
Lavishly illustrated with stunning behind-the-scenes images, Jeremey Renner, Hailee Steinfeld, Florence Pugh, Vincent D'Onofrio and other members of the cast and crew, including the team responsible for the high-octane action sequences and the cast of Rogers: The Musical, reveal the secrets behind the creation of the hit Disney+ series.
Pre-order Marvel Studios' Hawkeye: The Official Collector Special at Amazon, Barnes & Noble, Books-A-Million, Indie Bound, or wherever books are sold.
You can get as sneak peek of the book here with this exclusive excerpt of  Hailee Steinfeld 's interview about the making of Hawkeye and becoming Kate Bishop!
Hailee Steinfeld
From archery lessons to hand-to-hand combat, Hailee Steinfeld reveals how she had to do some straight shooting to bring fan favorite character Kate Bishop to life.
How much training did you have for the role?
Everything happened very quickly from the time that I got the call to the time that I showed up [on set] ready to shoot. I don't know the exact amount of time, but it wasn't a lot. I had a few archery lessons with an amazing coach in Los Angeles. The first handful of lessons were spent really just talking and being taught the mechanics of the bow: how to hold it and how to change the limbs. The whole technical side of things is what I was introduced to first, which I'm so grateful for, but at the time I was like, "dude, I really just want to shoot." But I'm so thankful to know the in's and out's of it, because once all of that information is stored, you can place it in the back of your head and know that it's there, and it becomes more and more second nature, after tons of repetition. I had a few sessions in L.A., then I went out to Atlanta, and I started working with the bow in a different way, and that was through stunt training.
First of all, a bow is a weapon without any arrows, and learning how to fight with just that was a whole thing in itself. Before I went out to Atlanta to shoot, I was also training in L.A. on the stunt side of things with my dad, who is a personal trainer. We spent months on all sorts of different styles of fighting and hand-to-hand combat. Once I had my first archery lesson, we started getting into exercises and circuits of training that would help me with those muscles because, let me tell you, if you've never shot a bow and arrow before, you are sore in places you never knew you could be sore the next day. It's something that looks so beautiful and so effortless, but it is so hard. There were plenty of scenes where I was just holding it up for a while, and by the end of the take, my arm was shaking and my neck was hurting. It requires a lot more strength than it looks.
Does stunt training always come naturally to you?
I love that this role is very physical. I've always been into training my body and any sort of physical activity. I love that this job left me no excuse but to get to a place where I can be shown something – whether it was right before a take or months in advance – and I would be able to pick it up quickly. But that didn't just happen, I definitely had to prep for that.
What was it like to get the costume?
I was so excited about the whole Super Hero costume element of joining the MCU. When it came time to have one of my first fittings, I didn't really know what to expect, but I was very excited. I walked into the room and they had all the references up on the wall of the many versions of Kate's Super Hero look. I was just so eager to find out what we were going to land on.
The costume wasn't going to [come into] play until the end of our shoot, so it was being built in L.A., and at one point during the middle of the shoot, it arrived in Atlanta. We had a fitting and a bunch of changes needed to be made, so they sent it back to L.A. Then there was this whole question of whether it was going to make it back in time, which put everybody under pressure.
It was awesome to see the final product of her costume come into life, especially knowing that Kate has a version of this suit that she makes. The whole time we were calling it the homemade Hawkeye suit, and then it just became something so official and so clean and so, so good. I love it.
Read the full interview with Hailee Steinfeld, plus interviews with Jeremy Renner, Florence Pugh, Vincent D'Onofrio and many more of the cast and crew in Hawkeye: The Official Marvel Studios Collector Edition – on sale May 16. Pick it up at Amazon, Barnes & Noble, Books-A-Million, Indie Bound, or wherever books are sold.