Gear
Published November 8, 2020
Discover the Inspiration Behind Marvel's Spider-Man: Miles Morales Superstar Shoes
Be Greater. Be Yourself. November 12, 2020!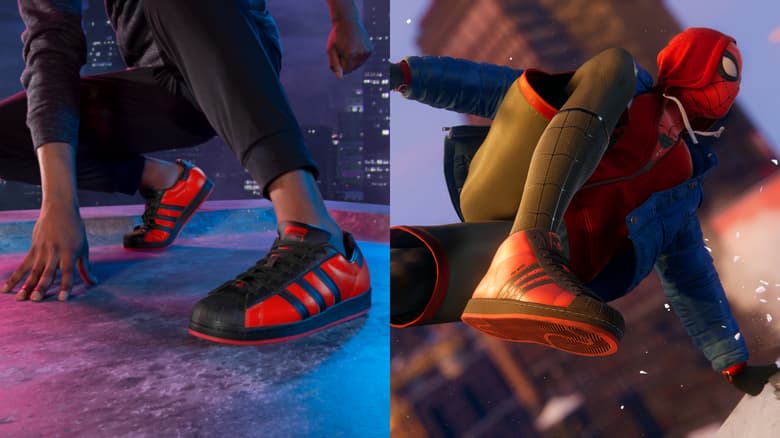 When Miles Morales swings back into Marvel's New York, he's going to do so in a fresh set of kicks. Marvel's Spider-Man: Miles Morales gives the titular character a pair of bold red adidas shoes that are perfectly Miles, and perfect for his everyday web-slinging activities. And not only are they in Miles' world, but they can be in yours, too!
Partnering with adidas, the Marvel's Spider-Man: Miles Morales Superstar will be available for purchase in the US and Canada at the end of November, following the release of the game on PlayStation consoles on November 12, and in European countries in December.
While bringing shoes to life in the game is one thing, it's a different process making them accessible for everyone walking down the street — and keeping them true to the character of Miles at the same time. Miles' backstory includes a love of making beats and, with that in mind, the creative forces behind the game decided he needed an iconic shoe: the adidas Superstar. Enter Marvel, adidas, Insomniac Games, and PlayStation, working together in collaboration to make it possible in game and in reality.
"Fashion and making your own style is about choice and freedom of self-expression," Eric Monacelli, Director of Production and Marvel's Spider-Man: Miles Morales Project Lead for Marvel Games, explained. "Let's be honest, Miles' sneaker collection would be diverse and vast – but if Miles was going to make beats, have turntables crammed into the corner of his small Harlem apartment, and deeply love music, these were the all-important kicks that he would be wearing."
Monacelli, who grew up in New York and, like Miles, lived in both Brooklyn and Harlem, zoned in on the "inextricable link between music and fashion" for the shoes. "Having listened to all kinds of music, nothing has quite stuck with me like the sounds of 1970s and 1980s rap. The vitality, the flow, and the feeling behind the bars these artists dropped and the voices they raised up rang out as the true heartbeat of the city, its streets, its people, and its fashion. The certain way these musicians would dress on the stage and express their art became synonymous with a certain shell-toe shoe…it's this silhouette, one that's been around for 50 years, that resonates deeply with the musical history of New York."
"After a lot of meetings, emails, texts, and phone calls, those iconic NYC shoes so tied to the musical roots of the city while featuring the trademark Miles Morales Spider-Man red and black can be seen on our game's lead character, the music loving beats-maker," Monacelli continued.
"Miles has always come off to me as someone with style, someone that lives in hip-hop culture," Frankie Perez, Marvel Games concept artist who helped to create the look of the shoe, explained. "The shoes and the label is a huge part of being a part of that culture."
So not only is the inspiration behind the shoe all Miles, but the design is as well. "The Spider icon is like Miles' signature or stamp to let everyone know that this is his shoe," Perez continued. "Once people have played the game [everyone will be] accustomed to seeing Miles in the shoes and will associate the shoes with Miles. Even though Miles' suit is mostly black the red parts of his suit are what really stands out and captures the viewers' eyes. I think that was important too with the shoes that the red really draws the viewer's eyes and has a big statement."
The Marvel's Spider-Man: Miles Morales Superstar sneakers will release in the US, Canada, and select markets in the Asia-Pacific region on November 19th. For select European markets, shoes will release on December 4th.
"Take in the insanely detailed and gorgeous Marvel's New York that Insomniac Games and PlayStation have created. Then listen," Monacelli finishes. "As he's idling in the falling snow, wearing adidas in a handmade Spider Suit he dons before his iconic look, you won't want to miss hearing what Miles does next. Three stripes and 4/4 time...the music, the look, and the feel of classic NYC. It just fits our Miles Morales in a fresh, new way."
Marvel's Spider-Man: Miles Morales will launch both physically and digitally on the PlayStation Store on November 12, 2020
Want to stay on top of everything in the Marvel Universe? Follow Marvel on social media—Twitter, Facebook, and Instagram—and keep watching Marvel.com for more news!
Marvel is on Twitch! Be sure to follow us for live streams, Q&A's, and more!