Published August 22, 2017
America Chavez May Meet Her Match When She Faces Exterminatrix
Gabby Rivera and Joe Quinones on the big new threat coming in AMERICA #8.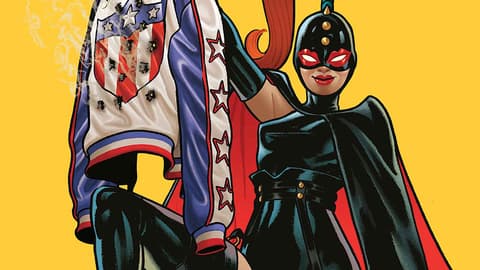 America Chavez got a taste of what it's like to fight Exterminatrix when she was with the Young Avengers, taking on alternate reality versions of the character from the multiverse, but now the real Exterminatrix has come back to mess with our hero. As she continues to discover new powers and learn how to use them, America will need to take on this semi-familiar foe and investigate the motivations of the shadowy Midas Corporation as the "Exterminatrix" arc kicks off in AMERICA #8.
We spoke to Gabby Rivera and Joe Quinones about what to expect in this big new storyline.
Marvel.com: After dealing with her unsettling doppelgangers alongside the Young Avengers, America finds herself up against the real Exterminatrix in this next story arc. Without revealing too much about how the current story wraps up, what can you tell us about this (sort of) new villain and how she comes up against America?
Gabby Rivera: Exterminatrix represents that perfect mix of malice and power that's imbued in every classic villain babe. And we're pushing that even further in Exterminatrix's arc in AMERICA. Exterminatrix, aka Oubliette Midas, has become keenly aware of America Chavez's presence in the world and is hell bent on conquering America. She's curious about how America's powers can be used to further her family's name in the multiverse and reinforce their control over other planets and civilizations.
But first things first, Exterminatrix has her sights set on Sotomayor University.
Joe Quinones: Exterminatrix is a villain that requires a more nuanced, forward-thinking approach. With her, America is playing chess, not checkers.
Marvel.com: While America may feel somewhat familiar with her new foe, this is going to be entirely different from the constructs she battled before. What has it been like to pit these two against each other?
Gabby Rivera: Writing America Chavez and Exterminatrix in the same issue is wild and I love it. They're both so powerful. They're both women who totally own the way they move in the world. Neither of them shy away from being strong, sexual beings and brave leaders, nor do they feel intimidated by others. So unfortunately for America and Exterminatrix, they've got a lot in common and it's going to create that high level tension found between the great super hero and villain combos.
Joe Quinones: This is a battle where America is going to quickly find she can't win with her fists or brute force. America must fight against her own instincts and rely on her wits.
Marvel.com: What role does the Midas Corporation play in Exterminatrix's sudden return?
Joe Quinones: That would be telling…
Gabby Rivera: Exterminatrix is most definitely the main event villain of the next few issues. But trust that Midas is ever-present and always has an invested interest in the downfall of America Chavez.
Marvel.com: Exterminatrix shares quite the history with Noh-Varr, one of America's friends from her time in the Young Avengers. Will we see Marvel Boy make an appearance?
Joe Quinones: Never say Noh-Varr.
Gabby Rivera: Marvel Boy is currently in space with the Inhumans in ROYALS. So he's a little tied up right now—and hopefully getting over that love affair!
Marvel.com: America has discovered a few new abilities throughout the current story arc, and more are hinted at in the solicit for America #8. How will she deal with adjusting to these newfound powers while battling yet another new threat?
Joe Quinones: With bombast and uncertainty. America has a lot of difficulty dipping in her toe. She's all in or nothing, but that can have consequences.
Gabby Rivera: America's new powers are explored even further in the upcoming issues. She's able to open multiple star-portals and search them for whoever she's looking for on the strength of their voice. That's wild! Storm helped her tap into that and that's the level of ability America's reaching, where Storm is guiding her. And still, be on the lookout for the ways Madrimar levels up America's powers. There might even be a duo move they show off together.
Marvel.com: Have you been able to add any twists of your own to Exterminatrix's look?
Joe Quinones: Russell Dauterman already redesigned her for Mighty Thor, I just did some subtle tweaks over that look; adding a two-tone cloak and opening up the face mask to see her mouth. It was Ming Doyle's suggestion to add the 'lips for eyes' motif, and I loved it.
The Hype Box
Can't-miss news and updates from across the Marvel Universe!