Published August 11, 2017
Celebrating Star Wars #31
The tyrannical rule of Emperor Palpatine begins…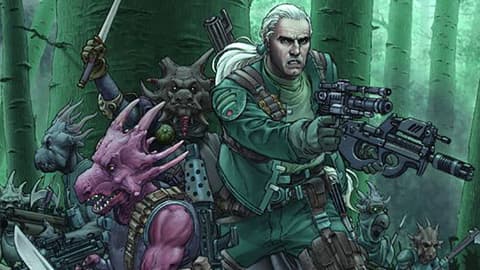 We all know that the first Star Wars film changed the face of pop culture forever when it hit theaters 40 years ago—but it's not just the movie that's celebrating that milestone in 2017. Star Wars comics arrived with force in 1977, and hundreds of issues later, they're more popular now than ever.
To celebrate the 40th anniversary of Star Wars, we're looking back at our 40 favorite moments from the history of comics from a galaxy far, far away—one day at a time.
"I'm sorry, Senator Braxis," a familiar out-of-frame character states at the beginning of STAR WARS: DARK TIMES #1. "The Imperial throne cannot interfere in local politics." In one single opening panel, the tone is set for the 17-issue series to follow, as the Emperor refuses to assist a planet in need. On the same page, Palpatine's associates inform him that anti-Imperial sentiments have been rounded up and eliminated, and that other planets in turmoil are being put in their place. It's clear that optimism has no place in this new era for the Star Wars galaxy.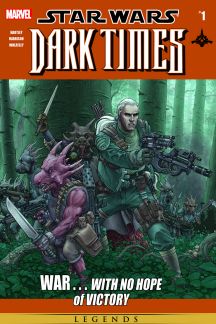 Beginning shortly after the end of "Revenge of the Sith," the very title of STAR WARS: DARK TIMES should immediately resonate with Star Wars fans, per an Obi-Wan Kenobi quote about the glory days of the Jedi Knights from "A New Hope": "Before the dark times. Before the Empire." Picking up after STAR WARS: PURGE, DARK TIMES serves as a direct continuation of STAR WARS: REPUBLIC, offering numerous story arcs with new and established characters as they adapt to the new galactic order.
Most of issue #1 focuses on a battle of natives versus Imperial forces on New Plympto. Not only do we see the hopeless struggle of the Triceratops-like Nosaurians, we also get a inside the heads of the clone troopers: "When the fighting ends, what then for men bred only to be soldiers?" we're asked. "What future is there for men of action when peace breaks out?" Anyone familiar with what becomes of the clones comes to realize the phrase "dark times" extends to more than just the good guys…
The Hype Box
Can't-miss news and updates from across the Marvel Universe!