Comics
Published May 4, 2019
5 Essential 'Star Wars' Comics
Celebrate Star Wars Day with this Marvel Comics reading list!
Since 1977, Marvel Comics has been documenting adventures across a galaxy far, far away, and to mark Star Wars Day 2019, we're looking back at five of the most memorable Star Wars series ever published at the House of Ideas.
So strap in, moof-milkers—let's take a ride across Star Wars history!
The inaugural comic, released the same year that the original film hit theaters, stands to this day as a monument to the raw spirit of adventure imbued in both Star Wars and in the comic book medium. Featuring work from some of Marvel's greatest creators, including Walt Simonson, Ann Nocenti, Chris Claremont, J.M. DeMatteis, Archie Goodwin, and more, STAR WARS chronicles the events of the original trilogy of films as well as entirely new exploits for our spacefaring heroes.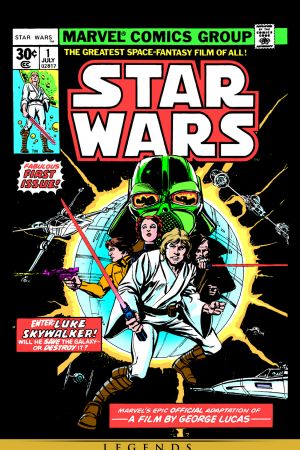 TAG AND BINK ARE DEAD is a spoof series that tells the tale of two characters that unknowingly happen upon some of the most consequential moments and characters in all of Star Wars. Created by writer Kevin Rubio and artist Lucas Marangon, the original Tag and Bink story begins on an Imperial Star Destroyer with a bumper sticker on the stern of the ship that says, "Honk if you love evil!" 'Nuff said.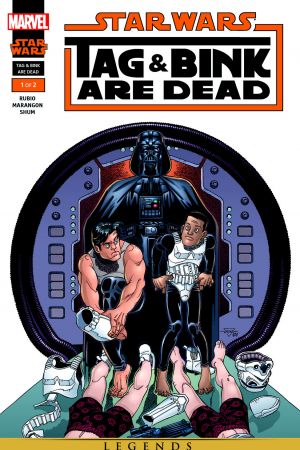 Star Wars: Tag & Bink Are Dead (2001) #1
published

added to marvel unlimited

colorist

letterer

inker

writer

penciler
What is Marvel Unlimited?
This Kieron Gillen-penned series reestablished Star Wars and Marvel Comics as a force to be reckoned with, featuring some of the grittiest, most haunting, and most epic Star Wars stories ever seen in a comic book. In addition to traversing alongside the Dark Lord himself, DARTH VADER also introduced fan-favorite character Doctor Aphra in issue #3!
Overall, for a read that pierces the heart of what makes Darth Vader one of fiction's greatest-ever characters, look no further than this.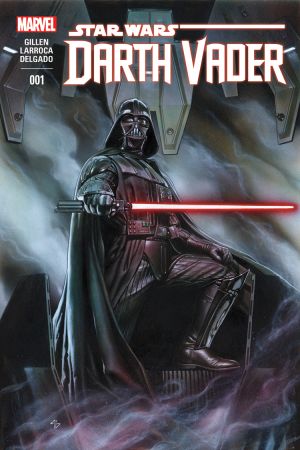 Starring the galaxy's favorite high-flying hotshot, this series reveals the backstory that leads directly into the events of Star Wars: Episode VII - The Force Awakens, unseen events in the immediate aftermath of Star Wars: Episode VIII - The Last Jedi, and so much more in-between. Co-starring Poe's compatriots in the Black Squadron, POE DAMERON explores the highs of victory, the lows of defeat, and the indefinable experience of taking orders directly from General Leia.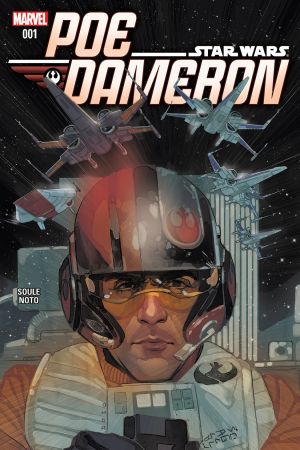 The word "adaptation" doesn't even come close to capturing the inventiveness, nuance, and emotion of this comic. Structured around the framework of the events of Star Wars: Episode VIII - The Last Jedi, this book examines alternate perspectives of events, insights into the minds of characters as they experience groundshaking events, and, of course, the artwork of master storyteller Michael Walsh. Written beautifully by Star Wars authority Gary Whitta, STAR WARS: THE LAST JEDI ADAPTATION presents a new standard for adaptation comics everywhere.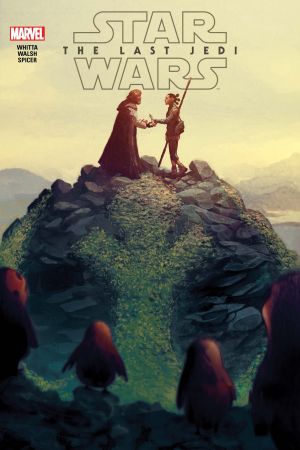 Star Wars: The Last Jedi Adaptation (2018) #1
published

added to marvel unlimited

editor

letterer

painter (cover)

penciler (cover)

inker

penciler

colorist

writer
What is Marvel Unlimited?
The Hype Box
Can't-miss news and updates from across the Marvel Universe!