Comics
Published January 8, 2020
5 Must-Read Lando Calrissian 'Star Wars' Comics
Celebrate Lando's arrival in 'Star Wars' #1 with a look at his finest Marvel Comics appearances!
Last week, STAR WARS #1 launched a new era for Marvel Comics in the galaxy far, far away.
For the first time, the House of Ideas glimpsed into the aftermath of The Empire Strikes Back, with Luke Skywalker reeling from his ground shaking encounter with Darth Vader, Leia and Chewbacca continuing their flight from the chaos of Cloud City (and the loss of Han Solo to the bounty hunter Boba Fett), and—for the first time—Lando Calrissian teaming up with the crew aboard the Millennium Falcon.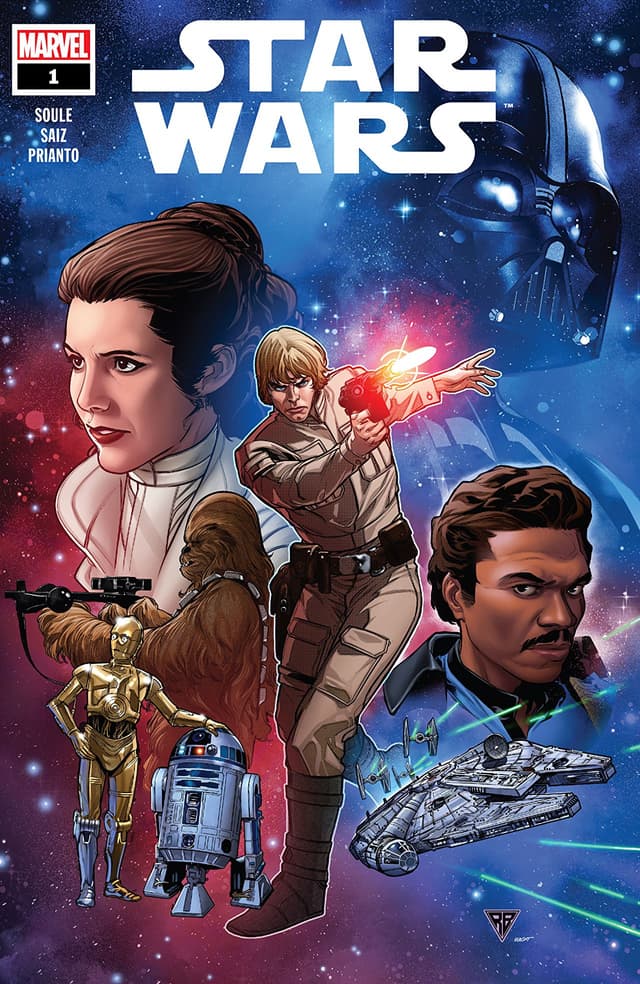 To mark the scoundrel's arrival in the flagship series, we're looking back at Lando's greatest Marvel Comics ever!
Taking place before the events of Solo: A Star Wars Story, this limited series starred the captain of the Millennium Falcon alongside his droid, L3-37!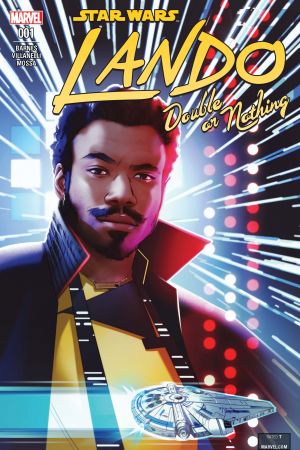 Star Wars: Lando - Double or Nothing (2018) #1
published

added to marvel unlimited

editor

letterer

colorist

inker

penciler

painter (cover)

penciler (cover)

writer
What is Marvel Unlimited?
In this one, a character named Kristiss hired Lando to help arm her captive people on Kullgroon, an Imperial droid repair outpost. While on the job, Calrissian ran into an old foe by the name of Batalla—but that turned out to be just the beginning of his problems. After a turn towards heroism, Calrissian helped motivate the Kristiss' people into rebelling and even got in on the action against a few Stormtroopers. For his efforts, though, he was rewarded with the impounding of his beloved ship.
This seven-part adaptation by Robbie Thompson and Will Sliney, presented the first meeting between Lando and Han—at a sabacc table. Teaming up with Solo's crew gave Lando a way to free the Falcon from the Empire's clutches before heading off on a mission to steal unrefined coaxium from Kessel on a run that would become legendary. Unfortunately, the mission led to the loss of L3-37 as a droid, but the integration of her systems into the Falcon saved the lives of those aboard.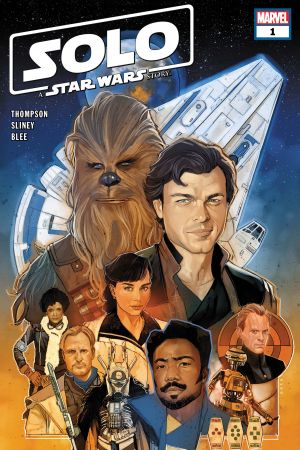 Solo: A Star Wars Story Adaptation (2018) #1
published

added to marvel unlimited

editor

letterer

inker

penciler

writer

colorist

painter (cover)

penciler (cover)
What is Marvel Unlimited?
With the Falcon nearly destroyed, the team landed on Vandor, but Lando abandoned Han and the others when Enfys Nest showed up and began causing trouble. Down the line, Han and Chewbacca caught up to Calrissian, challenged him to another game of sabacc and won the Millennium Falcon from Lando—a move he would never forget.
Before the events of Empire, Lando worked hard to clear a debt to Papa Toren on Castell in LANDO (2015).
Aided by his friend (and former Imperial analyst) Lobot and others, Calrissian stole a ship that unknowingly belonged...to Emperor Palpatine. The Emperor sent Chanath Cha—an old friend of Lando and Lobot—to track down his ship, kill the thieves, and perhaps even blow the vessel up, if need be. Even at the potential expense of the Sith artifacts on board.
Using a mix of charm, cunning, and a secret talent for fighting, Lando managed to get everyone away with their lives, but Lobot would never be the same again. Before losing his personality, though, Lando's friend left him a recording encouraging him to find something to actually live and fight for, instead of money and fame.
After spending years looking out for himself and living the scoundrel life, Lando finally settled down as Cloud City's baron administrator as seen in the STAR WARS - AGE OF REBELLION: LANDO CALRISSIAN one-shot by Greg Pak and Matteo Buffagni.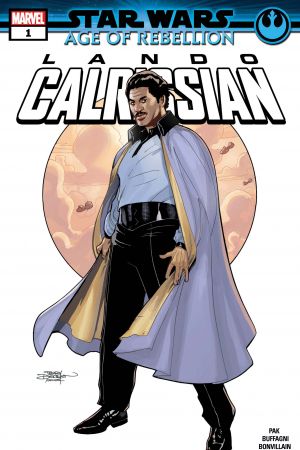 Star Wars: Age Of Rebellion - Lando Calrissian (2019) #1
published

added to marvel unlimited

colorist (cover)

penciler (cover)

writer

inker (cover)

editor

inker

penciler

colorist

letterer
What is Marvel Unlimited?
Though he had the best intentions, the combination of Calrissian's charm and Lobot's brain implants couldn't keep the gas mining station economically solvent. So when Magnate Imperium Roz Fantanine offered him untold wealth to get his errant nephew out of his mining operation, Lando gave it a shot. But when he refused to enslave a native race, he lost the reward and wound up using the last of his getaway stash to pay his workers. Left with no more reserves, Calrissian soon made a deal with the Empire and Darth Vader that would come to fruition during Star Wars: Episode V.
Between The Empire Strikes Back hitting the big screen and the film getting a comic adaptation in STAR WARS (1977) #39-44 by Archie Goodwin and Al Williamson, fans got their first-ever look at the legendary cape aficionado, Lando Calrissian.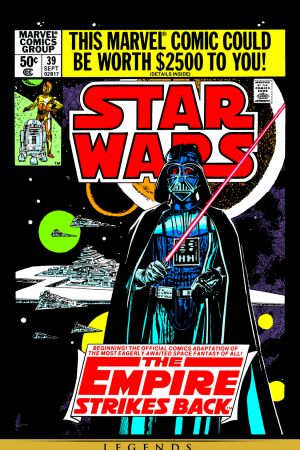 After the Empire attacked the Rebel base on Hoth, Han, Leia, C-3PO, and Chewie took off in the Falcon and eventually traveled to to Bespin, where Lando still ran the show. In fact, he'd made a deal with Darth Vader—who landed just before the Falcon did—to hand over the Rebels in exchange for the Empire staying out of Cloud City business. When the Sith Lord revealed a nasty part of the deal, Lando decided to rebel in his own right, and hatched a plan to save his new friends, even piloting the Falcon again to get away and then to save Luke Skywalker.
Read STAR WARS #1 at your local comic shop now!
The Hype Box
Can't-miss news and updates from across the Marvel Universe!