Comics
Published February 11, 2019
6 Marvel Couples You Never Knew Were Together
Celebrate Valentine's Day with a look at some unlikely romantic duos!
Happy Valentine's Day from the warmhearted House of Ideas!
Peter Parker and Mary Jane Watson. Reed Richards and Sue Storm. Luke Cage and Jessica Jones. Rogue and Gambit. These couples are well-known by comic fans, but tons of Marvel characters have gotten together. And while some are great matches, others fall to pieces...and others leave onlookers scratching their heads.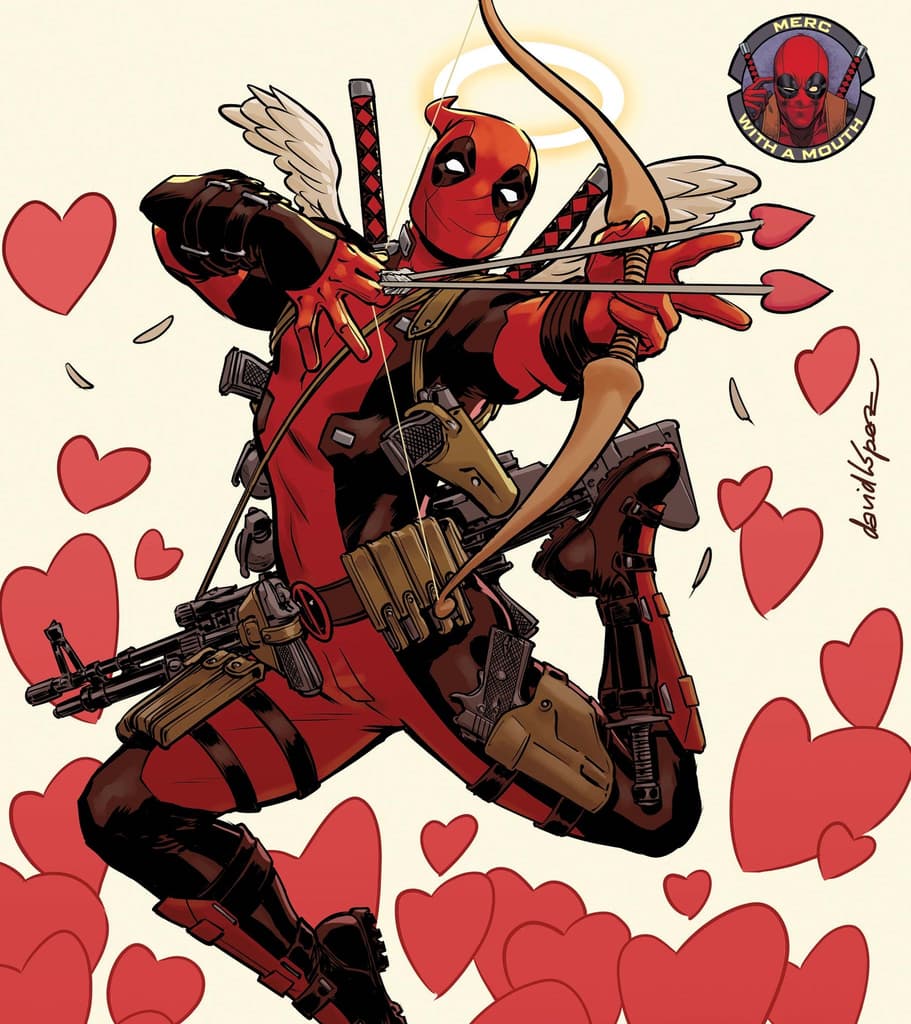 To celebrate Valentine's Day this week, we're taking a look at six couples you may not have known about! 
Wolverine & Storm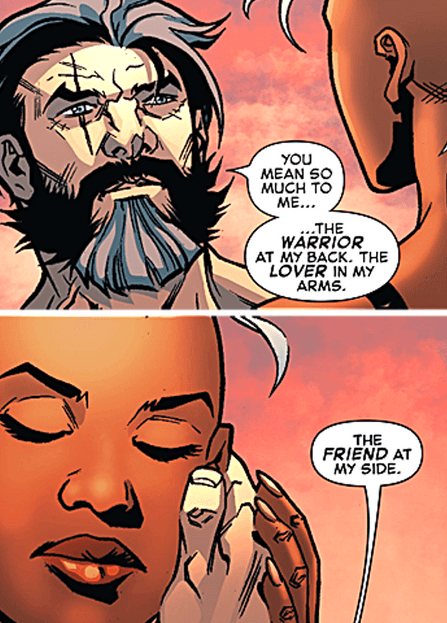 You're probably thinking to yourself, "This pairing doesn't make sense." Storm is calm and sophisticated, and Wolverine…is not.
Well, maybe opposites attract? Personalities aside, they have trained together, fought side-by-side, supported each other during traumatic events, and have had decades-long respect for each other. Wolverine and Storm have also locked lips in the past, and even have a child together in an alternate universe. It wasn't until Storm's marriage to Black Panther is annulled (it's a long story) that their friendship turned into a serious relationship that lasted until Wolverine's death.
Fun fact: after their annulment, T'Challa asked Storm to date anyone but Wolverine. And the fact that she did anyway says a lot about how strong the bond is between these two X-Men teammates!
Kitty Pryde & Star-Lord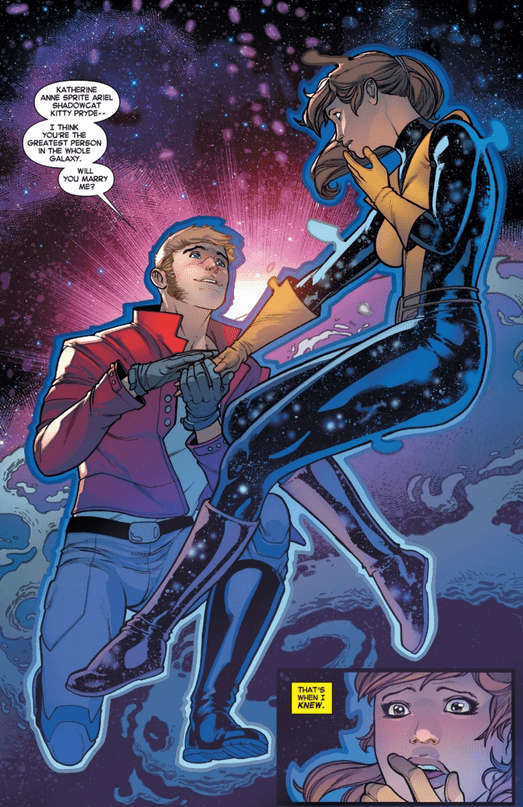 The "Peter" that mainly comes to mind when speaking of Kitty Pryde romances is fellow X-Men member Piotr Rasputin, AKA Colossus. They've had a ton of ups and downs together, including a recent botched marriage. And while she has had a crush on Colossus since she first met the metal mutant, another romance sparked between her and a different Peter during THE TRIAL OF JEAN GREY.
Kitty paused her relationship, at the time, with Iceman, and began a cosmic romance with Star-Lord. He became so enthralled with Kitty that he decided not to become the emperor of Spartax and asked to marry her instead. Unfortunately, the good times did not last, and Star-Lord and Kitty called off their engagement during CIVIL WAR II.
Hawkeye & Mockingbird

Arrows + batons = a match made in heaven?
For a while, that was the case with Hawkeye and Mockingbird. During their days together as Avengers, they get married and established the West Coast Avengers. The honeymoon period was shattered, though, when Mockingbird admitted to Hawkeye that she let the Phantom Rider, an Old Western hero turned bad guy, die instead of keeping him alive to face justice. Mockingbird then departed from the WCA, and the two divorced.
The pair briefly collaborated in the limited series NEW AVENGERS: THE REUNION and returned together in their own series, HAWKEYE & MOCKINGBIRD. However, their relationship didn't last, this time because of Hawkeye. He felt remorse for almost killing Crossfire (who tried to kill them), left the World Counter-terrorism Agency (which was founded by Mockingbird), and broke up with Mockingbird. Good grief.
Scarlet Witch & Brother Voodoo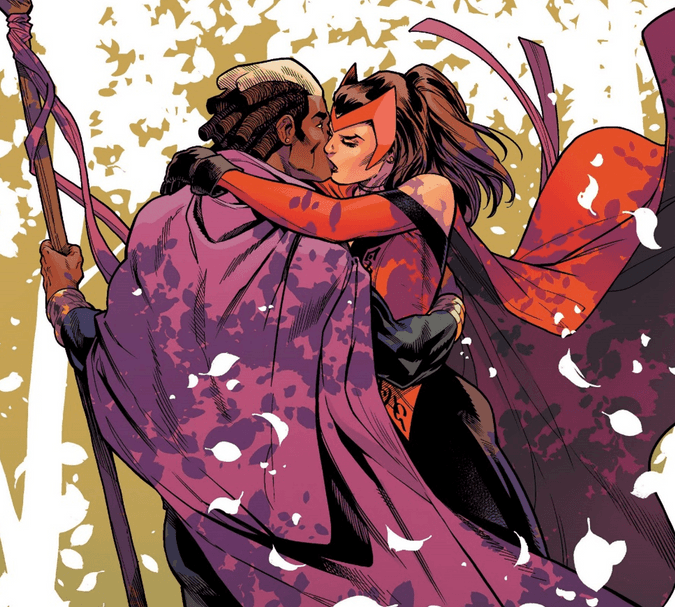 Scarlet Witch's shared some magic with Brother Voodoo recently!
Voodoo, along with other members, was not against Scarlet Witch returning to the Avengers in UNCANNY AVENGERS #26 after being possessed by the demon Chthon. Instead, Voodoo comforted her about being demon-possessed, and as Scarlet Witch briefly flirted with him, saved her from running out of oxygen after being thrown into space by Graviton in the next issue.
Scarlet Witch noted that Voodoo understood both sides of her. They are both extremely formidable mages; Scarlet Witch's chaos magic is unparalleled, and Brother Voodoo is second-to-none with his voodoo magic (and he even once held the title of Sorcerer Supreme). They really put the power in "power couple"!
Human Torch & Medusa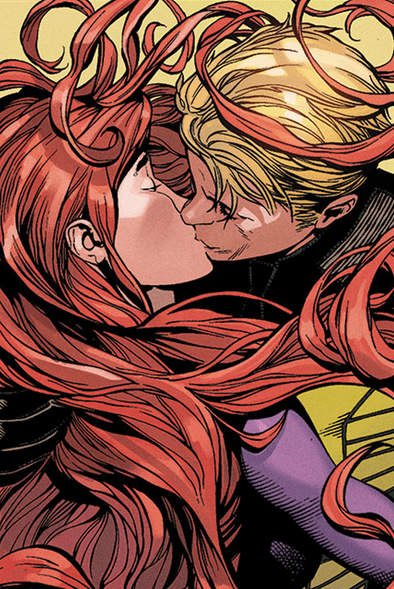 Black Bolt and Medusa are one of the Marvel Universe's longest-standing couples but even they are not immune to falling out of love.
After the events of 2015's SECRET WARS, Medusa separated from Black Bolt and began dating the Human Torch. Black Bolt wasn't happy when he found out, and Crystal, Johnny's ex and Medusa's sister, felt betrayed by her older sister when she discovered the two ware together.
While dating, they were positive influences on each other. Johnny confessed that being in a relationship with Medusa gave him a new purpose, and Medusa's character went on a metaphorical journey of discovery.
Spider-Man (Miles Morales) & Spider-Gwen

In SPIDER-MAN #12, Miles's dad went missing. He later found out from Maria Hill that his dad rejoined S.H.I.E.L.D. to protect Miles and went on a secret (unauthorized) mission. This mission included teleporting through various realities (intentionally and unintentionally), an evil version of Miles' dad, and teaming up with the Spider-Woman of Earth-65, Spider-Gwen.
After a lot of back-and-forth between dimensions, Miles successfully recovered his dad. And he also shared a kiss with Gwen. Although they referred to each other as friends after the crossover, it was evident that the Spider duo felt more for each other at the time.
Keep an eye out for more Valentine's Day highlights from the delightfully devoted House of Ideas!
The Hype Box
Can't-miss news and updates from across the Marvel Universe!