Comics
Published February 26, 2020
6 Times Jean Grey and Emma Frost "Worked Together"
Head to Marvel Unlimited for the best interactions between these telepathic power players!
Have you tried Marvel Unlimited yet? It's your all-access pass to over 27K Marvel comics, all available at your fingertips. Sign up now, and follow us on Twitter and Facebook!
Storm is in danger, and it's up to veteran X-Men Jean Grey and Emma Frost to save her.
In GIANT-SIZE X-MEN: JEAN GREY AND EMMA FROST, on sale today, Krakoa's most powerful mind-manipulating duo must set aside any differences for the sake of teamwork… in a completely silent rescue mission.
Here's a recap of some of the greatest times these two members of the Quiet Council shared panel time.
FIRST ENCOUNTER
There is no denying that Jean and Emma didn't really start off on great footing. In fact, they've had a rocky relationship throughout the time they've known each other. The two originally met during the DARK PHOENIX SAGA, and, needless to say, they were not the most impressed with each other's telepathic abilities.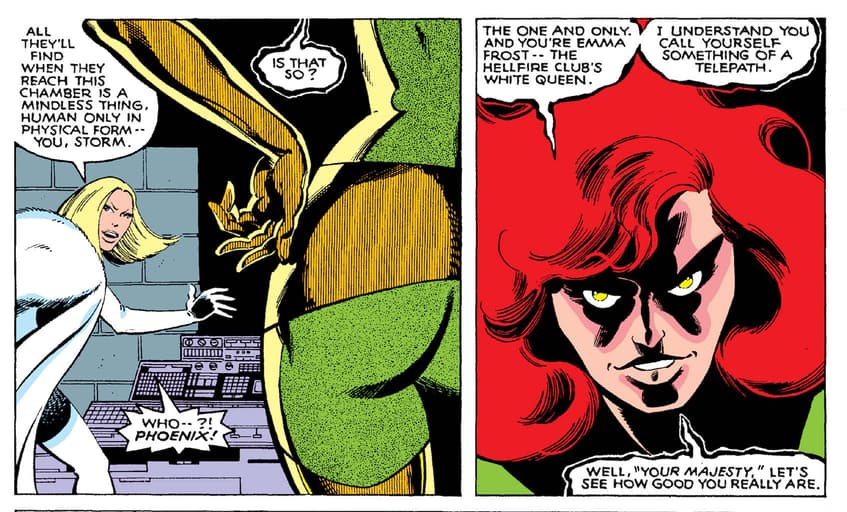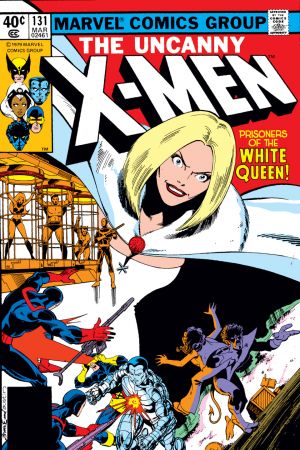 SILENCE.
GIANT-SIZE X-MEN: JEAN GREY AND EMMA FROST calls back to NEW X-MEN (2001) #121, a silent issue starring the same leads. Jean and Emma show how they still manage to maintain "team synergy" without exchanging a single word.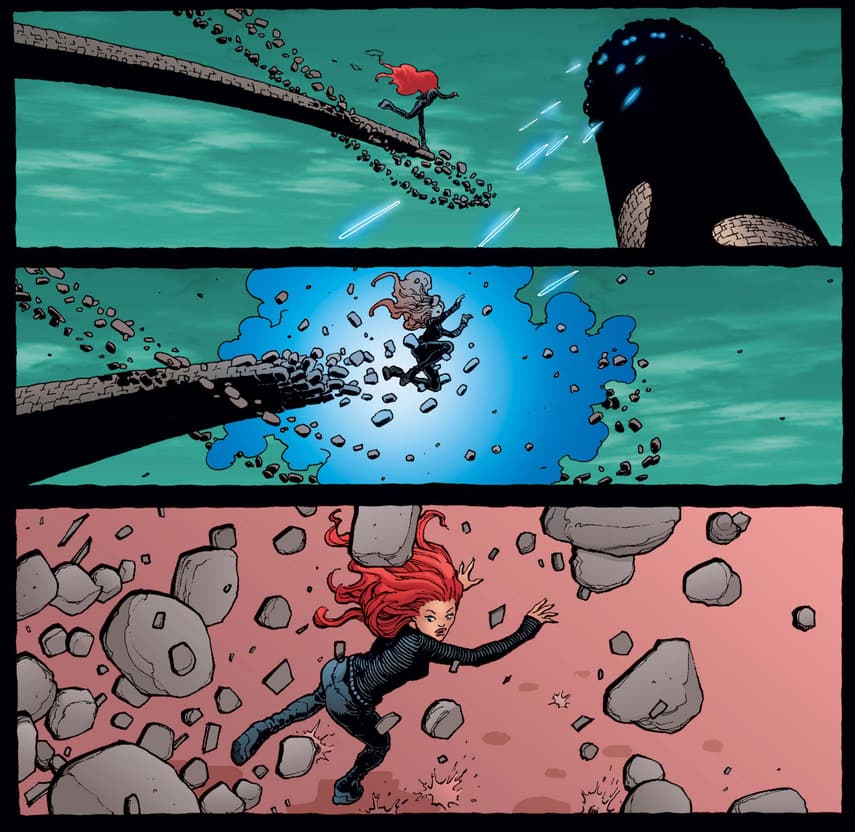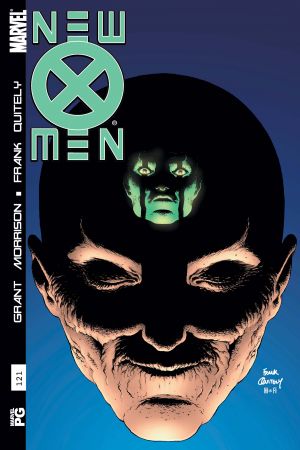 A COSTUME CHANGE
A main part of any mutant's identity is their clothing, and that seems to be a point of contention between these two. Emma donned Jean's staple red and gold Phoenix suit during this famous love triangle/psychic affair moment, and was quick to critique the look. However, Jean has also had her fair share of comments towards the White Queen's appearance, particularly during NEW X-MEN (2001).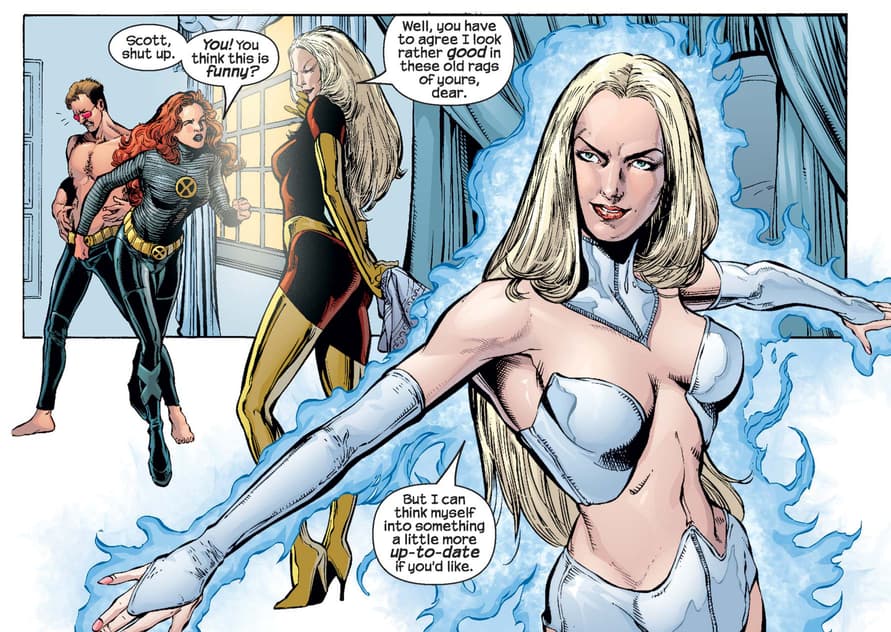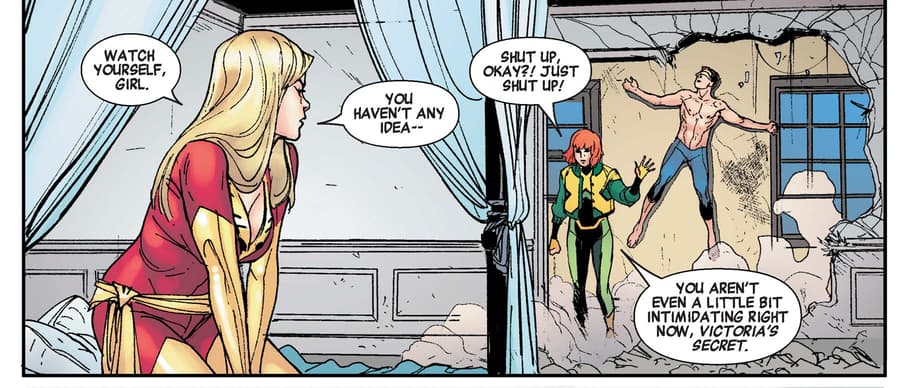 THIS ISN'T ABOUT YOU
With the power of the Phoenix in her arsenal, doing things discretely isn't exactly Jean's style. This leads to an often theatrical display of her abilities, much to Emma's disgust.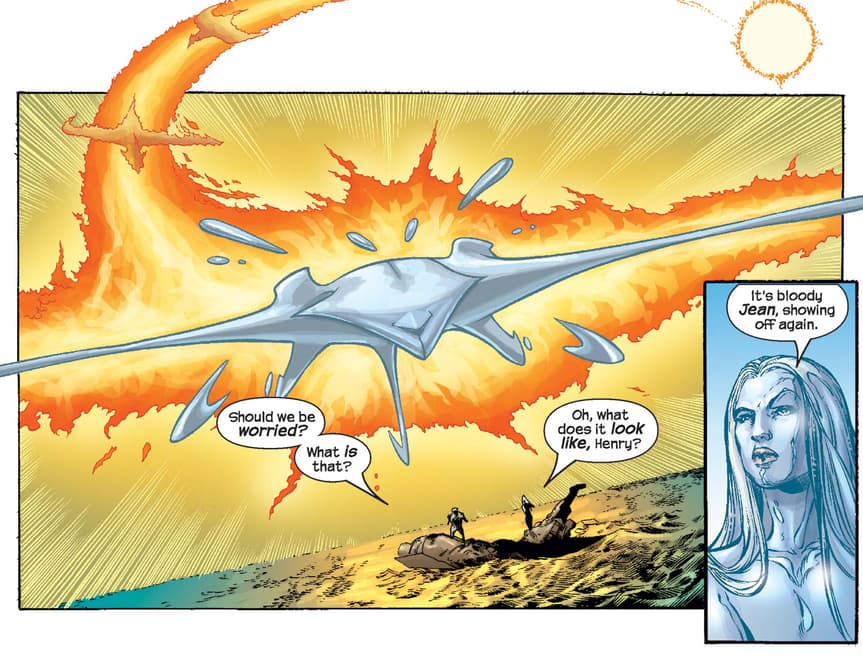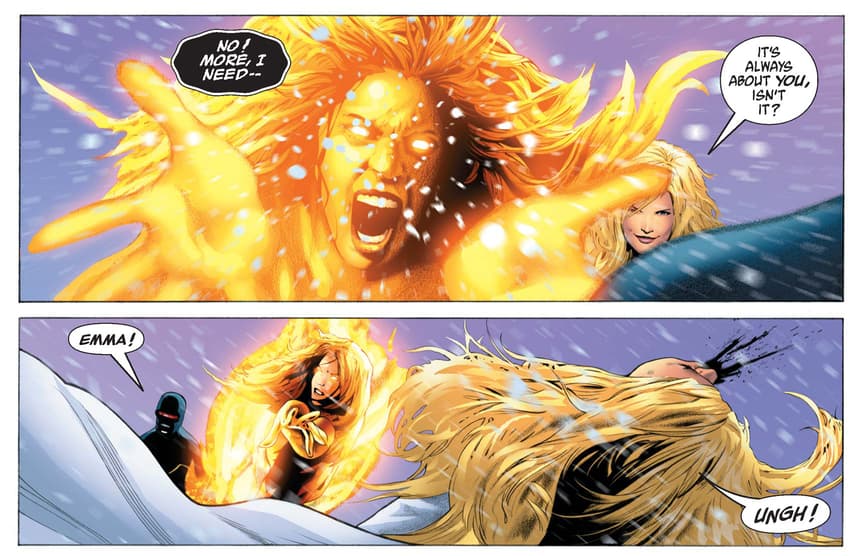 TRAPPED IN THE MIND OF THE WHITE QUEEN
In Jean Grey's (2017) series, Emma begrudgingly helped young Jean come into her own mind. Teen Jean may be the main character of the series, but Emma came prepared with some grown woman barbs.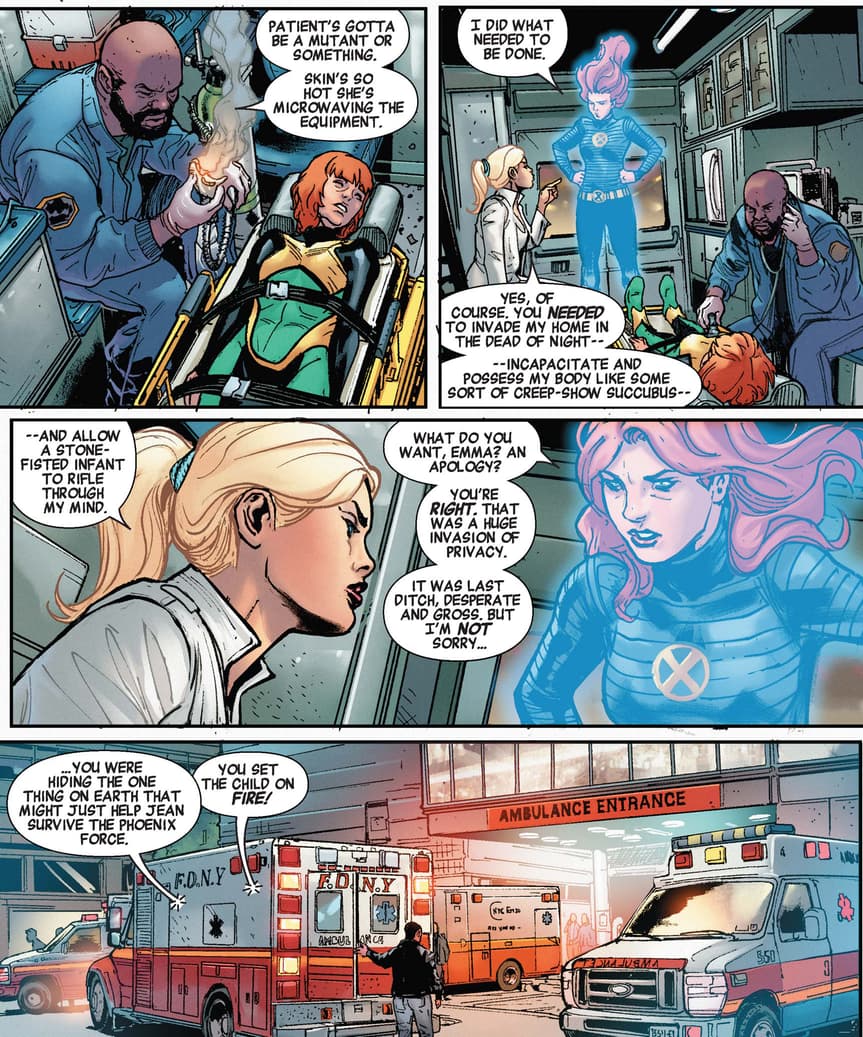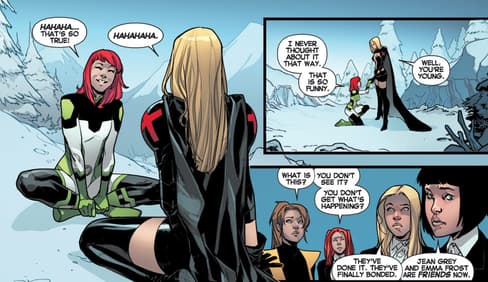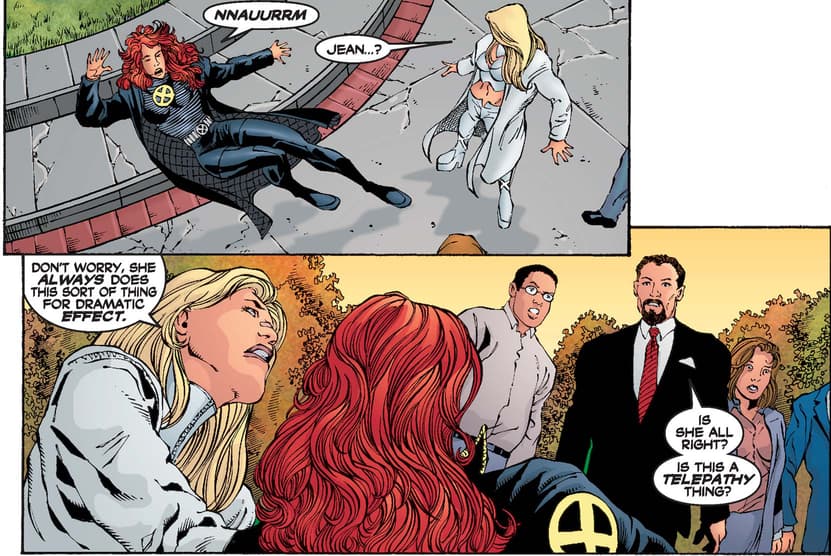 FRIENDS OR FOES?
Despite countless disagreements, and moments of genuinely disliking each other, Jean and Emma have proven to have each other's backs. Especially in times of need. In X-MEN: PHOENIX-ENDSONG (2005) #5, Emma's true appreciation for Jean shined through when she joined in on the lovefest to show Jean just how much impact she's had on the X-Men.
Sometimes the best one-liner of all is the simplest.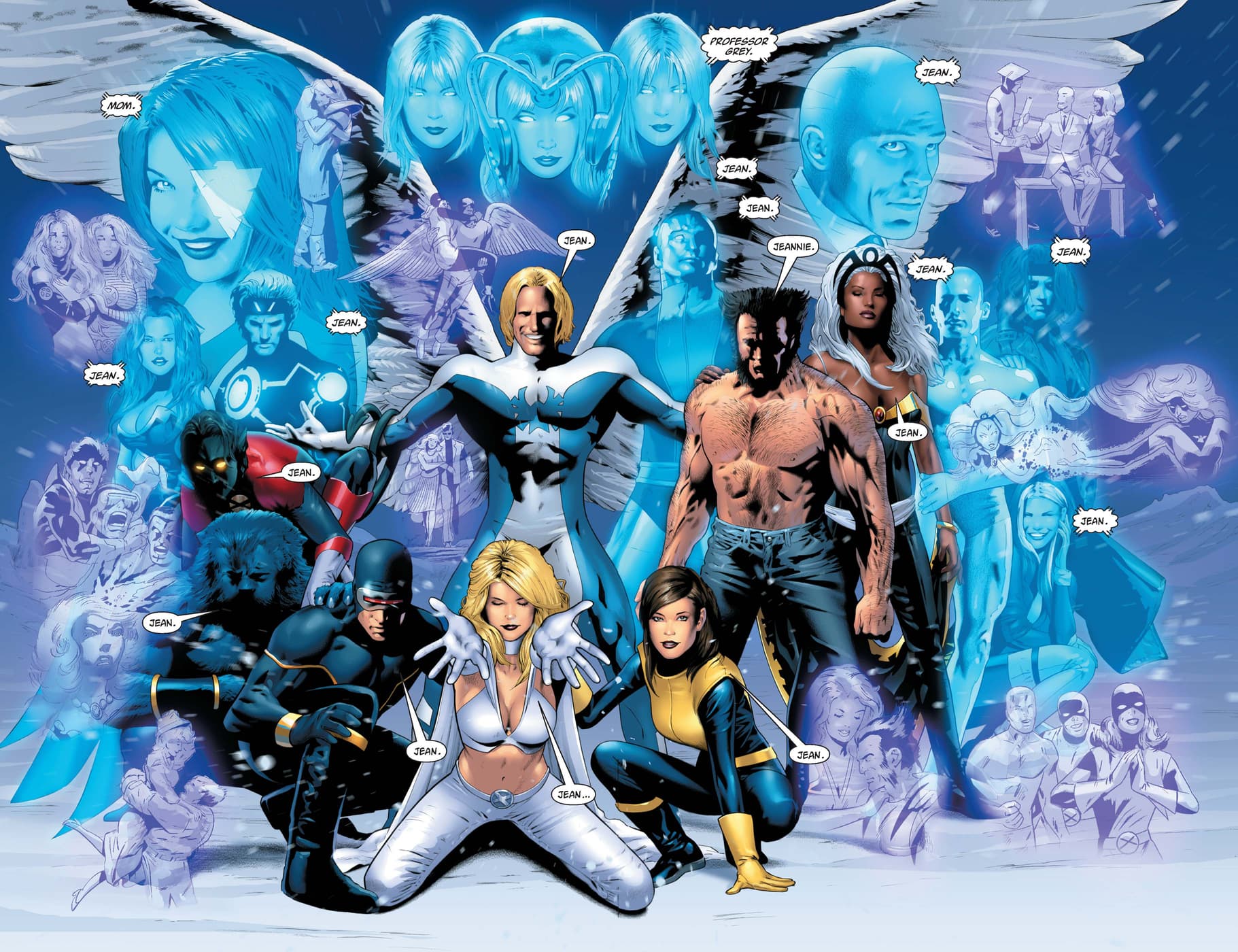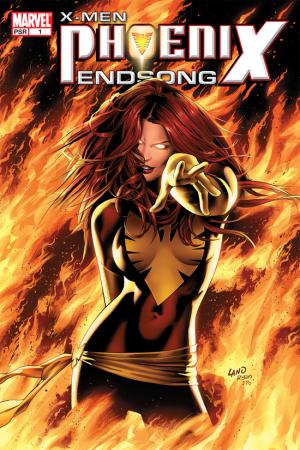 X-Men: Phoenix - Endsong (2005) #1
published

added to marvel unlimited

colorist

penciler

writer

inker

letterer
What is Marvel Unlimited?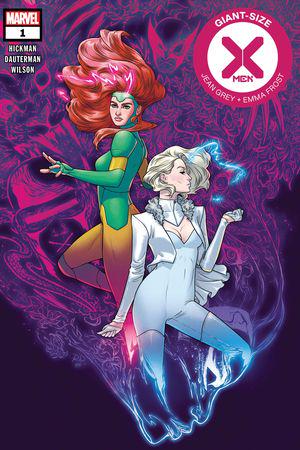 Giant-Size X-Men: Jean Grey and Emma Frost (2020) #1
published

added to marvel unlimited

editor

letterer

colorist (cover)

writer

inker

inker (cover)

penciler

penciler (cover)
What is Marvel Unlimited?
Join Marvel Unlimited to read these comics—and over 27,000 more—right now! What will you be reading this week? Join the conversation with @MarvelUnlimited, and stay tuned to our Twitter and Facebook channels for more weekly announcements and updates.
The Hype Box
Can't-miss news and updates from across the Marvel Universe!