Comics
Published January 29, 2019
6 Times Super Heroes Were Locked Up
Take a look back at characters who once found themselves in the big house.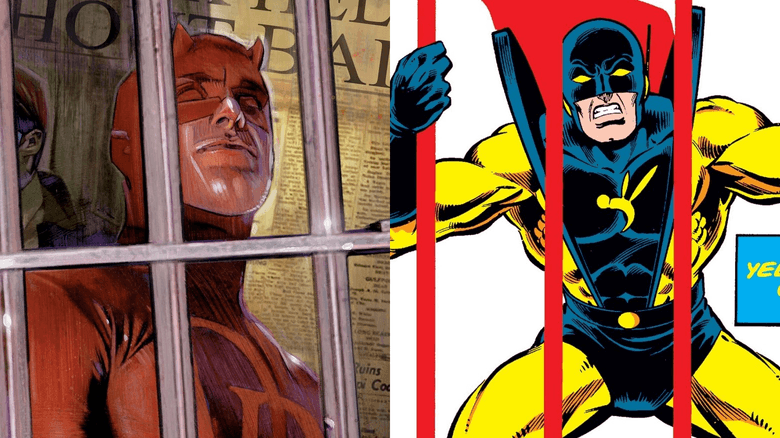 Bad guys in the Marvel Universe don't own the monopoly on going to jail; sometimes heroes find themselves at odds with the law and have to serve their time.
Below, we take a look back at a few other heroes who once found themselves in the big house.
Luke Cage
Before gaining his powers, Carl Lucas—the future Luke Cage and Power Man—grew up running with gangs and committing petty theft. But after Carl tried to reform, a former friend planted heroin in his apartment, landing him in jail. Filled with rage, Luke eventually agreed to volunteer for the experiment that gave him the powers that made him a Hero for Hire!
Ant-Man (Scott Lang)
Working as an electrical engineer, Scott Lang found he couldn't support his family, so he turned to petty theft instead and winded up in jail. While serving time, he beefed up his engineering skills, landing a job at Stark International as a result. His burglar prowess proved useful in saving his daughter's life, as he stole Hank Pym's Ant-Man suit to rescue Cassie's doctor from Darren Cross.
Hank Pym
During a dark time in Hank Pym's life, Egghead convinced the Avenger to help attach a cybernetic arm to the villain's niece, who had lost hers as a result of prior evil schemes. Egghead used the arm to take control of her mind, and threatened to kill her if Hank didn't help him steal adamantium from the government. The former Ant-Man complied and took the fall, ending up behind bars for treason.
Prison 42
During the first Civil War, many Marvel heroes "broke the law" by not registering as super beings. Tony Stark, Hank Pym, and Reed Richards designed a special prison to hold them in the Negative Zone, where they awaited trial. During and after the event, such heroes as Cloak and Dagger, Speedball, Prodigy, Prowler, and even Iron Fist—disguised as Daredevil—ended up there.
Punisher and Daredevil
In DAREDEVIL #82-87, while the Man Without Fear awaits trial at Ryker's Island, his best friend Foggy Nelson suffers a brutal beat down inside the prison. At his wit's end, DD receives support from an unexpected source: his old nemesis the Punisher, who got himself thrown into jail to help out Matt. They may not like each other, but at least they respect one another.
The Hype Box
Can't-miss news and updates from across the Marvel Universe!