Comics
Published July 6, 2018
7 Things To Read After Watching Marvel Studios' 'Avengers: Infinity War'
Add to your viewing experience by reading these essential comics!
It's finally here! Read the comics that inspired Marvel Studios' Avengers: Infinity War with MARVEL UNLIMITED for just $5!* Unlock over 20,000 digital comics to read when and where you want. Use code "042718" at checkout. *Offer valid until 5/7/18 11:59pm ET on monthly memberships only. Offer is open to new and former (now-cancelled) Marvel Unlimited members.
You've seen Marvel Studios' Avengers: Infinity War and you're ready for more? You're not alone. Luckily you can dive into the source material to tide you over before meeting up with Thanos again on the big screen next year.
Fascinated with Death, Thanos has always been focused to the point of delusion. See how this recurring desire always seems to comes into play when dealing with the Mad Titan. Here are 7 notable reads that are sure to enhance your Avengers: Infinity War viewing experience.
THANOS QUEST #1-2 (1990)
Jim Starlin and Ron Lim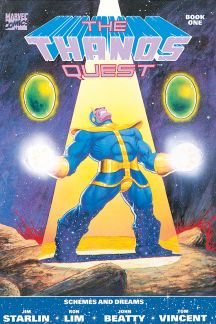 Thanos Quest (1990) #1
If you're going to do a deep dive into the world of Thanos, you might as well start with the man who created him, Jim Starlin. This is Thanos' origin story, the whys and hows of his Infinity Stone obsession are explained, as is his unending fascination with Death, herself.
Marvel Cinematic Universe spotlight: Fans will be intrigued by story arcs featuring the Collector and the Grandmaster and get to meet more of the Elders of the Universe along the way.
THE INFINITY GAUNTLET #1-6 (1991)
Jim Starlin and George Perez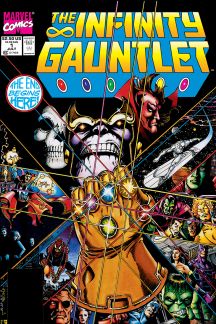 Infinity Gauntlet (1991) #1
Thanos just can't get Death off his mind. The consequences of a love spurned is the decimation of half the population with just the snap of his fingers. The aftermath of his uncontainable rage is an intergalactic battle full of intrigue and betrayal.
Marvel Cinematic Universe spotlight: Doctor Strange and Nebula are key to this story, as is the alluring Soul Stone.
ANNIHILATION (2006)
Keith Giffen and Andrea Di Vito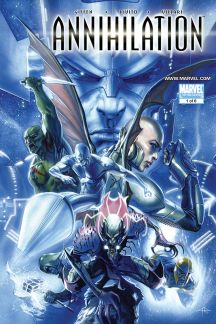 Annihilation (2006) #1
ANNIHILATION is an epic crossover that brings together several characters from across the Marvel Cosmic Universe. If you're looking for a space opera with a blurred line between heroes and villains, this is the adventure for you.
Marvel Cinematic Universe spotlight: Appearances by the Nova Corps, Ronan the Accuser, Star-Lord, and Drax the Destroyer with a slight change to his appearance from his film version.
THANOS IMPERATIVE (2010)
Dan Abnett, Andy Lanning, Miguel Angel Sepulveda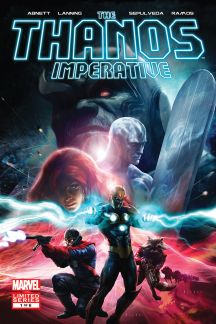 The Thanos Imperative (2010) #1
The epic culmination of the ANNIHILATION storyline, this follows the Guardians as they deal with Thanos, who is the avatar of Death, while Lord Mar-Vell is the avatar of Life. You can guess how this is going to go, they aren't exactly going to share pleasantries over tea.
Marvel Cinematic Universe note: This is the first appearance of Lord Mar-Vell—an alternate version of Captain Marvel.
INFINITY #1-6 (2013)
Jonathan Hickman, Jim Cheung, Jerome Opeña, Dustin Weaver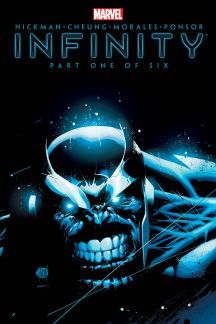 Infinity (2013) #1
While this storyline doesn't deal with Infinity Stones, it does highlight Thanos' madness and what he's capable of, especially when it comes to avenging the death of his son, Thane.
Marvel Cinematic Universe note: The Black Order is a key factor in these stories and played a crucial part in "Avengers: Infinity War."
THANOS RISING (2013)
Jason Aaron and Simone Bianchi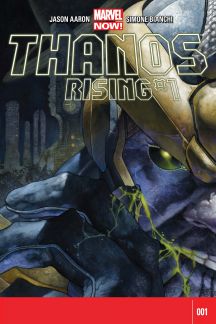 Thanos Rising (2013) #1
Here's how it all began—his tragic birth, oddly passive childhood, and a whole lot of gruesome killings, all leading up becoming the insane Dark Lord we know and love today. To say this is an extremely dark book is putting it mildly. You've been warned.
THANOS (2016)
Donny Cates and Geoffrey Shaw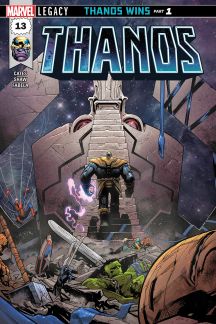 Thanos (2016) #13
Thanos wins and he's still not happy? You don't say. I guess there's just no pleasing people…or obsessive dark overlords. Sadness, tragedy, loneliness, internal existential conflict: thy name is Thanos.
To see the Avengers battle Thanos for yourself (or to go again!), reserve tickets now via Fandango!
Stay tuned to Marvel.com, follow @Avengers on Twitter, and Like "The Avengers" on Facebook for the latest on the Avengers as it develops!
The Hype Box
Can't-miss news and updates from across the Marvel Universe!