Comics
Published March 30, 2022
A Guide to Moon Knight
Learn all about the Fist of Khonshu, and his allies, in this pivotal comic run.
Moon Knight: a lunar legionnaire and the living avatar of a god. Steven Grant: a charming millionaire socialite. Jake Lockley: a hard-edged informant. And Marc Spector: the man, and mercenary, behind it all. An Avenger, an anti-hero, and the occasional something-much-more-anti-to-a-hero, Moon Knight is a difficult character to grasp thanks to a complex origin.
But for those who do want an inside look at Marc Spector's beginnings, and his most important crew, read MOON KNIGHT (2016) on Marvel Unlimited. The mind-bending story arc in its opening pages, issues #1-6, revolves around the vigilante and his primary personalities. And it's Marc Spector who sees reality on its head when he wakes up in a world hidden in plain sight—New Egypt. Through April 20, Marvel Insiders can earn 1,000 Insider points to read the arc, MOON KNIGHT (2016) #1-6 by Jeff Lemire, Greg Smallwood, James Stokoe, Francesco Francavilla, Jordie Bellaire, and more. Not a Marvel Insider? Join today.
MOON KNIGHT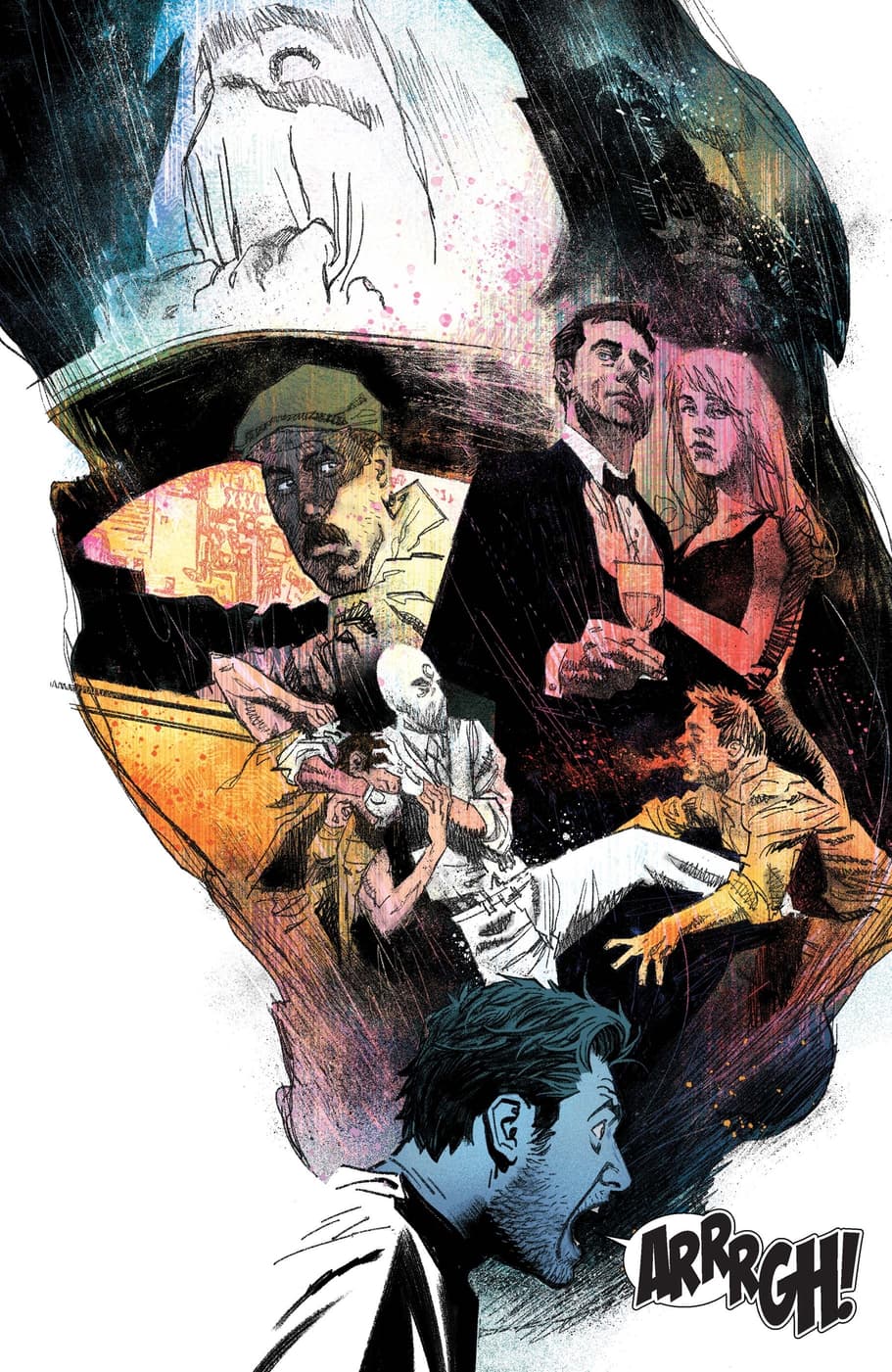 While it was not directly referenced in his first appearance, WEREWOLF BY NIGHT (1972) #32, Spector has dealt with Dissociative Personality Disorder for several years. His distinct personality states usually work in concert towards a shared goal, but as this volume of MOON KNIGHT kicks off the vigilante is plagued with doubt about his very existence. Is he truly a hero who works by moonlight or has he been institutionalized since he was twelve years-old? Luckily he's got some familiar faces around to help him out.
For some backstory: Moon Knight was born the day Marc Spector died near a statue of Khonshu, the Egyptian moon god, following a botched archeological dig in Sudan. He and his compatriots Jean-Paul "Frenchie" Duchamp and Marlene Alarune traveled to New York where Spector set up his operation as a costumed hero. Marc filled out the suit—going with white so his enemies could see him coming—and his mission was fueled by gambling winnings.
Meanwhile, Marc utilized other identities like the rich Steven Grant and cab driver Jake Lockley to flesh out his network. Over the years, other personalities have emerged—like the suit-wearing investigative Mr. Knight—the result of his Dissociative Identity Disorder exacerbated by this unique relationship to Khonshu. Inspired by the god, Marc Spector operates with four specific modes and personalities:  The Embracer, the Pathfinder, the Defender, and the Watcher of overnight travelers. In this series, he finds himself facing all of these aspects both figuratively and literally!
KHONSHU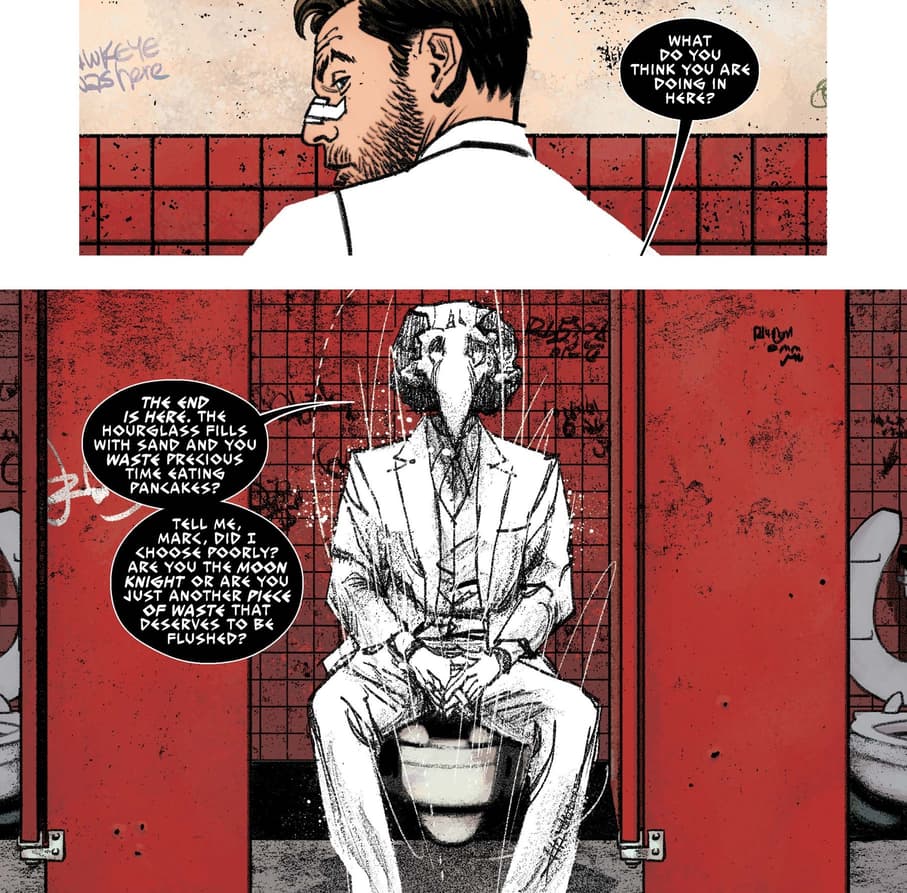 Khonshu's a god who will never let you forget it. He's associated with Egypt and the moon, but in the pages of this MOON KNIGHT series, the so-called deity admits that he and some of his fellows are higher beings who traveled to that ancient land from Othervoid, a Celestial Heliopolis. Now weakened, they can only project themselves into hosts, like he does with Spector. And Khonshu doesn't treat his acolyte particularly well. After explaining that he chose Marc to be his fist because of limited options, he later berates Spector for taking a break to enjoy some pancakes. And that's just the beginning.
BERTRAND CRAWLEY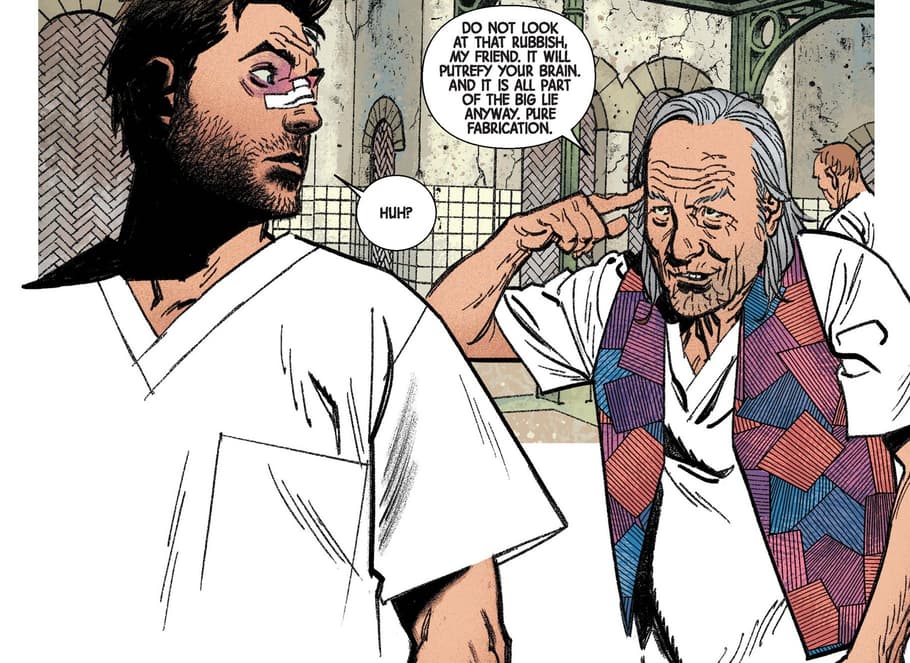 One of the first people to ingratiate themselves with Marc Spector in the 2016 run is a man by the name of Bertrand Crawley. While undoubtably eccentric, he seems to understand that there are many layers at work inside the institution where Spector vaguely recognizes some of its patients. Debuting in 1976, Crawley played an important role in the original MOON KNIGHT series as the philosophical friend of Jake Lockley. He lived on the streets and acted in a very dramatic fashion, but also kept his ears and eyes open in service of helping the vigilante with his missions.
GENA LANDERS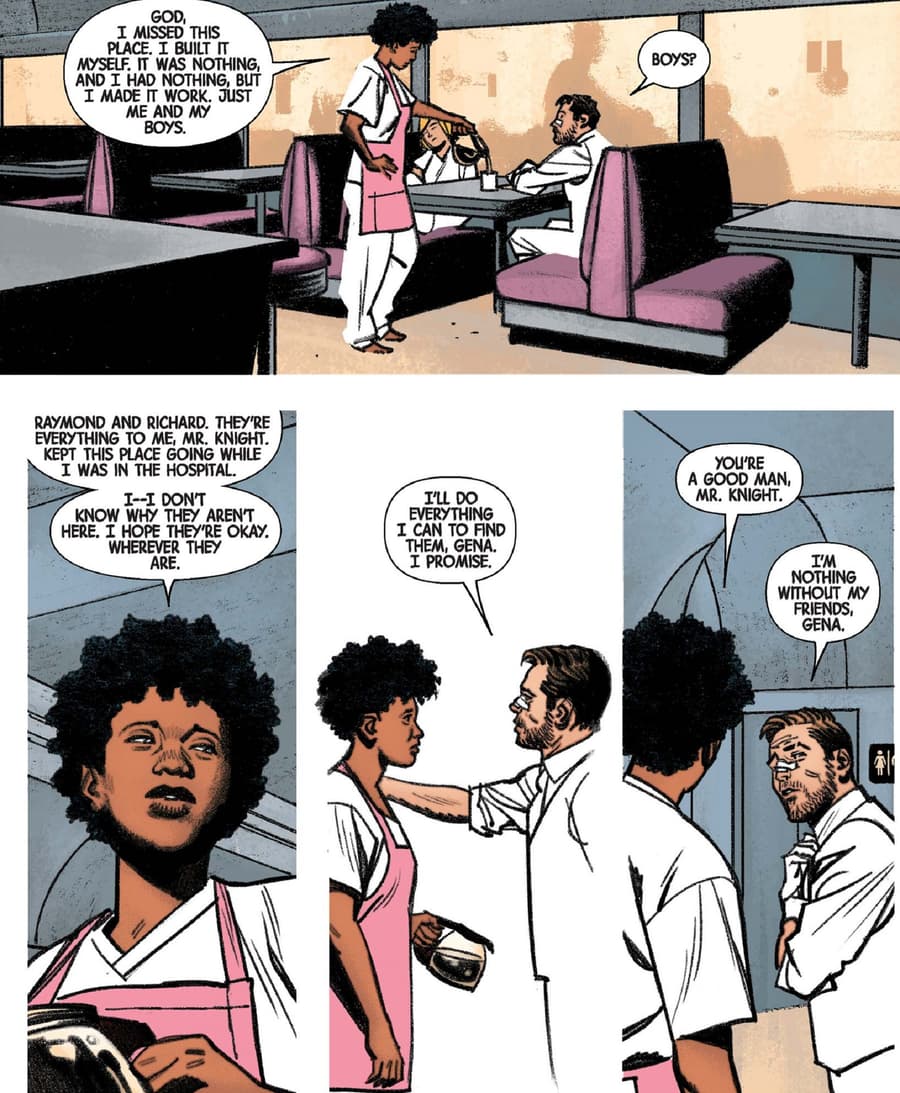 Another one of Moon Knight's informants found herself in the same institution as Spector and Crawley: Gena Landers. It took her a little longer to puzzle out what exactly was happening, but she remained a supportive confidant of Spector while he tracked down answers. Back in the day, Gena first met Moon Knight and his various personalities in MARVEL SPOTLIGHT (1971) #28. She owned and operated Gena's Diner with help from her sons Ray and Ricky, and was a particularly close friend of the Jake Lockley persona.
FRENCHIE
Jean-Paul Duchamp met Marc Spector during their days as mercenaries leading right up to the debut of Moon Knight. The pair would go on to work incredibly closely as Frenchie became an integral part of the Moon Knight operation, acting as Spector's pilot, undercover agent, and fixer. He fills much the same role in this story, but it soon becomes clear that their escape from New Egypt is a whole different sort of adventure than those they've previously encountered.
MARLENE ALRAUNE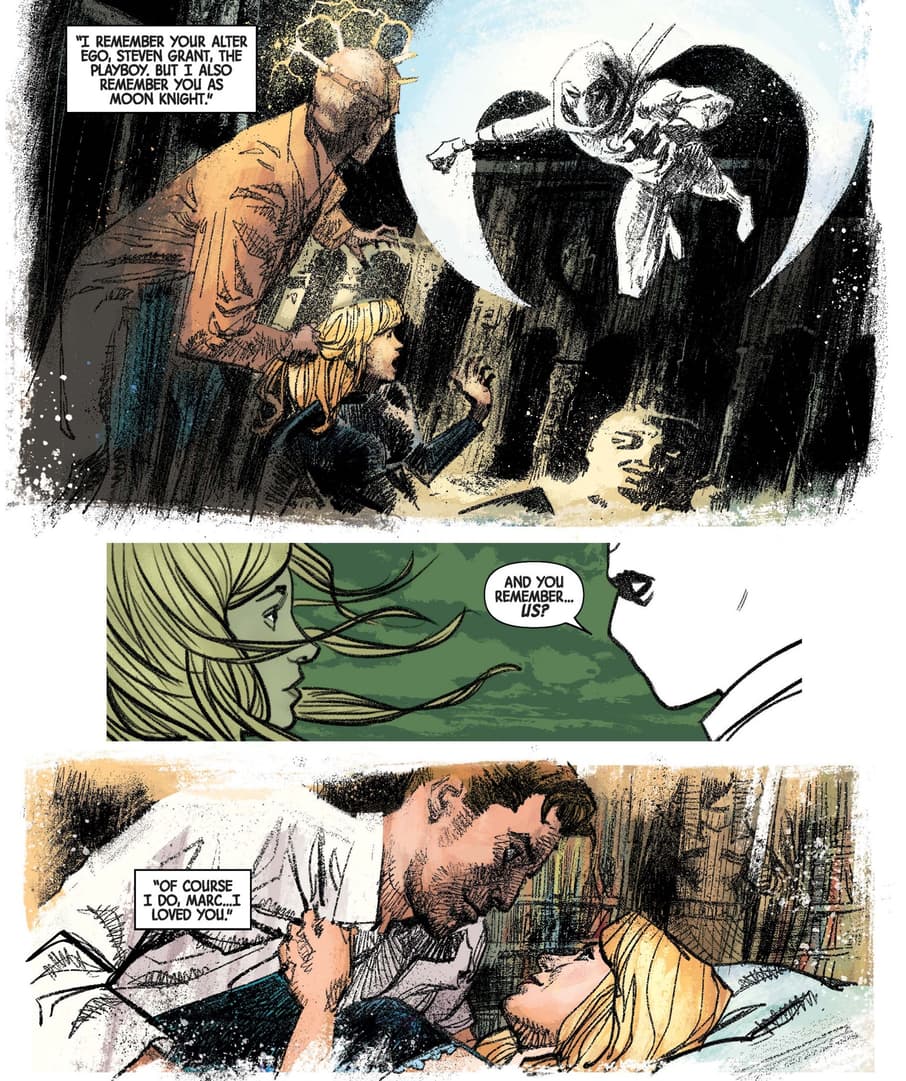 It should come as no surprise that Marlene Alraune showed up in the same strange space that held Marc Spector. The pair have been intertwined for years stretching back to his original series, on through MARC SPECTOR: MOON KNIGHT (1989), and just about every other series he's headlined. They met back when her father, an archeologist, discovered the tomb that Spector eventually died in. The duo became a couple and have been (very) on-again, off-again since, but she plays an important role in Marc's identity, and was with him during his earliest days of transformation.
If this first dose of Spector-y goodness digs its moon-shaped claws into you, there's plenty of other comics to read on Marvel Unlimited. You can, of course, finish up Jeff Lemire's story which closes out with issue #14. From there Max Bemis and Jacen Burrows take over for issues #188-200. You can also go back to MOON KNIGHT (1980) or MARC SPECTOR: MOON KNIGHT (1989), or flash forward to some of his latest appearance in AVENGERS (2018) #33-37 as well as his current solo ongoing by Jed MacKay and Alessandro Cappuccio!
Download the Marvel Unlimited app for iOS or Android devices now for more Moon Knight must-reads including MOON KNIGHT (2016). You'll also gain instant access to 29,000+ digital issues spanning 80 years of Marvel Comics.
Marvel Insider Loyalty Rewards Program open to U.S. residents only. See https://www.marvel.com/insider/home for program terms and details.
The Hype Box
Can't-miss news and updates from across the Marvel Universe!