Comics
Published July 2, 2018
A Handy Guide to Surviving a Marvel Wedding
Walt Hickey gives an infographic-filled look at every Marvel wedding in history!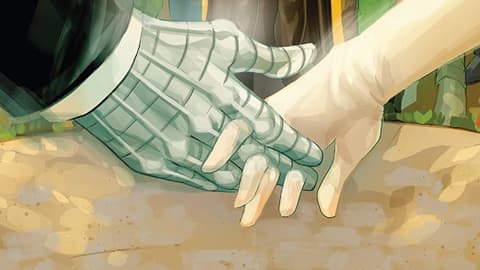 In just a few days, one of the longest running on-again, off-again relationships in the Marvel Universe will come to a climax when Kitty Pryde and Piotr Rasputin—better known in some circles as Shadowcat and Colossus of the X-Men—tie the knot in a ceremony everyone's been anticipating in the pages of X-MEN: GOLD #30.
I combed through over 50,000 issues to find 98 different weddings shown on the pages of Marvel Comics over the decades. Big picture—getting married in the Marvel Universe is hard, with 2/3 of all wedding ceremonies getting attacked or interrupted, and nearly 50% not even making it to the reception. When it comes to Super Heroes, if you can survive the wedding day, you can survive anything.
Planning a wedding in any situation can be stressful, but planning a wedding in the Marvel Universe comes with a whole new set of things that can go wrong besides centerpieces, rowdy plus-ones or drunk uncles. Let's just say proceedings can take on a whole new tone when your wedding crasher is a furious Victor von Doom. So in addition to nailing down a DJ who knows to avoid playing the "Chicken Dance"—a faux-pas even if Falcon isn't on the guest list—Marvel brides and grooms have to contend with Super Villains, hostage-takers, alien armadas, furious fathers, demons, and the most nefarious wedding threat of all: cold feet.
Still, time and time again the heroes of Marvel have confronted these challenges, fought off the bad guys, and brought a whole new meaning to "save the date." I scoured the history of the comics to find as many weddings as I could through the decades of stories. In the end, I tracked down just under 100 distinct wedding ceremonies that graced the pages. Just in time for the latest in a long line of X-Weddings, I found the risks involved with Super Hero wedding planning, just how often hero couples and villain couples—and all kinds of couples made it work—and the single foolproof way to make sure the ceremony goes off without a hitch.
First Rule of Weddings: Expect the Unexpected
If we're going to talk about weddings in Marvel, the one that started it all—and set traditions that all weddings since then have emulated—was between Reed Richards and Sue Storm in the FANTASTIC FOUR ANNUAL #3 in October 1965. Not exactly prime wedding season, but the guest list was positively stacked, and included the original X-Men lineup, all the Avengers, Daredevil, Spider-Man, Doctor Strange, representatives from S.H.I.E.L.D.—the whole works. Stan Lee and Jack Kirby were turned away at the door.
What made the Mister Fantastic-Invisible Girl nuptials so notable in the history of Marvel was the notorious interruption. Namely, Doctor Doom used a device to compel the entire Super Villain community to attack the Baxter Building, with everyone from Mole Man to the Mandarin to Kang the Conquerer to Hydra crashing the party. It took intervention from the Watcher—a guy whose sole claim to fame is non-intervention—to clear the attackers and make way for the ceremony. Sue and Reed, despite their challenges, went on to have one of the most enduring and iconic marriages in the world of Marvel.
A trial-by-fire is the hallmark of the Marvel wedding. All told, 2/3 of the time, wannabe mates have got to deal with super powered wedding crashers! For plenty of couples, this is a formative moment in their relationship. Hank Pym and Janet Van Dyne had the first-ever intra-Avenger wedding, which was naturally crashed by the Circus of Crime imitating caterers. When Scarlet Witch and Vision got hitched they had an even more ridiculous test: their wedding—a double event with Mantis and her fella—was officiated by Immortus but also attacked by Kang the Conqueror. For those out of the loop, Immortus and Kang are the same time traveller but at different points in his life.
And if Pryde the bride is worried about possible unexpected guests, she should take heart that the experience can lead to a stronger relationship. Bruce Banner's first attempt to marry Betty Ross was ruined when the Rhino attacked and the wedding was called off. During their much-later second attempt to tie the knot, the ceremony withstood an interruption from her heavily armed father, Thunderbolt Ross, and they made it to the reception.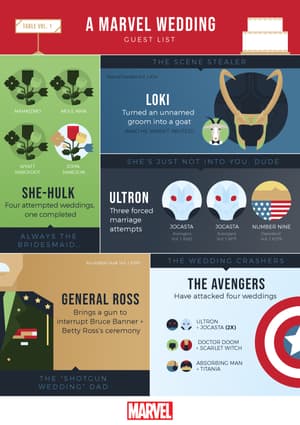 How to Doom-proof Your Upcoming Nuptials
Sometimes the knowledge of how to survive a wedding day is passed from father to son. Three generations of Jamesons have been wed in the pages of Marvel Comics: J. Jonah Jameson Sr. to Aunt May, J. Jonah Jameson to Marla Madison, and John Jameson III to She-Hulk. Both of the older Jamesons had a traditional ceremony, and both of the older Jamesons had one member of the couple kidnapped by a foe of Spider-Man. The youngest Jameson eloped in Las Vegas and had an uninterrupted wedding. Read that as you will.
(Eloping turns out to be the only foolproof wedding in Marvel; nobody managed to thwart the improvisational ceremonies uniting Jameson and She-Hulk, or Hawkeye and Mockingbird.)
If Rasputin and Pryde want to be absolutely sure that they get to "I Do," they're going to want Spider-Man in their corner; weddings of Spider-Man's friends and family end up making it to the reception 50% more often than the generic Marvel wedding. On the other hand, if you want to guarantee an interruption, marry an Inhuman—those weddings are always getting crashed by the Skrulls or the Shi'rar war fleet or Ultron or a rebellion of Alpha Primitives, which always makes for a lively ceremony to say the least.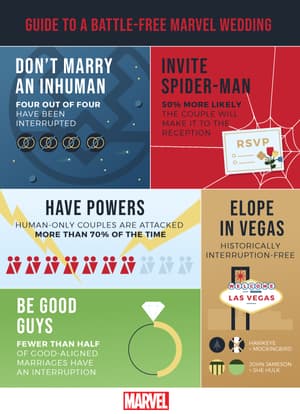 Marvel Weddings Change the Couple Forever
The Marvel Universe has also seen its fair share of unique nuptials. There have been more royal weddings than the House of Windsor has had since the '70s, with highlights including the marriage of Storm and Black Panther, the wedding of Inhuman princess Crystal and mutant speedster Quicksilver, and Namor's assorted complicated marriages. There have also been vows that made real-world history: Northstar's wedding to Kyle Jinadu in 2012 marked the very first same-sex marriage in Super Hero comics.
There have been weddings that served as the origins for entire characters, like Gambit's reason for skipping town, or Punisher ally Rachel Cole's gut-wrenching origin story. The Young Avengers all met at a particularly disastrous wedding where future Hawkeye Kate Bishop was a bridesmaid.
On that note, while mutants often see their powers as a curse, Kitty and Piotr are pretty lucky they have their powers on their wedding day. Non-powered people don't have it easy when it comes to wedding planning. About 1/5 of Marvel Universe weddings are between two people who don't wear capes and are just trying to get through their day, but lo and behold, 13 out of 18 of them get attacked by baddies. It's actually more peaceful when two Super Heros tie the knot; only about 42% of Good-aligned marriages have an interruption. I figure having most of the Avengers in your bridal party is a distinct disincentive for a full-on assault.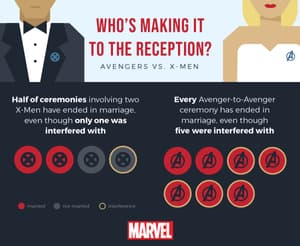 Something Old, Something New…
So what does this mean for Colossus and Shadowcat? X-Weddings are actually some of the most peaceful nuptials of any Marvel squad. A majority of Avenger weddings, Fantastic Four weddings, Inhuman weddings, and Spider-Man weddings get assaulted by Super Villains. Only about 2/5 of X-Weddings involve an unwanted wedding crasher. The wedding of Scott Summers and Jean Grey was downright pleasant given how tumultuous that relationship would turn out to be.
Even more, the fact that this is a Super Hero-Super Hero marriage bodes very well for their chances of making it to the honeymoon; while relationships between colleagues can be so very perilous, it's generally more conducive for villains to marry villains, heroes to marry heroes, and neutral civilians to stay the heck away from folks in capes of any morality.
In the 48 weddings where the two people getting hitched were both good, both villains, or both civilians, 81% of the weddings were successful and only 56% were attacked in the middle. For normal folks marrying a Super Hero or the uniquely rare good guy-bad guy romance, those were attacked 80% of the time and only made it to "I Do" about 3/10 times.
All told, this hotly anticipated wedding couldn't be in better shape. They're both heroes, which is a good match. Colossus, to my knowledge, hasn't asked Mephisto for a favor lately, and Kitty Pryde isn't marrying Hawkeye—so they both have avoided the dumbest marital errors in Marvel history. Worst case scenario is an unwanted guest, and even then, if history is any guide they'll come out on the other side even stronger.
Welcome to the reception, Kitty Pryde, I hope you survive the experience!
Read X-MEN: GOLD #30, by Marc Guggenheim and David Marquez, this week—on June 20!
Walt Hickey is a data journalist and writes the daily morning newsletter Numlock News. His work has previously appeared on FiveThirtyEight and Business Insider. 
The Hype Box
Can't-miss news and updates from across the Marvel Universe!