Comics
Published May 25, 2021
Who Is A.I.M.?
A group of brilliant scientists intent on saving the world... or conquering it? Marvel Unlimited has the answers.
Have you tried Marvel Unlimited yet? It's your all-access pass to over 28,000 Marvel comics, available at your fingertips. Sign up now to enjoy your first year for $60!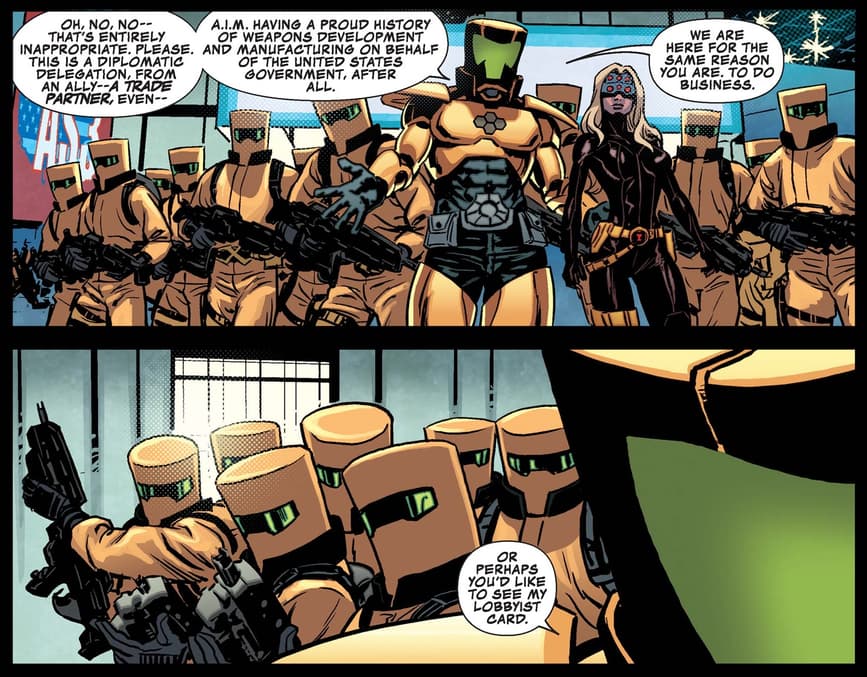 Who, or what, is A.I.M.? While this could be an easy answer, the agents of "Advanced Idea Mechanics" have a long, sordid history chock full of sinister behavior and plots of world domination. They've had several iterations under a handful of leaders—some kookier than others! But we're getting ahead of ourselves. Let's focus our aim and start at the beginning of the Marvel Unlimited archives...
WHO IS A.I.M.?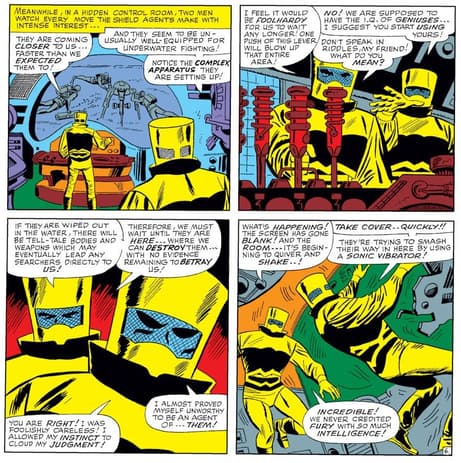 That depends!
Advanced Idea Mechanics (A.I.M.) claims to be a society of the greatest scientists on Earth whose purpose is to benefit humanity. But they're often would-be world conquerors depending on their leader, the Scientist Supreme.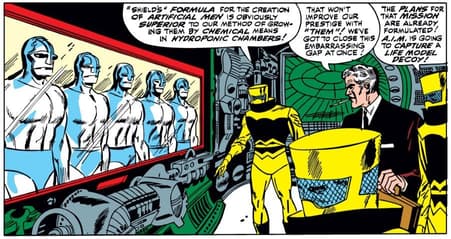 A.I.M. originally started as a group of chief scientists for Hydra founder Baron Strucker who combined the subversive organization's efforts with A.I.M. (and the Secret Empire) under the umbrella term THEM. Under Strucker's leadership, A.I.M. set up Hydra's technological resources and armaments. Although, they wouldn't hesitate to steal secrets from other technologically advanced organizations like S.H.I.E.L.D. A.I.M.'s personnel are recognizable for their yellow radiation suits, which are equipped with protective helmets. See their first appearances in STRANGE TALES #146-149!
WHO CLAIMS TO LEAD A.I.M.?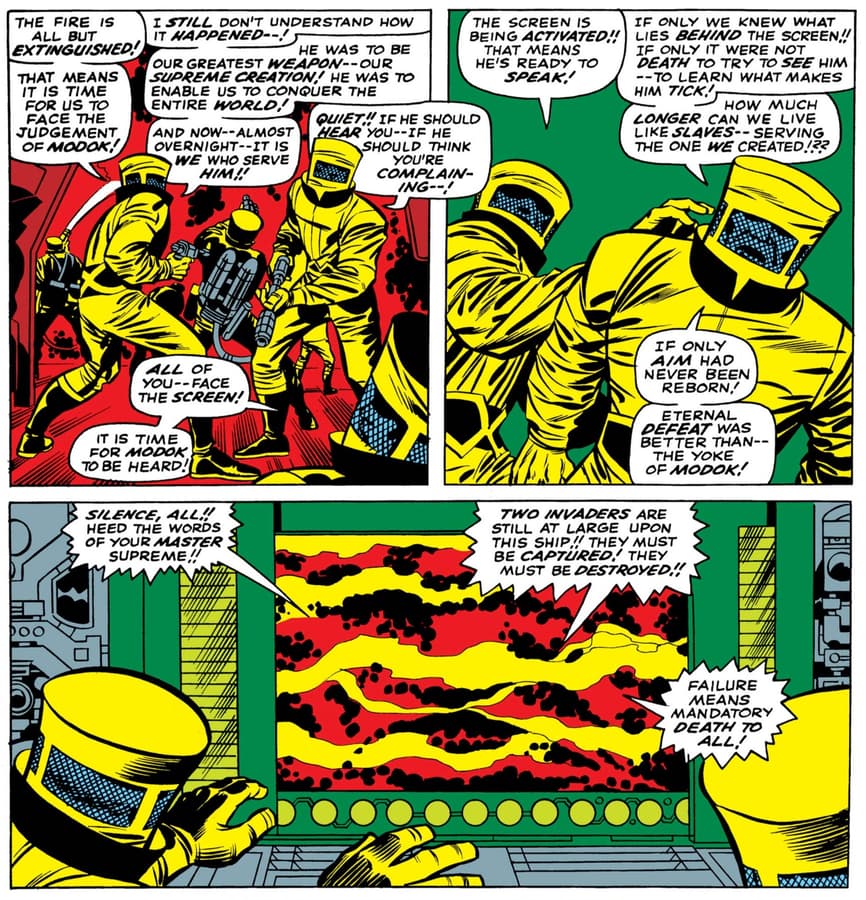 The Scientist Supreme!
That's the title of the leader of A.I.M.'s ruling council—a tradition that carries on to this day. Some of the Scientist Supremes have included genius scientist Lyle Getz, the killing mutate M.O.D.O.K., former cultist Andrew Forson, X-Man Sunspot, and, recently, ruthless biochemist Monica Rappaccini.
WHAT ARE THEIR GOALS?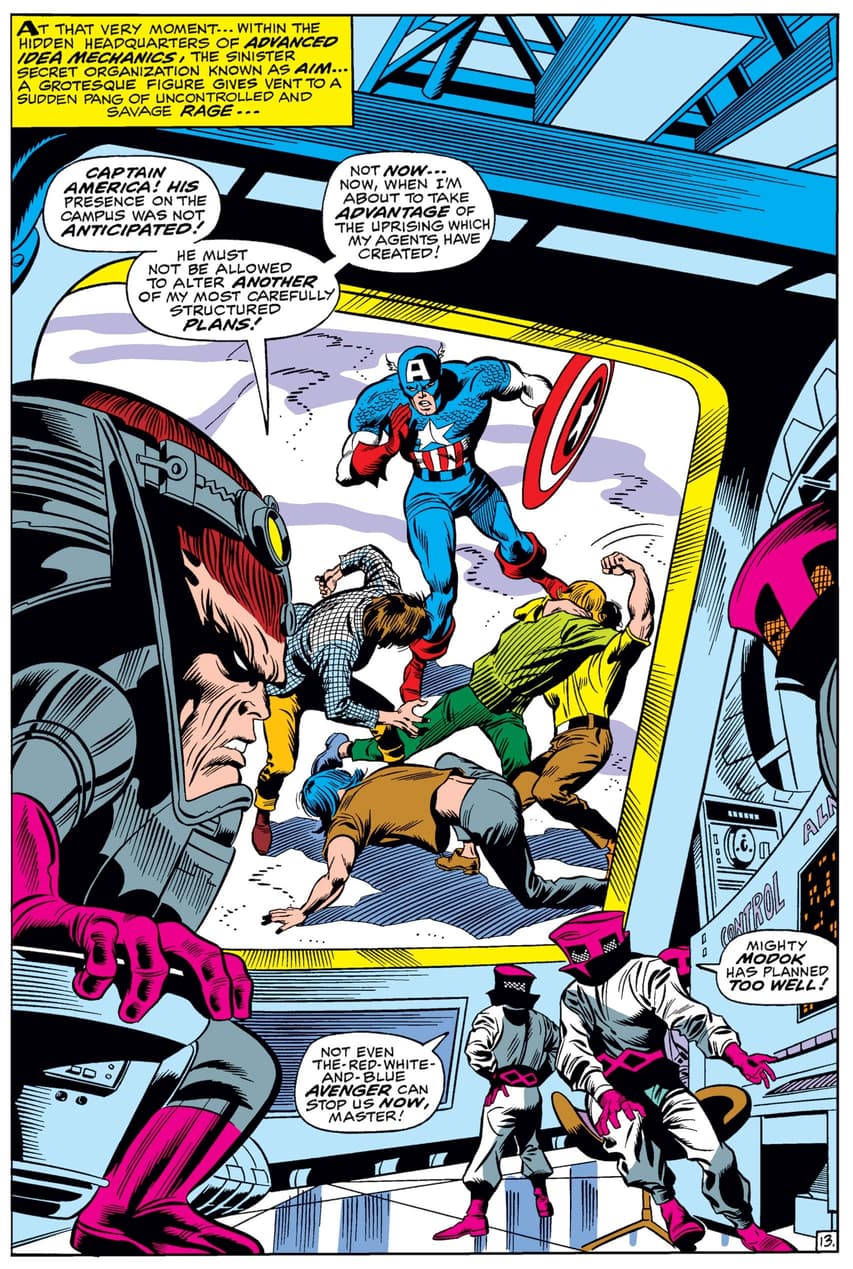 Power!
A.I.M.'s ultimate goal was to acquire power and overthrow governments using technology. When they decided to create a weapon using A.I.M. technician George Tarleton as a test subject, it was believed that Tarleton was going to help them conquer the world. Instead, they got a power-hungry madman intent on killing those that stood in his way. But how did Tarleton go from technician to tyrant? The answer lies in the organization's earliest successes…
WHAT IS THEIR CLAIM TO FAME?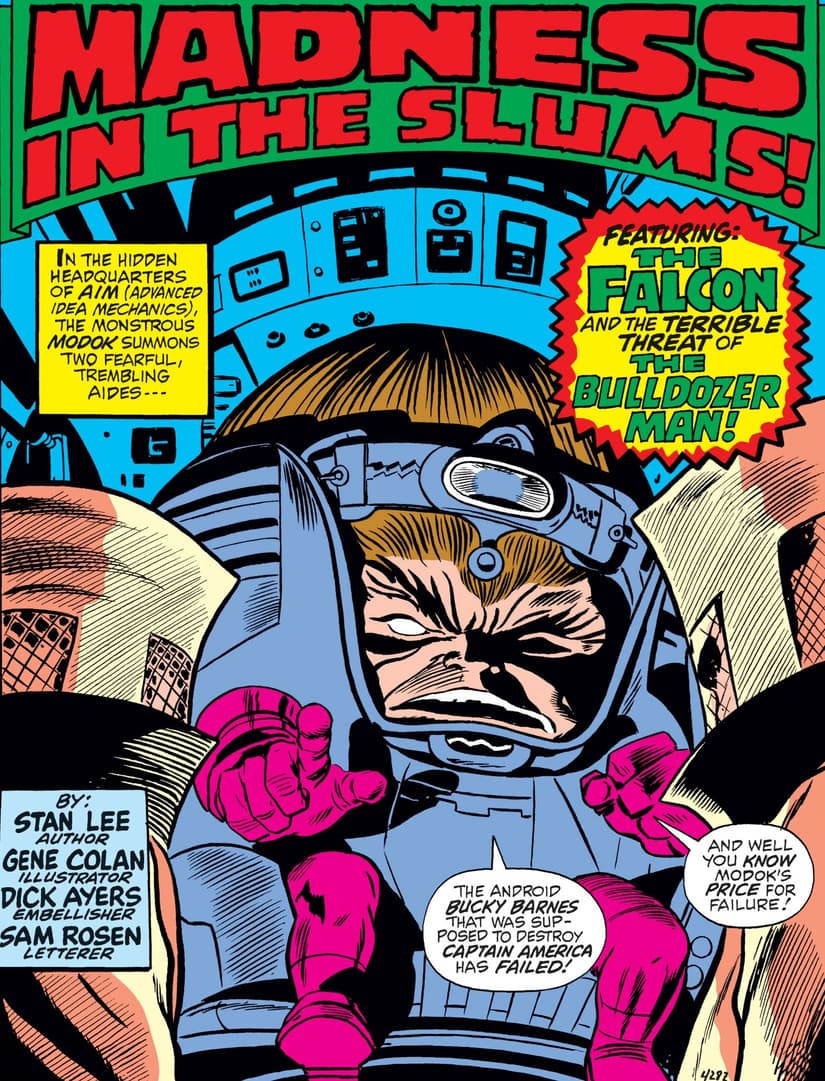 M.O.D.O.K. and the Cosmic Cube!
When A.I.M. forced Tarleton to undergo a mutation procedure, it transformed him into a huge-headed mutate with psionic power and superhuman intellect. He was called Mental Organism Only for Computation (M.O.D.O.C.) and was used as a guinea pig to create the Cosmic Cube. Coupled with his fragile mind post-transformation, Tarleton went mad from the exposure to the Cube's energies.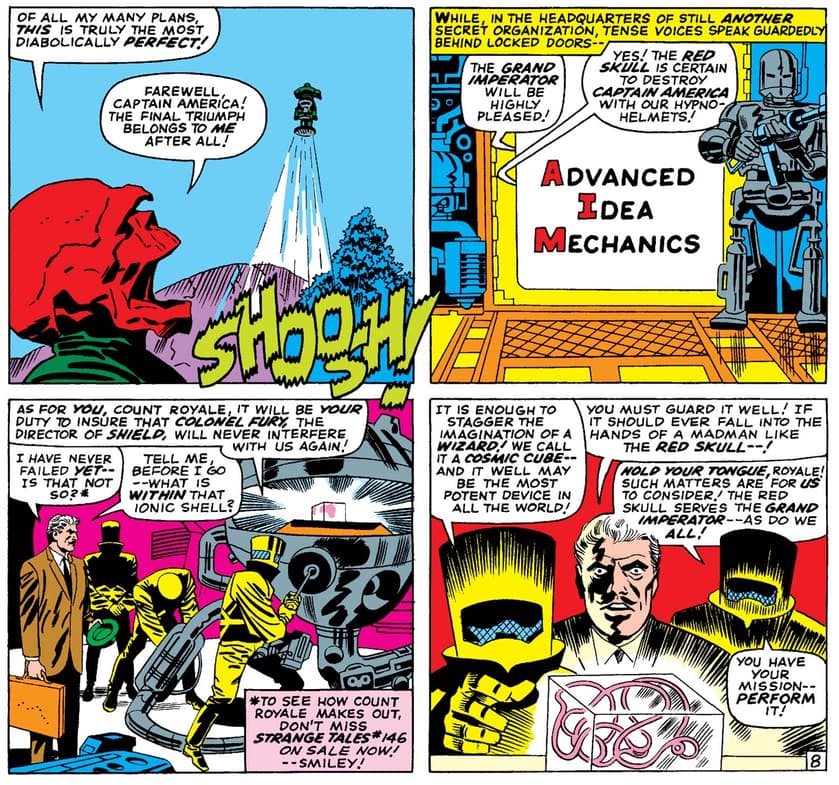 When A.I.M.'s ally Red Skull—a Nazi general and frequent enemy to Captain America—stole the Cube, Tarleton killed A.I.M.'s leaders, usurping the role of Scientist Supreme and renaming himself: the Mental Organism Designed Only for Killing (M.O.D.O.K.).
WHO ARE THEIR MAIN ENEMIES?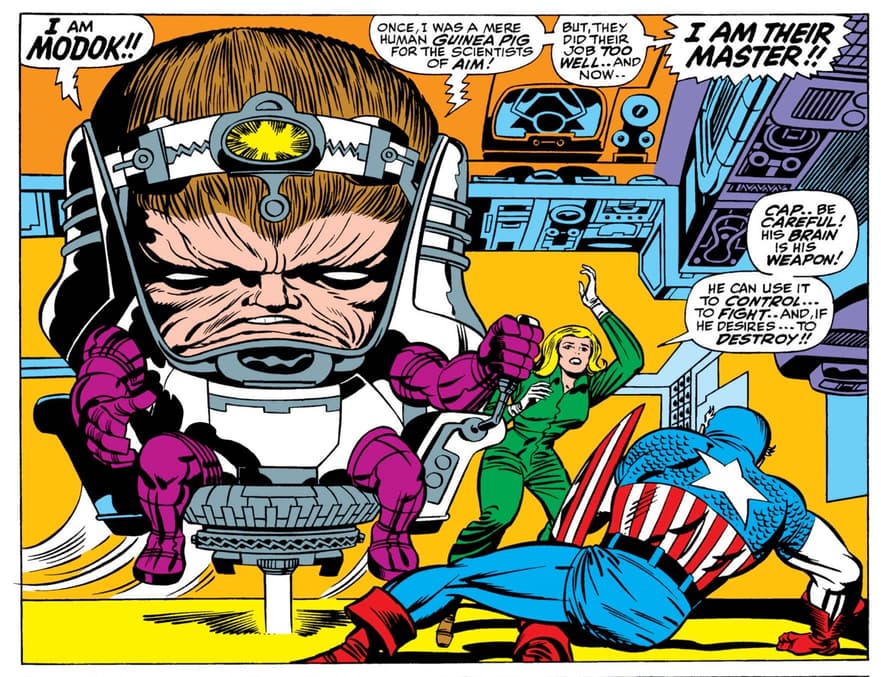 Mostly heroic types, of course.
A.I.M. first encountered Strucker's enemy, S.H.I.E.L.D. director Nick Fury, and underestimated his capabilities as a spy, worried that their operation would be found out. Bu Fury didn't stop until he revealed their hidden aims.
And, when the star-spangled hero Captain America and S.H.I.E.L.D. agent Sharon Carter uncovered M.O.D.O.K. as A.I.M.'s leader, they teamed up with disgruntled A.I.M. personnel, kicking off a string of many internal rebellions. But M.O.D.O.K. (almost) always survives!
A.I.M.: COVERT OR PUBLIC?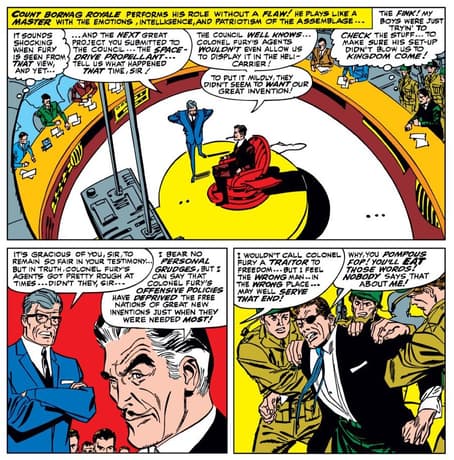 Both!
At first, A.I.M. hid their experiments from the world. Then, they went public while posed as an arms manufacturer, using Count Bornag Royale as their figurehead. Meanwhile, their more secretive and criminal activities were carried out under "THEM," including an attempt to steal Inferno 42, an explosive powerful enough to level a city. After trying to kill Fury with a synthoid android, the S.H.I.E.L.D. director connected the dots between A.I.M. and THEM. But before they could be snuffed out, A.I.M. destroyed their headquarters and ceased all (public) operation.
DID THEY COME BACK STRONGER THAN EVER?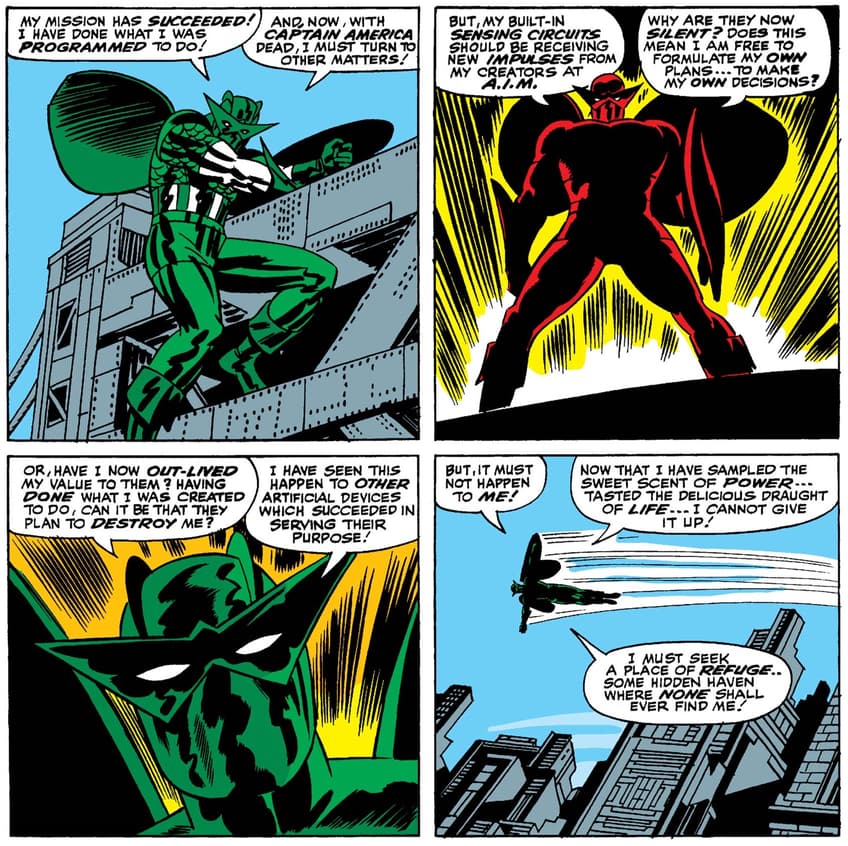 You bet! To the agents of A.I.M., power is the only game in town.
The destruction of their original base led to the release of A.I.M.'s first Adaptoid, a model of android that can replicate super-powers. Another built-in feature? Autonomous thought—this creation renamed itself the Super-Adaptoid in TALES OF SUSPENSE #82-84! With M.O.D.O.K. at the helm, A.I.M. continued their off-the-books operations and studied Adaptoid tech, though many scientists were unhappy with M.O.D.O.K.'s leadership and hired assassins to have him killed.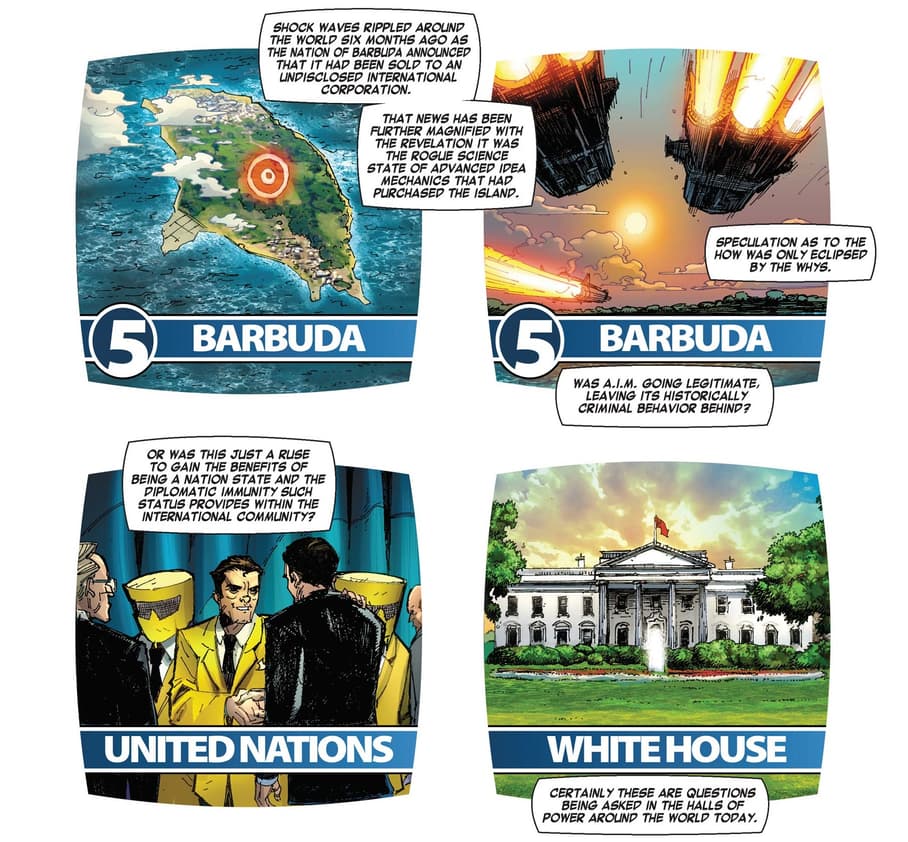 With the vacuum created by his death and several other failed experiments (See: M.O.D.A.M. and reconstructing another Cosmic Cube), A.I.M. eventually used their resources to engage in public markets using front companies. They then conquered an island in the Caribbean, renaming it A.I.M. Island, and with this sovereign power, hosted weapons expos for both terrorist and Super Villain customers.
HOW HAS A.I.M. EVOLVED?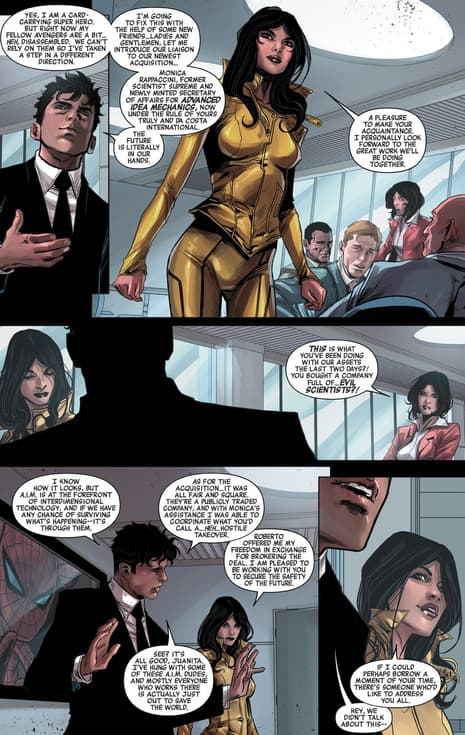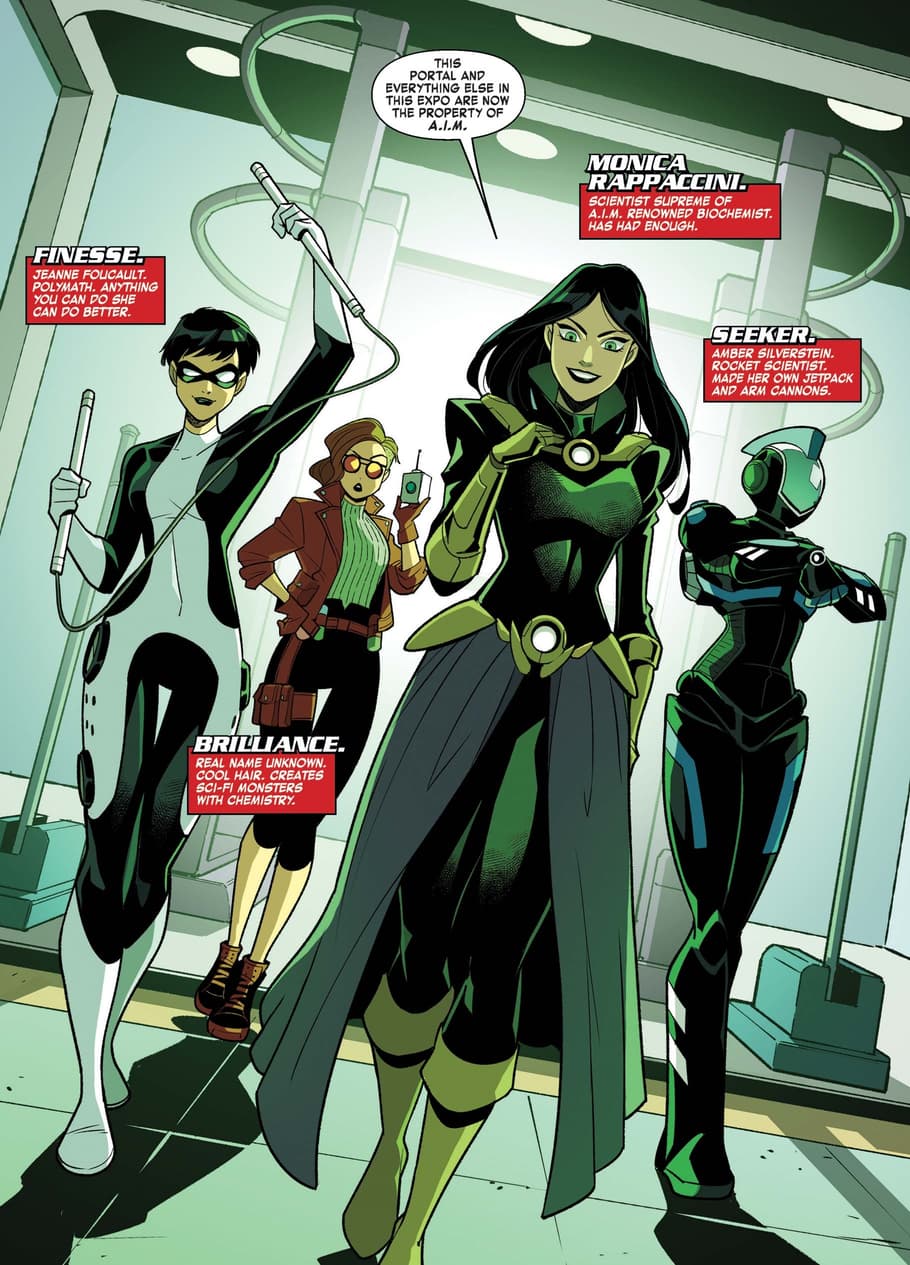 You know it!
After leadership changed hands from Da Costa to Dr. Toni Ho, there were rogue factions of A.I.M. on the loose. Ho rebranded the company "R.E.S.C.U.E." which was more in line with the intent of the organization, leaving the name A.I.M. up for grabs. That's when Rappaccini swooped in and reformed the org, recruiting only the best new members. She started stealing from Horizon Labs and Pym Laboratories and became particularly interested in portal technology. To what aim? Well, that has yet to be revealed…
See A.I.M.'s return in THE UNSTOPPABLE WASP (2018-2019)!
And, don't forget to check out all of A.I.M.'s appearances on Marvel Unlimited!
Follow Marvel Unlimited on Twitter and Facebook to stay tuned in to weekly announcements, articles, and more, all at @MarvelUnlimited. Follow us today to join the conversation with thousands of fellow fans, and let us know what you're reading!
The Hype Box
Can't-miss news and updates from across the Marvel Universe!