Comics
Published December 5, 2018
A Journey Through Marvel Holiday Specials Past
Travel through these festive tales of yore!
Mighty Marvel returns to the tradition of one-shot holiday anthologies with the brand-new MERRY X-MEN HOLIDAY SPECIAL #1, harkening back to a time not so long ago when such grab-bags entertained fans on a semi-annual basis. Fill up the sleigh and put on your winter wear as we take a look back at the MARVEL HOLIDAY SPECIAL.
The first MARVEL HOLIDAY SPECIAL hit in late 1991, a whopping 84 pages populated by some of Marvel's biggest stars. Under an Art Adams cover, the X-Men, Spider-Man, Ghost Rider, Captain America, and the Punisher celebrated the holidays in their own ways, but we see the stand-out stories in this volume as the one where Franklin Richards, son of Mr. Fantastic and the Invisible Woman, tried to free Charles Dickens' Jacob Marley from his curse, and that time when All-Father Odin decided to play Santa.
In 1992's MARVEL HOLIDAY SPECIAL, a Wolverine action figure took a run through a toy store and Doc Samson told a Hanukkah tale while the New Warriors, Spider-Man, the Punisher, Iron Man, Daredevil, and even Thanos and Gamora filled out the rest of the book with holiday cheer.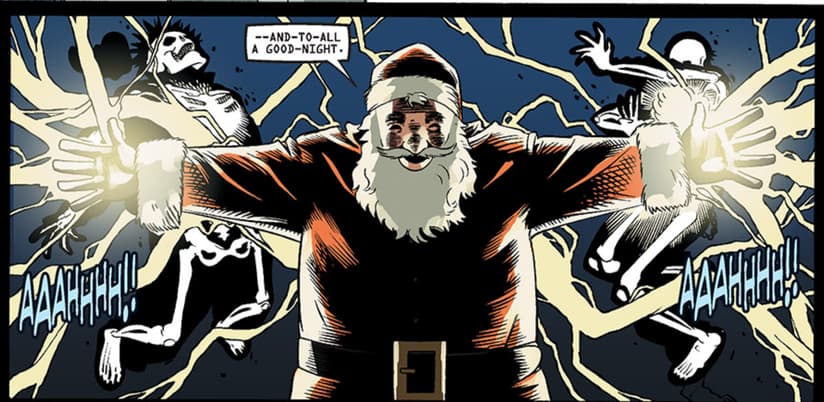 The tradition continued in MARVEL HOLIDAY SPECIAL 1993 with Spider-Man saving an angel from Mephisto, Nick Fury receiving a Christmas card sent to him 50 years before, a wise Hulk helping a co-worker with holiday depression, entries from Captain Ultra—who?—and Ghost Rider, along with a very special story starring real-life Marvel editors of yore Tom DeFalco and Mark Gruenwald.
By 1994, Spider-Man ranked as a MARVEL HOLIDAY SPECIAL regular, clocking in that year by placing the star on the Rockefeller Center Christmas tree. Other wintry wonders in the book included Iceman and Beast, Captain America, the Silver Surfer and Eternity, the X-Men and the Starjammers, and the Fantastic Four's Ben Grimm cheering himself out of the holiday blues by beating on bad guys.
For whatever reason at the time, the MARVEL HOLIDAY SPECIAL skipped a year and returned in 1996 with, you guessed it, Spider-Man, as well as the X-Men's Kitty Pryde going home to Illinois, the Silver Surfer questing for the Christmas Star in outer space, and a wondrous way-back look at the Wild West's Two-Gun Kid and his own branding of Christmas.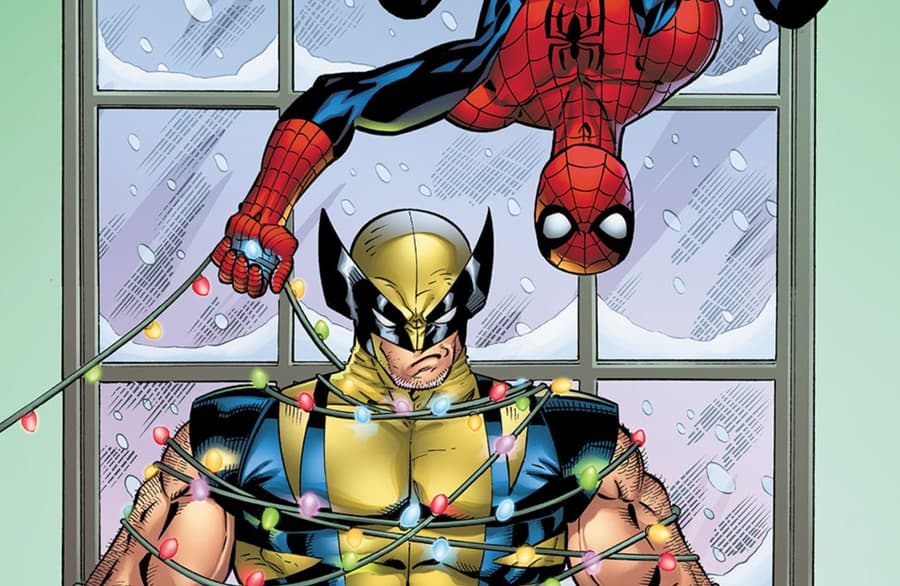 The MARVEL HOLIDAY SPECIAL then took an eight-year long winter's nap, but hit the scene again in the new millennium. The 2004 special checked in with Franklin Richards again, as well as the X-Men's Scott Summers and Emma Frost, but the big real-deal of the issue rolled out as a 26-page tale of J. Jonah Jameson experiencing a bit of Scrooge-like ghost visitations in the forms of Marvel heroes.
Jumping a year, the 2006 MARVEL HOLIDAY SPECIAL introduced a new wrinkle in the traditional fabric of the books: a framing device concerning an A.I.M. office holiday party. This wrapped itself around a new Thing tale, a battle between dragon Fin Fang Foom and Wong and Hydra, a Marvel profile of Santa Claus, and a bevy of cool cut-outs of Marvel ornaments featuring, what else? Marvel Super Heroes.
Readers received the new MARVEL HOLIDAY SPECIAL the next year in 2007 and feasted their eyes on Spider-Man and Wolverine taking down a Sentinel, a visit with the Loners—remember them?—two pages of Fred Hembeck holiday hilarity, and the big showpiece story of a Daily Bugle reporter seeking out various denizens of the Marvel Universe for their outlooks on the holidays.
Alas, all good things come to an end—at least for the present. The MARVEL HOLIDAY SPECIAL of 2011 seemed to be the last, or hopefully just the latest, to bear that honorable moniker. Thankfully, it didn't disappoint with its special stories of Spider-Man, Wolverine, Nick Fury, and an extra-special Hanukkah check-in with Jewish heroes Ben Grimm, Kitty Pryde, Sasquatch, Moon Knight, and Songbird.
MERRY X-MEN HOLIDAY SPECIAL #1 is available now, online and at your local comic shop!
The Hype Box
Can't-miss news and updates from across the Marvel Universe!