Comics
Published March 13, 2019
A New Beginning for Bêlit, Queen of the Black Coast
The creators behind Bêlit's modern origin story come together to discuss the making of a pirate queen.
Before Bêlit was the Queen of the Black Coast, before her ship, the Tigress, was an omen of despair, she was a teenager obsessed with the sea. As her obsession leads her to stow away aboard the ship of the dread Admiral Atrahasis, she comes face to face with a deadly adventure she didn't see coming.
We spoke with writer Tini Howard, artist Kate Niemczyk, and cover artist Sana Takeda about their inspirations and what's ahead for Bêlit in AGE OF CONAN: BÊLIT, QUEEN OF THE BLACK COAST #1, out now!
Tini Howard's Love of Pirate Stories
Marvel.com: Tell us about Bêlit, where she is in her life, and what's ahead for the would-be she-devil of the sea?
Tini Howard: We meet Bêlit as a child, on the first day of the rest of her life. We get just a moment of the kind of life she was raised in before we pull dry land out from under her and she's thrust into life on the seas.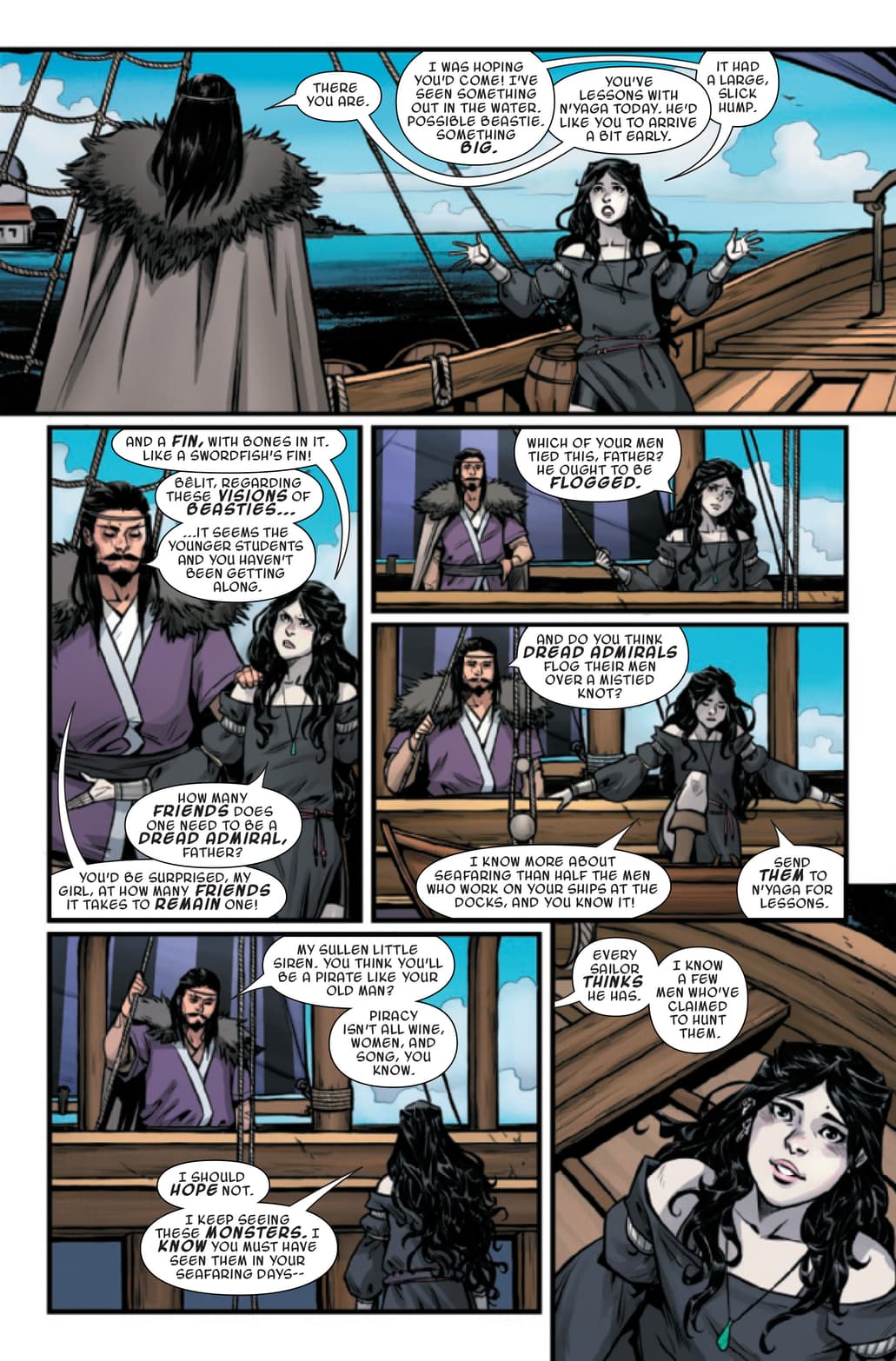 Marvel.com: What were some of your inspirations for this high seas tale and how far back did you go into the Conan archives?
Tini Howard: Obviously I started with Robert E. Howard's Queen of the Black Coast. I was inspired to write more "lost verses" of that story's "Song of Bêlit," which you'll see in the comic. I love pirate stories, I always have, so I had a ton of inspiration in my back pocket for this one. I think the best pirate stories are the real ones—women like Anne Bonny and Ching Shih and the Lioness of Brittany are all my inspiration here.
Marvel.com: What do you want readers to know about this book?
Tini Howard: I'm not trying to impersonate Mr. Howard with this work, and I'm not trying to do what he's already done. We're taking a character and giving her sea legs, a story of her own, and one that has a "Breaking Bad" feel to it where we can't help but watch our protagonist spin their own madness and doom.
Kate Niemczyk's Vision of the Pirate Queen
Marvel.com: Tell us about illustrating Bêlit at this stage in her life and what aspects of her personality you wanted to capture the most. Is she inspired by anyone in history?

Kate Niemczyk: I tried to draw my own vision of her so she's not inspired by anyone in particular, but by the general image of a young girl who doesn't want to follow any rules and struggles with the world she lives in. The most important thing, to me, was to show her stubbornness and determination because I believe you need tones of these to become a pirate queen. I also wanted to show her wildness by her look in general.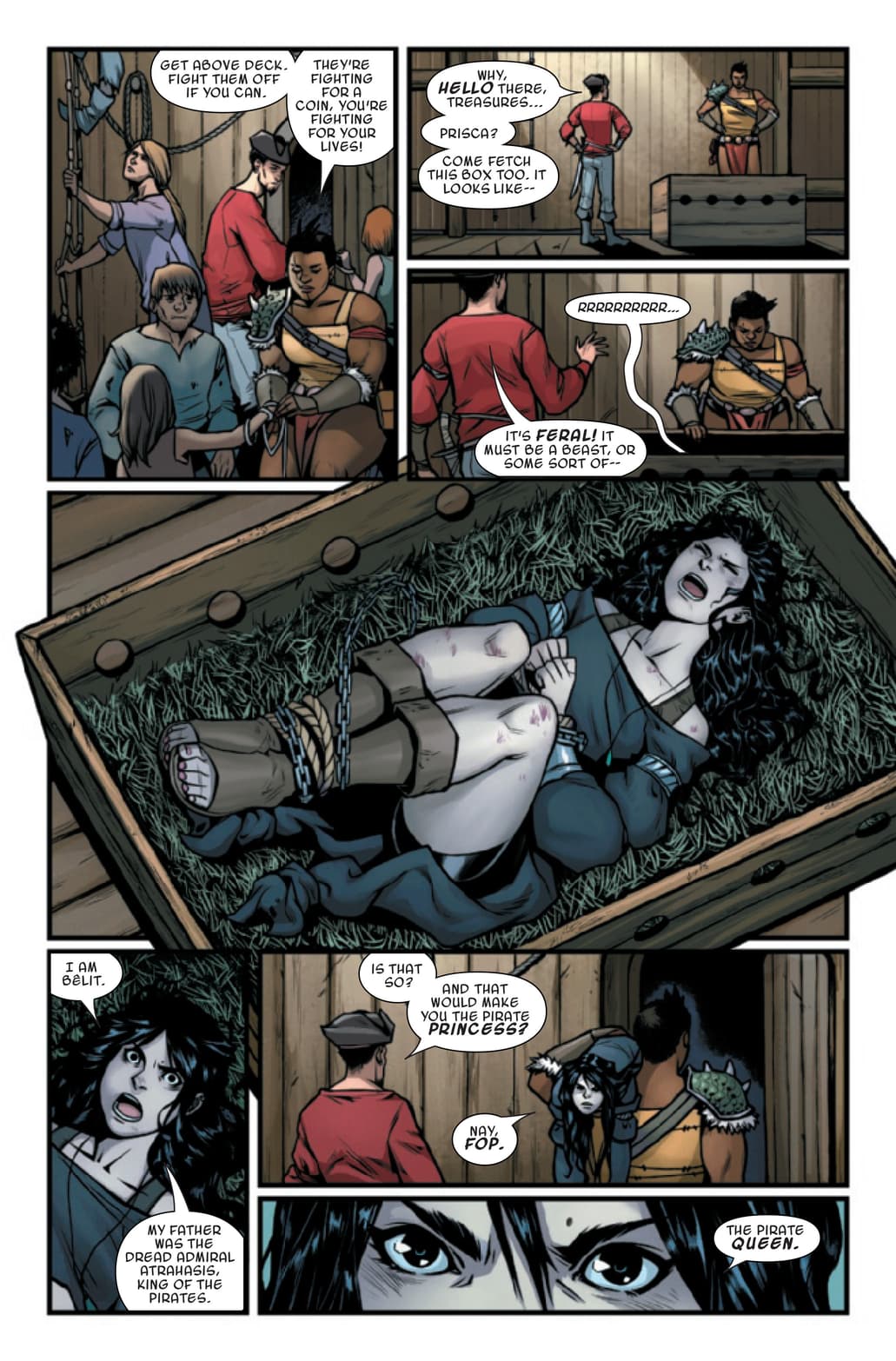 Marvel.com: What kind of challenges did this book present in terms of layouts and inks, was there anything you were experimenting with in terms of layouts?

Kate Niemczyk: The biggest challenges for me are all the seafaring scenes. And there are of course a lot of them – we're telling a story of a pirate queen after all! As for layouts, I don't experiment here but I'm still having a lot of fun drawing Bêlit. As an illustrator, I feel the most comfortable in a fantasy setting.
Marvel.com: What kind of research did you do to get in the mind of Bêlit and her high fantasy world? Did you have specific references you used or that were given to you that you liked?

Kate Niemczyk: Of course I've read Mr. Howard's prose but also studied the classics like the Conan movies and Frank Frazetta's art, then filtered that by my own aesthetics. I'd love to keep that old epic fantasy feel but with a more modern touch.
Marvel.com: What do you want readers to watch out for in this book?
Kate Niemczyk: I'd definitely want readers to have a lot of fun while reading the book, to enjoy the story and art and feel a connection with the characters.
Cover Creation with Sana Takeda
Marvel.com: Can you tell us more about the cover? What were your inspirations or references?

Sana Takeda: I think Bêlit is a wonderful character in a series that has been loved for many years, so I wanted to cherish her image with what people traditionally have [in their minds] – beautiful, strong and mysterious. Of course, I tried to add my own touch to each cover in my own way. If Marvel puts me on this project, I think I can demonstrate what I have to offer.
Process Art by Sana Takeda
Process Art by Sana Takeda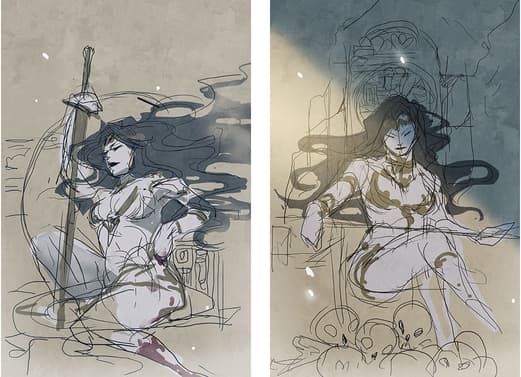 Marvel.com: In terms of process, what was your first step in designing the cover, and how did you decide on the staging?

Sana Takeda: The editor shared with me some words for the cover, so I tried to expand my image based on those words for the cover sketches. I made them powerful, and sometimes dynamic, which can excite people.
Marvel.com: What's your favorite part about cover creation and working on this book so far?

Sana Takeda: Every part has been a wonderful experience. Especially drawing Bêlit, it is challenging in portraying her inner strength and beauty. Being a part of this wonderful project has been a pleasure in my career as an artist.
Marvel.com: What do you want readers to know about the cover? How you feel about it?

Sana Takeda: If the readers enjoy it in their way, I would be happy.
AGE OF CONAN: BÊLIT, QUEEN OF THE BLACK COAST #1, written by Tini Howard with art by Kate Niemczyk and cover art by Sana Takeda, is on sale now online and at your local comic store!
You can also pre-order AGE OF CONAN: BÊLIT, QUEEN OF THE BLACK COAST #2 today!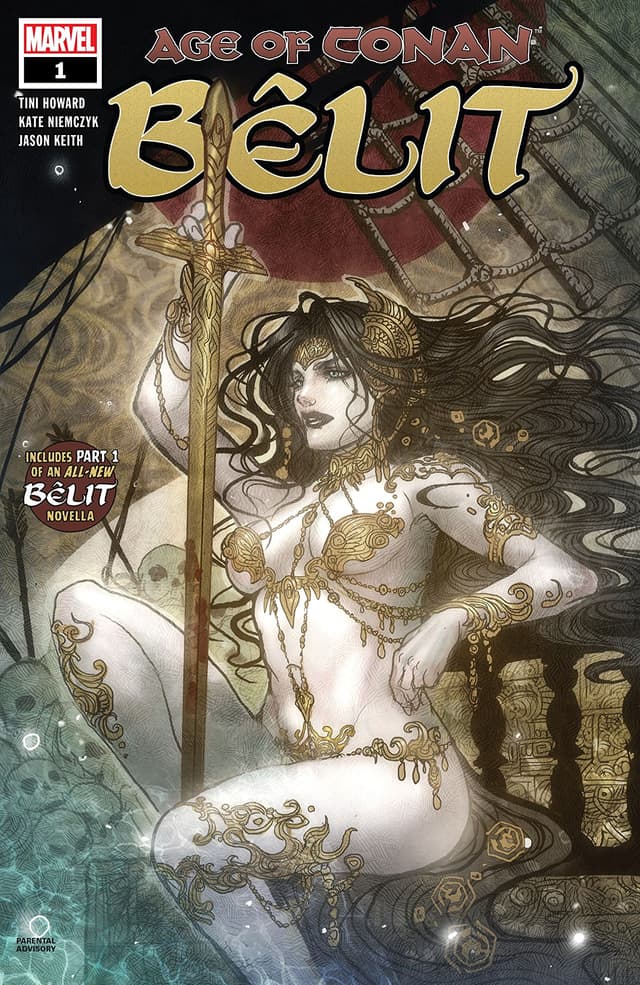 The Hype Box
Can't-miss news and updates from across the Marvel Universe!